Disclosure of Material Connection: Some of the links in this post may be "affiliate links." This means if you click on the link and purchase an item, I will receive an affiliate commission. Disclosure in accordance with the Federal Trade Commission's 16 CFR, Part 255. This site is a participant in the Amazon Services LLC Associates Program, an affiliate advertising program designed to provide a means for sites to earn advertising fees by advertising and linking to Amazon.
There's something about shopping for gifts for men; it just isn't easy. Then you find yourself scouring the internet for inspiration on cotton 2nd anniversary gifts for him because it's even more difficult trying to pick something special within traditional anniversary gift restrictions.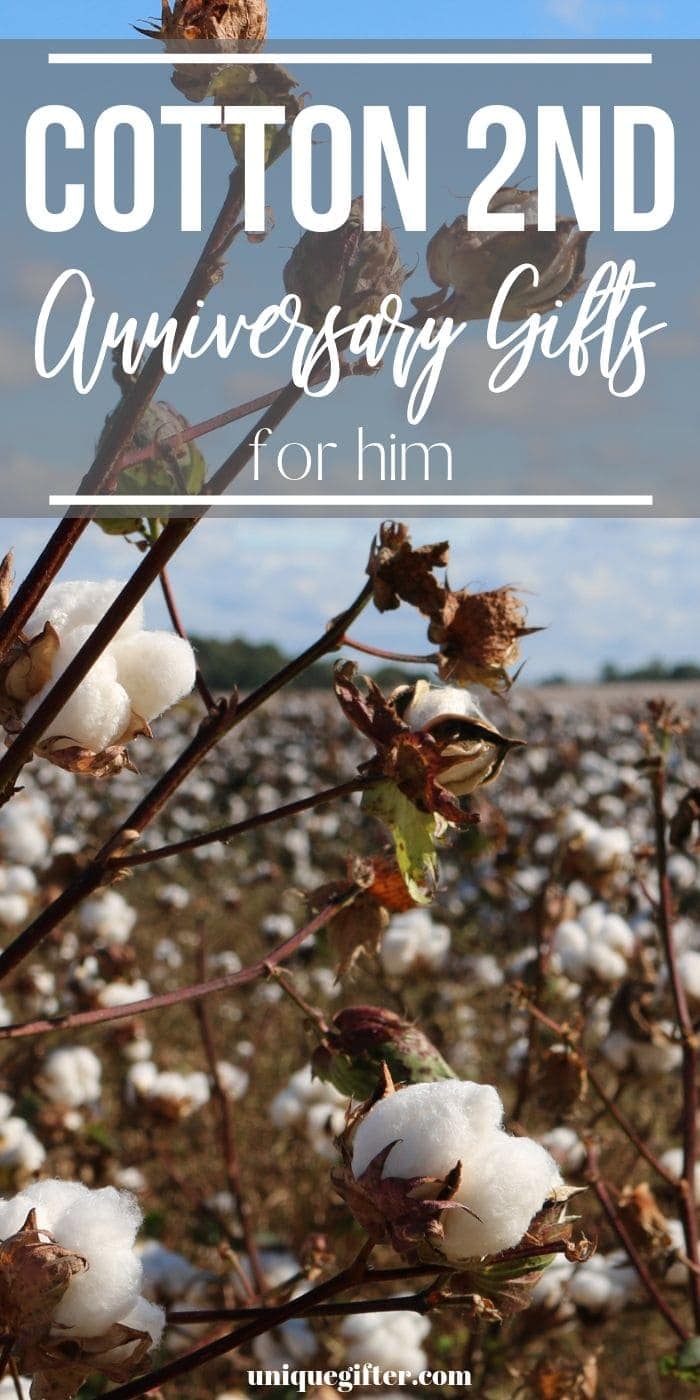 Everything you need to know about choosing cotton 2nd anniversary gifts for him:
When you find yourself married to a man, there are a great number of gift giving occasions in the annual trip around the sun. You find yourself wanting an anniversary gift for your husband, a birthday gift for your husband, a Valentine's Day gift for your husband, a Christmas gift for your husband, a happy dating anniversary gift… and on and on! It can be downright exhausting. I know that I struggle to come up with new things all the time, without overloading our home with "stuff" that we may or may not need.
Traditionally, the second anniversary gift is cotton, unless you live in the United Kingdom, in which case it is paper. Paper is the first anniversary gift in North America, so really after you've made it to year two, the same bases are covered. For all of the details, head on over to wikipedia. We've already covered paper anniversary gift ideas, if that's your plan. And if it's your 3rd anniversary, you're going to need a leather gift idea instead.
Now cotton anniversary gifts:
Cotton is one of the ways to make canvas, along with hemp and linen. It opens up a great number of possibilities for gifts for your fellow. Cotton can also be found in certain paper, Q tips and around 47 other ideas listed below. Don't forget that these ideas can be mixed and matched, catered to your needs, and you can always add a personal touch. Obviously your spouse has his own tastes, and not everything is for everyone!
There are ideas for every budget in here (assuming your budget is at least one dollar. Generic cotton buds are a dollar at the dollar store.). Cotton (or something that can reasonably be referred to as cotton, we're not sticklers here!) ideas for your consideration:
Cotton Anniversary Gifts for Around the House
Sound Wave I Love You Wall Art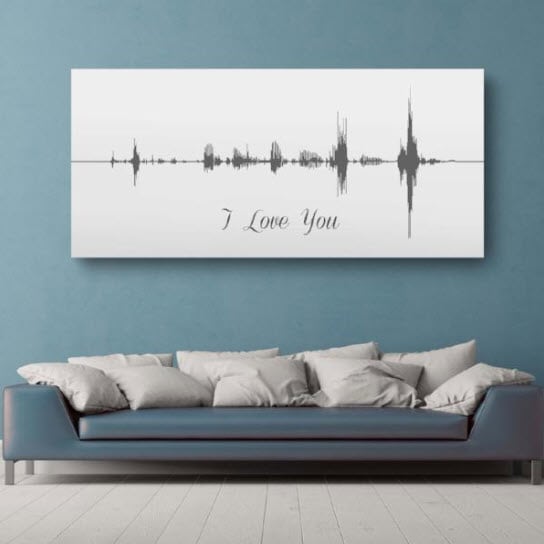 The soundwave can be made using someone's voice, or from a favorite song. Canvas Vows have multiple sizes available and print and build the canvases in house. Your man will love the originality of this custom canvas. You could also get a photo with overlaid vows or lyrics.
---
Best Cotton Anniversary Gift For Him
STAR WARS: THE LAST JEDI REMOTE CONTROL BB-8 DROID
If your man loves Star Wars this remote control BB-8 Droid might be the perfect gift for him. A fun toy that any man of any age would love to own.
---
Pillowcases
The pair in the picture are pillow fighting dinosaurs. That sounds amazing, does it not?! Sure, you could also opt for something more pedestrian, or some of the cute couples pillowcases we've curated in the past. But, these are dinosaurs.
Sheets
If you didn't receive any new sheets for your wedding, or if you received one set and have discovered how truly divine they are, invest in more. Be warned, this can be construed as a "you bought this for you" kind of gift. It's okay. It's totally worth it! Fun fact: Linen is also a 4th-anniversary gift idea!
Duvet Cover
Don't worry, we're almost done with the bedding theme! A nice, soft and comfy new duvet cover is awesome to have. Even better, pair it with a new duvet. It's for the higher end budgets, but goody golly are they delightful.
Towels
Glorious, soft, fluffy, huge towels. High quality towels are frequently available at discount houseware stores, and readily available online.
Car Seat Covers
If your spouse loves his car, or if you have small progeny who like to throw things in the car, consider picking up some car seat covers.

Screen Print
Threadless makes a huge variety of prints, on clothing. Chances are quite good that you can find a local screen printer (or via Etsy.com) that creates artwork, or custom clothing prints.
---
Editors Pick
Miller Cotton Twill Snap back Hat

Miller High Life Logo Cotton Twill Snapback Hat
This is a sweet and subtle cotton themed anniversary gift for him! It fits the occasion perfectly, and makes for a gift he'll use everyday!
---
Canvas Print
Similar to the screen print is the canvas print. Picking out artwork can be a touchy zone, but you know your spouse and your shared tastes.
Photo Print Canvas

Get a picture of your wedding, or a picture that's special to you and your spouse, and have it printed on a stretched canvas.
Hammock
A hammock is a nice, longer term gift idea, that screams relaxation.
Cotton Gym Towel
Married to a workout fiend? Pick up some new, clean gym towels.
Table Cloth for Picnics
These waterproof, cotton flecked table clothes are really a way to sell a whole picnic date, with a cotton addition to keep everything traditional.
Table Cloth
From a plaid Scottish cloth to a plain white one, pick up a table cloth made of cotton.
---
Readers Pick
MINI CORK GLOBE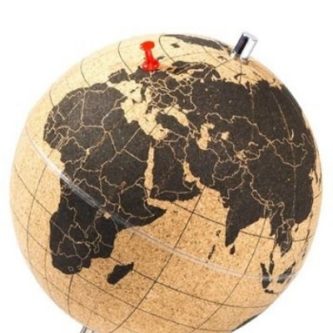 ---
Does he have a home office? If you say yes, check out this mini cork globe? Add a pin for every place you have traveled or plan too.
---
Quilt of Old T shirts
This is a DIY option, and directions are plentiful on the internet.
Cotton Coasters
Stock up the man cave with cotton coasters.
Cotton Flag
Do you have a boat, or a cottage or a dying flag outside? Perhaps you need a university team pennant? Many are made out of cotton, pick up a new one.
Canvas Tent/Teepee
Canvas Tent
Maybe you need a teepee for the back yard?
2nd Anniversary Gift Ideas for Your Husband to Wear
Sweat Pants
Sweat Pants
Lounge wear, comfy and how I love to spend a day.
New Shirts – T-shirts
T-Shirts
There can be no accusations of "this is secretly a gift for you" in the T-shirt front. Spring for a nice shirt, they are quite delightful and can be very flattering.
New Pants
New Pants
Is summer weather in your future? Light cotton pants can be both dapper and temperature-friendly. There are also cargo pants and heavier work pants. There's all sorts of options.
New Shorts
Gym shorts, fell-out-of-the-frat shorts, running shorts, short shorts, long shorts. Lots of shorts. Lots of cotton choices.
Bath Robe
Bathrobes
I am sensing a trend here, comfortable, snuggly things are cotton. Pick up a nice bath robe, or consider turning it into a whole home spa gift idea.
Manderpants
Underwear
Boxers, briefs, tighty whiteys? Most are made of cotton! Get your husband some new underthings for your anniversary.
Cotton Bow Tie
Hipster husband? Expand his bow tie collection with some funky new cotton bow ties, for dress up and dress down occasions.
Pocket Square
Pocket square
Not all pocket squares are made of cotton, sure, but some are, and they are a small, affordable accessory that adds character to the men's fashion staple, the suit.
Cotton hoodie for a Sports Team (and tickets?!)
Sports Team Hoodie
Football, soccer, hockey, lacrosse, there are a lot of sports in the world, and for every team, there are fans. Pick up a hoodie, and consider picking up some tickets to add in to the gift.
Cotton Socks
Cotton Socks
A staple item, new socks feel so, so good on the toesies. Also, they are nice and affordable. Plus, you can use them to rehash any disagreements you may have on the laundry front.
Cotton PJs
Pajamas
If you purchase all of the bedding items on the list, you"ll never want to leave the bedroom ;-)
Scarf
Scarf
From Burberry and high street fashion, to spunky and individualized, there's a scarf for nearly everyone, especially if winter is in the cards.
Chambray
Chambray
Light, breathable and wonderful in the summer!
Designer Jeans
Designer Jeans
Get some cute jeans for your fellow.
Funny Second Anniversary Gifts for Men
Apron
Buy Now On Amazon
You may not have a superman in the kitchen, or maybe you do, but there are all sorts of practical and also humorous aprons, made of cotton, which would make a fantastic and affordable second anniversary gift.
Cotton Candy (and a visit to a fair?)
Buy Now On Amazon
Cheap, fun and tied to memories! Also available at grocery stores and corner stores, if you are in a pinch for a last minute idea.
Cottonelle
Buy Now On Amazon
Expensive TP, with cotton in the name! You can get a huge stash of it for a pretty low dollar figure.
Cotton Swabs
Buy Now On Amazon
This is the humorous one, that's also the cheap one. Add some cotton swabs in to whatever else you've got going on for a gift, and you've got your cotton bases covered!
Cotton Eyed Joe
Cotton Eyed Joe
If you grew up in the 90s, your school dances probably included some Cotton Eyed Joe songs.
Cotton Accessory Anniversary Gifts
Handkerchief
Handkerchief
Eco friendly and cotton, handkerchiefs make a swell gift idea. You can also get them monogrammed, to make them extra special.
Guitar Strap
Cotton guitar strap
Camera Vest Made of Cotton
Cotton Camera Vest
If your spouse loves cameras, there may be some times when having a camera vest would be rather useful. Pick one up for this anniversary.
Reusable Bag
Reusable Bag
From grocery bags to produce bags, you have many options that are convenient and good for the environment.
Reusable Sandwich Bags
Reusable Sandwich Bags
Another awesome, eco-friendly anniversary idea is reusable sandwich bags. You will get lots of use of them in packed lunches.
Duffel Bag
Canvas Duffle Bag
There are some gorgeous canvas duffle bags available, including some that are sized perfectly for carry-ons. Duffle bags can make a fantastic long-lasting gift, and come at a variety of price points.
Buff
A buff is a multi-use scarf/hat/headband/sunblocker device, available in a multitude of colours.
Canvas Belt
From plain military green to prep-school, there are many price points and many styles available.
Canteen Carry
Canvas Canteen
A throw-back, but still easy to purchase.
Toiletry Bag
Toiletry Bag
There are a huge number of canvas toiletry bag options, including large, small and over the door hangers.
Canvas Shoes
Toms are cute canvas shoes and there are a bunch of great canvas deck shoes out there.
Messenger Bag
Messenger Bag
Just like with the duffle bags, there are some stunning canvas messenger bags available.
Wallet
Leather isn't for everyone, or perhaps you need to gift your spouse a new wallet, in order to tide him over to the third anniversary, which is leather.
Cotton Sweatband
Sweatband
Workout wear that wears out, sweatbands are readily available and generally made of cotton!
So there you have it, fifty cotton 2nd anniversary gifts for him! What else would you add to the list?