Disclosure of Material Connection: Some of the links in this post may be "affiliate links." This means if you click on the link and purchase an item, I will receive an affiliate commission. Disclosure in accordance with the Federal Trade Commission's 16 CFR, Part 255. This site is a participant in the Amazon Services LLC Associates Program, an affiliate advertising program designed to provide a means for sites to earn advertising fees by advertising and linking to Amazon.
So someone you know loves science fiction, particularly space operas, but you don't have a clue what that even means let alone what to get, right? Or maybe you do but you're trying to pick out something that would absolutely perfect in the most geeky way. Regardless, these space opera accessories are exactly what you're looking for.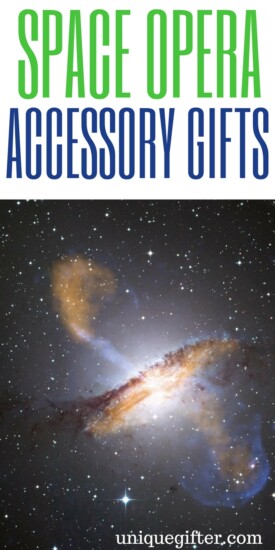 Japanese Star Wars Shirt
Arguably the most popular, and certainly the most widely known, space opera, Star Wars accessories are a hit amongst sci fi fans. This shirt adds a bit of nerdy obscurity to sporting the mainstream franchise, though.
Leather Firefly Mousepad
Something to blissfully glide their mouse along as they seek others in online discussion as to why this series was wrongfully ended.
Smeg Head Mug
Maybe a little bit obscure, sure, but most space opera fans have watched this part comedy, part satire British television series. If you get the joke it's not so mean, right?
Stargate Mirror
Reflection or planet remarkably similar to your own? They can't step through this Stargate but it's almost like they're really inside!
Fifth Element Stones
Really cool replicas of the elemental stones seen in the movie. These would make a great display piece for a space opera fan.
Galaxy Quest Doormat
90s kids will remember this comedy space opera. Embark your visitors with a bit of wisdom from Jason Nesmith.
My Other Ride is a Sandworm
Their other ride is also probably on Arrakis and is named Shai-Hulud. Better check their eyes to make sure they're not frequenting there to get some of the spice.
Bear, Beets, Battlestar Galactica Shirt
A reference to one episode of the Office that every geek remembers. It's a bit self deprecating but still pretty funny.
Stargate Keychain
A play on the classic phrase with a geeky twist. In place of "home" there's the Stargate symbol for Earth, AKA "home".
Firefly Bag
This tote couldn't be a more practical accessory. Space opera geeks are going to love the reference to the Firefly theme song and even more if anyone out in public gets where it's from.
Red Dwarf Patch
This patch can be added to any coat to make the recipient a member of the Red Dwarf Mining Corporation. Now ship them off to Jupiter to get the job done.
Starship Troopers Button Set
Most people may not realize this cult classic falls into the category of space opera but it totally does. These buttons have 3 of the most famous quotes from the movie.
Multipass
Now they can whip out their multipass every time they need to show ID with this cool 3D printed badge holder. It also makes a really unique and nerdy gift card holder!
Enemy's Gate is Down
The opportune time to strike and, without spoiling the ending, kind of the crux of Ender's Game's story. They'll know what it means.
Battlestar Galactica Model
They may not be able to board the real thing but they can replicate their own Battlestar Galactica with this model kit. Don't forget the paint and glue!
Korben Dallas Taxi Shirt
There's something great about accessories that reference something without being too obvious. Fifth Element fans are going to love sporting the subtle reference and seeing who gets it.
Battlestar Galactica Replica Gun
Replica weapons of any kind are going to be a surefire hit for space opera fans. This Battlestar Galactica replica, for example, will trigger some positive feelings.
Fear is the Mind Killer
Another Dune reference, this accessory is kind of inspirational in the nerdiest way. The cool thing is you can customize it with different fonts to match the recipient's personality.
Death Star Wallet
How about something they can use every day? This leather wallet is handmade and designed really well, perfect for a classy Star Wars fan.
Melo the Converter
From the movie Valerian and the City of a Thousand Planets, this little critter is able to replicate anything you feed to it. Of course, this is just a replica in itself so that means the replica can't replicate.
Hopefully you can make space in your life to give some of these gifts to your science fiction loving friends and family. Or just get something rad for yourself, we won't tell.