Disclosure of Material Connection: Some of the links in this post may be "affiliate links." This means if you click on the link and purchase an item, I will receive an affiliate commission. Disclosure in accordance with the Federal Trade Commission's 16 CFR, Part 255. This site is a participant in the Amazon Services LLC Associates Program, an affiliate advertising program designed to provide a means for sites to earn advertising fees by advertising and linking to Amazon.
Secretaries are the unsung heroes of the office. Where would we be without him or her to take calls, keep track of paperwork, and generally make sure everything is running smoothly. Insead of getting some boring, mundane gift for your secretary I'm here with funny secretary gifts that will have everyone in the office chuckling.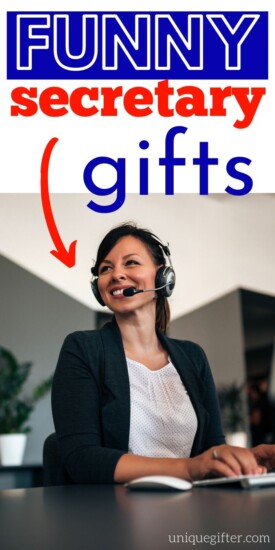 Funny secretary gifts will make the office more fun.
Choosing a perfect gift for your secretary can be challenging but these gift ideas will help make that a little easier and a whole lot sillier.
Everyone brings joy sign
Sometimes it's fun to have signs up for everyone. It's even more fun when that sign is a little bit sarcastic.
Dear office mug
Speaking of sarcasm, this mug is definitely full of it. Perfect for holding the morning coffee your secretary needs to get absolutely everything done.
Funny profound quote rock
Sometimes it's important to look good in the office. This profound quote rock is sure to impress your boss. Even funnier if you, the boss, give this to your secretary.
Mini waving tube guy
Have you ever driven by a car dealership and gone "I wish I had one of those wavy guys on my desk?" Well so has your secretary, so give them this funny secretary gift.
Funny desk sign
This lovely sign will add some much-needed poetry to your otherwise dull workplace.
Funny mousepad
If you're looking for funny secretary gifts look no further than a mousepad! There are lots out there like this funny "I work hard so my cat can have nice things" option.
Receptionist voice t-shirt
Sometimes t-shirts can be threatening.
Everyone thinks this is coffee mug
Your secretary is going to love this fun gift idea. The best part? Everyone in the office will think it's a joke, the perfect decoy for their not coffee.
Funny secretary notepads
Secretaries are always writing notes so naturally, they're perfect funny secretary gifts. Of course, these ones are perfectly sarcastic.
Stress reduction kit
Is your secretary stressed out? Do you think they need some assistance finding a way to relax at work? Then this stress reduction kit is the perfect gift for your office secretary!
Best secretary ever book
Perfect if you want to be funny but in an office-safe way. Fill it out and give it to your secretary to show your appreciation in a fun way.
Hands off pencil holder
One of the biggest problems facing secretaries today is everyone stealing their pens. Help prevent this horrible crime buy gifting your secretary this pencil holder.
Things to say at work journal
Giving this journal blank is a great gift idea for your secretary or to fill out with your own funny comments before giving.
Paper tantrum notepad
Help your secretary get over the worst days without having to throw a real tantrum.
Funny pens
These hilarious pens are my favorite funny secretary gifts. Each one has a fake, funny place that the pen is from so that if someone steals them it would be really embarrassing.
Secretary parking sign
Great funny secretary gift idea to hang up and surprise your secretary with. You could even give them their own office parking spot!
Not my job stamp
This novelty stamp is a great way for your secretary to non verbally tell everyone else in the office that the work they're asking the secretary to do is not actually their job. Perfect time saver!
Whether you're buying for secretary's day or just because these funny secretary gifts are going to make your office's administrative professionals day a lot happier. What's the funniest gift you've ever gotten from a coworker or boss?