Some people love coffee, but fancy people love tea. And I can't say I blame them! If it's time to pick a gift out for a tea lover, you know, look no further! As a tea lover myself, I've gone through pages and pages of items, and I'm giving you the best gifts for people who love tea in your life.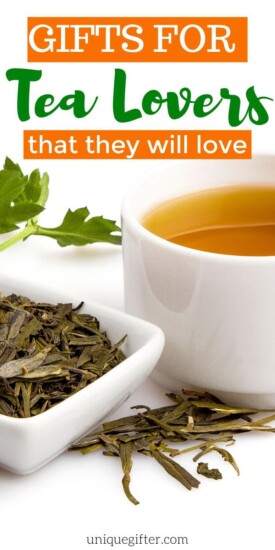 Whether it's a family member, friend, or coworker these tea themed gifts are perfect for someone who enjoys a cup of tea. Whether they go for black verities, love sweetened tea, or prefer a herbal brew there's something for every tea fan and every budget on this list.
Smashing Gifts For People Who Love Tea
Spice Up Any Tea Lover's Life With These Awesome Gifts Let's get to the shopping!
See how easy it is to find good stuff?! I'm sure your tea lover would love any and all of these gifts! If you grab something off this list, give a shoutout on Twitter (@ugifter) or Instagram (@uniquegifter) and show me what you got!