Disclosure of Material Connection: Some of the links in this post may be "affiliate links." This means if you click on the link and purchase an item, I will receive an affiliate commission. Disclosure in accordance with the Federal Trade Commission's 16 CFR, Part 255. This site is a participant in the Amazon Services LLC Associates Program, an affiliate advertising program designed to provide a means for sites to earn advertising fees by advertising and linking to Amazon.
In today's digital age, it's not difficult to find an aspiring or successful makeup artist. Whether it's in real life or on Instagram, you probably already know one or two already! Like any other type of artistic career, each person has their own individual taste and preference for the tools-of-the-trade they use for their work! Maybe you're a bit clueless on what to get someone as a gift, and they happen to consider themselves a makeup artist? If so, I'm doling out the 20 best ideas for you, so you don't have to worry about getting them something they may or may not like!
Gift Ideas For Makeup Artists
Are you ready to impress your favorite makeup artist? Let's go!
Beauty Roller
These tools have become more and more popular over the last few years and are a must-have for any makeup artist's arsenal. Help them help you by getting them a top-of-the-line facial roller!
Setting Spray
Setting spray is a gift from the gods. It's also one of the products your makeup artist runs out of first! Grab 'em another bottle before they run out with this top-rated brand!
Primer
Another product any makeup artist can never have enough of! This amazing cream makes sure theirs and their clients' foundation goes on smooth and stays put all day! Go ahead and add it to an awesome gift bag for them!
Makeup Brushes
Regardless of your level of knowledge on makeup and makeup artists, you should know this: a good set of makeup brushes changes EVERYTHING. Show them what they've been missing with this new brush set!
Eyeshadow Palette
Cover most of their color needs with this multicolor eyeshadow palette! From the vivid bright colors to the neutral nudes, this has everything they and their clients will need!
Brush Storage
Help them by making their brushes easier to access in their workstation with this spacious brush storage organizer!
Cosmetic Storage Case
Everyone hates digging through a makeup bag looking for the product they need. Seriously. Give them a quality of life upgrade with this awesome case!
Lipstick Set
Lipstick is the most important tool in anyone's arsenal! Keep them in stock for a while with this awesome 36 pack of the most popular colors!
Gel Eyeliner Set
Most people find gel eyeliner is far superior to their pencil counterparts. This 19 piece set has all the colors of the rainbow and will last them for quite a while!
Personalized Apron
Buy them their new favorite work apparel by getting them a super cute personalized apron! There's no way they won't love this!
Coffee Mug
This is the perfect thank you gift for your makeup artist! Whether they're a tea or a coffee lover, they'll definitely put this beauty to use!
Charm Bracelet
There's no such thing as too much jewelry, and this piece is right up anyone's alley! Customize it with their birthstone for an added personalized touch!
Gold Foil Print
They help you beautify your face, so help them beautify their work area with this pretty gold foil print! They'll love it!
Beauty Is My Business T-Shirt
Beauty doesn't stop at just the face! Your makeup artist will be the envy of the rest of their team wearing this shirt to the salon!
Mascara Necklace
Makeup is life, especially for your makeup artist! Why shouldn't their passion take over everything, even their jewelry?
Pillow Case Set
Most makeup artists love luscious lashes. And why should that end when the workday is over?
Pinback Buttons
How sweet would it be seeing all the pins you got them on their apron and various bags and cases for work?! There's no way they won't love these!
Faux Leather Makeup Case
This beauty has plenty of room for all the necessities for a job on the go! And the best part is you can customize it
Lipstick Keyring
Makeup is life for your makeup artist, so I don't think it's too much for them to have a cute little lipstick keyring like this! The rhinestones are the perfect pizazz for an otherwise boring part of their everyday life!
Makeup Brush Cleaner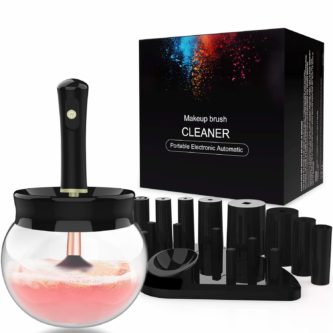 Clean makeup brushes are a MUST! Especially for artists who use their tools on multiple faces every day. Make their life a little easier with this thoughtful and awesome tool in their arsenal!
See, that wasn't so hard, was it?! With this list, you're bound to be your makeup artist's favorite client! Here at Unique Gifter, we love to hear from our readers, so give us a shout over on Twitter (@ugifter) or Instagram (@uniquegifter) and tell me what you grabbed off this list!