Disclosure of Material Connection: Some of the links in this post may be "affiliate links." This means if you click on the link and purchase an item, I will receive an affiliate commission. Disclosure in accordance with the Federal Trade Commission's 16 CFR, Part 255. This site is a participant in the Amazon Services LLC Associates Program, an affiliate advertising program designed to provide a means for sites to earn advertising fees by advertising and linking to Amazon.
If you're about to welcome an au pair, it's nice to offer them a welcome gift as they'll become a member of your family for up to the next year. As an experienced au pair, I know any au pair would love these thoughtful welcome gifts. If you are stumped and need help finding an appropriate gift, let me help! I have wonderful ideas below.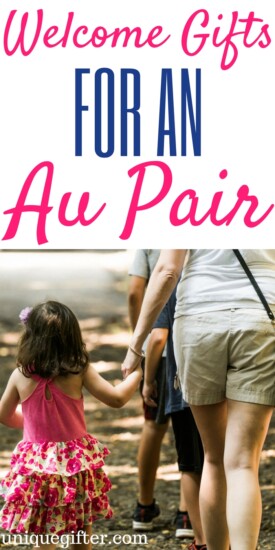 Appropriate Welcome Gifts for an Au Pair
City Guide
Welcome your new au pair to the country with a city/region or country guide for your area. If you do not live in an area where a guide book is available, stop by your closest tourism office to see what you can pick up for them. Also make a list of relevant Facebook groups, community websites, etc that will help them find more people their age, or activities aligned with their interests.
Sleep Mask and Ear Plugs
Whether your au pair is live in and might hear your crying baby or lives out and has noisy neighbors, it's always nice to have help sleeping in a new environment.
Language Learning Book
This book teaches you how to learn any language and never forget a helpful resource to an au pair dealing with a new language.
Au Pair Advice Guide
New au pairs can get overwhelmed, and this book is packed with advice to help them settle in.
Travel Journal
Encourage your au pair to travel and get outside of his/her comfort zone with this quirky travel journal.
Do Not Disturb Sign
If your au pair will be living in, this sign is a nice touch of privacy for when they need to study or take a nap.
Wifi Hotspot
Living in a new country can be scary, but being able to contact home whenever is comforting. This wifi hotspot ensures your au pair will always have wifi, even when the home network is slow or when they're out and about.
Netflix Gift Card
On a night off, nothing is better for an au pair than their own Netflix account.
Single Serve Coffee Maker
Whether your au pair is live in or live out, it's always nice to have your own coffee maker.
Twinkle Lights
When you're going to be living in a room or apartment for 6-12 months, you want it to feel homey, and twinkle lights are the homiest!
Stroller Cupholder
PLEASE if you have a stroller with no cupholder, get this for your au pair. It's a necessity. Pair with a gift card to your local coffee shop to make this gift extra special.
Twin Bedding Set
I can't tell you how much an au pair will enjoy new bedding that is cute and age appropriate. No one wants to sleep in hand me down kids bedding.
Travel Backpack
An awesome way to encourage your au pair to travel is to give him or her a bonus and/or a practical travel carry on sized backpack.
House Slippers
If your house has a no shoe rule, these slippers are a nice gesture to your new au pair.
Personalized Jewelry
Whether you put a phrase in your language or your new au pair's name on this necklace, she's sure to love it.
Amazon Gift Card
Sometimes certain things that bring you comfort from home can only be ordered online!
Rosetta Stone Subscription
Either in addition to in-person classes, or if classes in your area are expensive, unavailable, or just not compatible with your au pair's schedule, this Rosetta Stone subscription is a great practical gift for your new au pair.
Restaurant Gift Card
Treat your au pair to a night out with one of his or her new friends at a restaurant in your area.
Snacks
If your au pair is living in, she'll appreciate having some snacks all to herself, and if she's living out she'll need to fill her pantry!
Wine
During a welcome dinner or after a long day, every au pair (of legal drinking age) deserves a glass of good wine.