Disclosure of Material Connection: Some of the links in this post may be "affiliate links." This means if you click on the link and purchase an item, I will receive an affiliate commission. Disclosure in accordance with the Federal Trade Commission's 16 CFR, Part 255. This site is a participant in the Amazon Services LLC Associates Program, an affiliate advertising program designed to provide a means for sites to earn advertising fees by advertising and linking to Amazon.
Being in a relationship whether you have been together for a few months or been married for twenty years means you have had to find ways to connect. If you are on a tight budget and on the hunt for some affordable but yet fun and enjoyable date night ideas, then you have come to the right place. I have gathered some cheap date night ideas for anyone on a budget that don't cost much, and some might be free if you have the supplies on hand!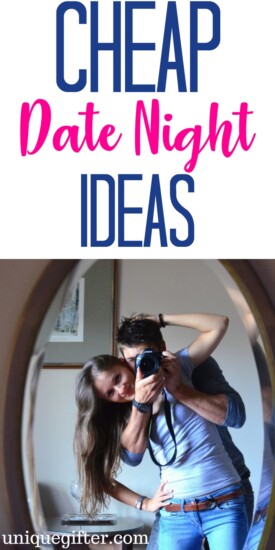 Just making time for each other is what is important, you can make anything fun. It doesn't have to be a fancy restaurant with champagne and chocolates to make it memorable, it is just connecting and making time for the two of you to spend quality time together.
Dinner In
Instead of going out, find a recipe you feel you can master or create your favorite dish for the two of you. Light a candle or two and sit down and just enjoy dinner together.
Picnic In The Park
Make sandwiches or pick up some fried chicken and side dishes, and head to your local park with a blanket, and sit down and just have a picnic. Nothing is more romantic and relaxing than sitting down in the park listening to nature.
Paint Party

Buy Now
Pick up some blank canvases and paints and watch a YouTube video on how to paint, then sit down with your partner and try to create a masterpiece. It is so fun and very relaxing to do.
Scenic Drive
Hop in the car and just take a drive and look at the scenery. For a great view try getting out of the city and going in the country to look at the trees and nature.
First Date
Relieve what you did on your first date. Maybe you went to a fast food restaurant and then a stroll through the park. Relieve your first date all over again.
Puzzle

Buy Now
It might be old school, but you can buy a puzzle with a lot of pieces and spend the day finding the perfect spots for the pieces and just enjoying each others company.
Binge Watch TV Shows
Watch your favorite tv shows while wearing pj's and snacking on goodies for the day. Stay cuddled up and never leave the house. Or rent a few movies and just relax together.
Date Night Box

Buy Now
This is really neat, it has questions inside the box, you grab a pen and write them down for things you can do in your future together.
Game Night

Buy Now
Go through your game closet and find games to sit down and play, whether it be from a deck of cards to board games. Small games like these aren't just fun, but they're perfect cheap date ideas for anyone on a budget.
Dessert Only
Head to a local favorite of yours and order dessert only. This is a fun way to treat yourself but also get out and spend time together without buying a meal and dessert. Sit and talk about your day.
Dream Vacation
Sit down and dream of what a perfect vacation might be for the two of you. Maybe you want to go on a cruise or travel by car, act like you are planning an entire trip.
Museum
Look to see if any museums in your area are open and if so, take an afternoon to go learn some history! A lot of museums offer free admission or a low fee.
Questions Book

Buy Now
This question book offers 201 questions to help make your relationship grow stronger and get you going deeper into thinking as a couple!
Thrift Store
Give each other like $10 each and have a hunt to see if you can buy a complete outfit for your partner for that price. It can be fun to see what your partner picks out for you.
Photo Shoot
Grab your phone or camera and set out to do your own photo shoot together. Outside pictures in the shade offer the best lighting and just set the timer on your phone or camera and prop it up, no need to ask for help!
Massages
Zoo or Aquarium
Head out to your local zoo or aquarium for the day and look at the animals and wildlife. Perfect for a relaxing day out and about.
Arcade
Take like $20 each or what you can afford, and go to an arcade and spend some time playing games together. Feel like a kid again and just have fun.
Dance Class
Find a dance class to go and be a part of and learn a new dance together.
Drink Up
Buy Now
Buy the goodies and try a few new cocktails or drinks to try out. This can be a fun way to pretend you're a bartender and have a relaxing night in.
In choosing the best cheap date ideas for anyone on a budget, we wanted to provide you with a variety of fun choices. Which of these ideas or activities have you tried, and how did it go? Follow us for more gift ideas, activities and planning tips that will make you feel like a pro!