Disclosure of Material Connection: Some of the links in this post may be "affiliate links." This means if you click on the link and purchase an item, I will receive an affiliate commission. Disclosure in accordance with the Federal Trade Commission's 16 CFR, Part 255. This site is a participant in the Amazon Services LLC Associates Program, an affiliate advertising program designed to provide a means for sites to earn advertising fees by advertising and linking to Amazon.
The ground is finally clearing all the snow, the days are getting longer, and the weather is getting warmer… Spring has sprung! For most of us, we probably haven't had a date night in months. Not because we don't want to, but because it has been cold, the weather has been bad, or we just haven't had the time. Change that with these 20 spring date ideas. The best part? They call cost less than $20!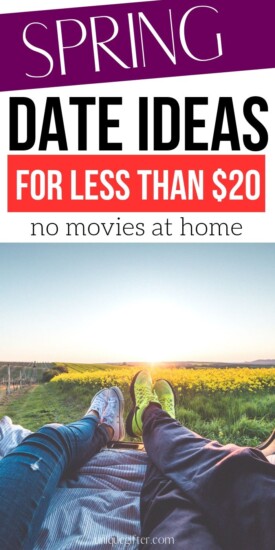 I won't bore you with all the details of why going on a date once a week is so important to your relationship because you probably already know! Instead, I am going to share with you some date night ideas that will add a little spunk back into your relationship. If you need some home-based date ideas, this list of fun things you can do while maintaining social distancing from Melanie is great.
Spring Date Ideas for Less than $20
You don't have to go to an extravagant dinner and a movie to go on a date. Spring is filled with tons of cheap and free things to do together. So, here is my list of 20 spring date ideas you can do for less than $20!
Act Like a Tourist in Your Own City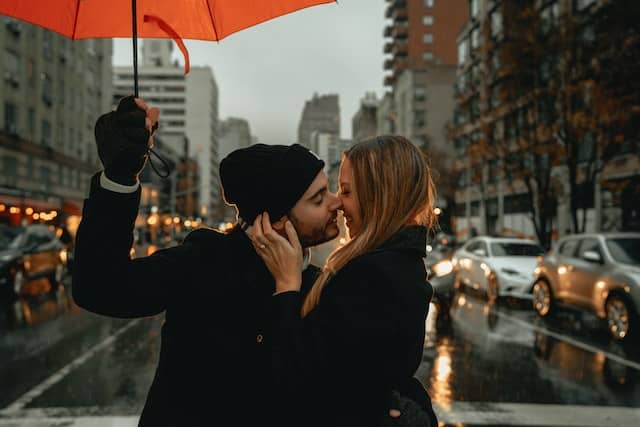 If you are a goofy couple, this could be so much fun. Act like you can't speak English while asking for directions, visit places you have never have gone, and stop strangers on the road to ask them about a statue that has absolutely no significance.
Head to the National Parks for Spring Dates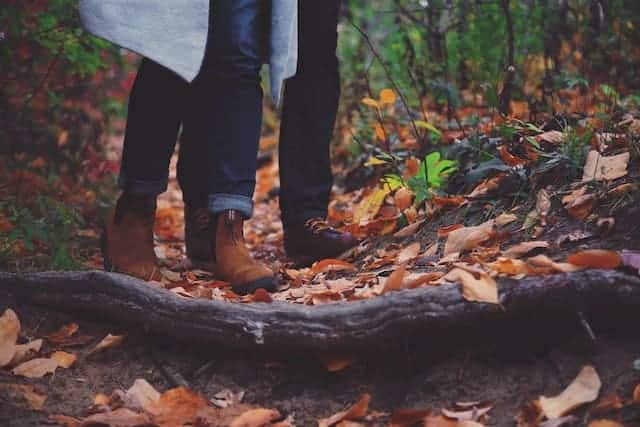 Spring is the perfect time to head to a park, go on hikes, and just enjoy the blossoming of spring in the outdoors. Many National Parks even have boat rentals that you can take for a nice romantic time on the water.
Go to a Baseball Game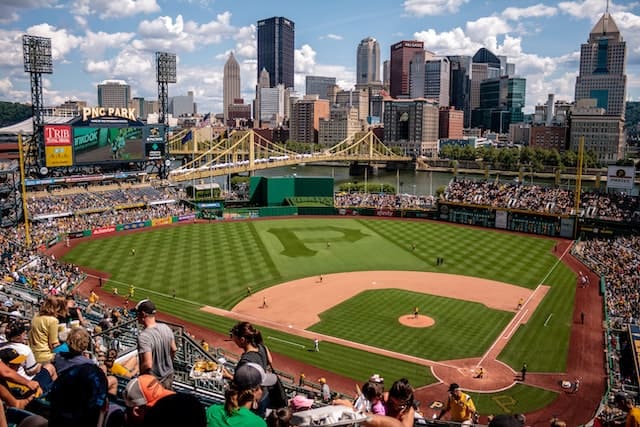 Baseball isn't quite as popular as other sports, so you can usually score some free or cheap tickets online or at local businesses. Put a post up in the Marketplace on FB and see what you can find. You can also check out amateur and youth sports playoffs for fun, an inexpensive, spring date ideas.
If it's free, use your $20 budget to buy a coffee and give the change to the organization.
Visit Local Wineries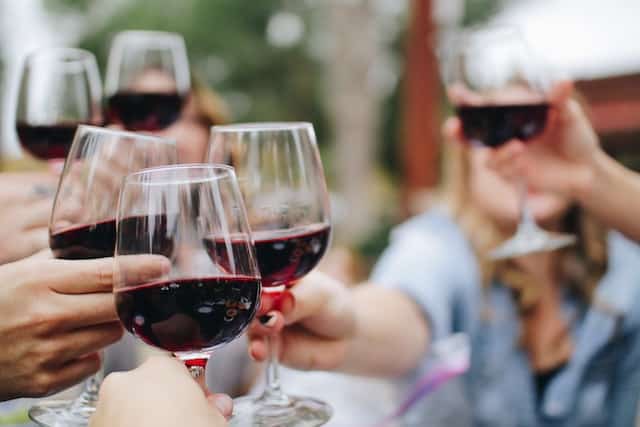 Celebrate the birth of spring with some fresh wine at one of your local wineries. Groupon is a great place to find wine tasting deals where you can both taste wine for as little as $10.
Go on a Scavenger Hunt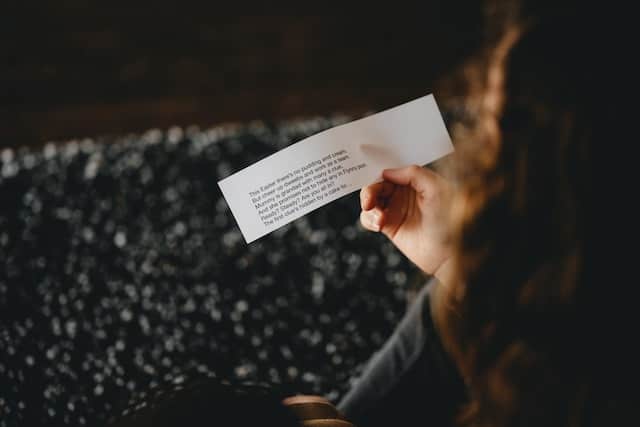 A great way to do this is by using the Geocaching app. You might find some pretty cool things right in your own neighborhood.
Plant a Garden Together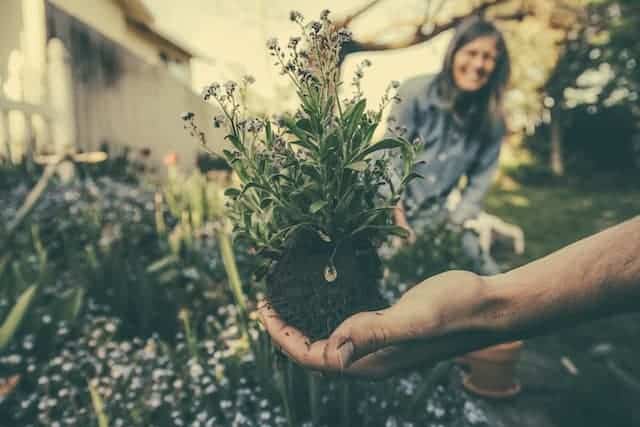 Instead of making the garden work, do it together and enjoy the time outdoors. Pick plants you can both enjoy. Don't forget, spraying each other with the hose can add a whole other layer of fun!
Gardening spring dates can also turn into a fun hobby you do together all summer long.
Go to an Outdoor Concert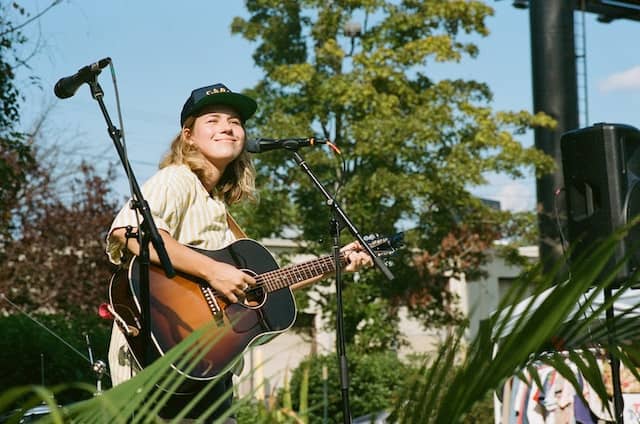 As the days start to get warmer and longer, many parks across the country offer live music concerts for free. Just show up, pop a squat, and enjoy the tunes together.
Take Pictures in the Botanical Gardens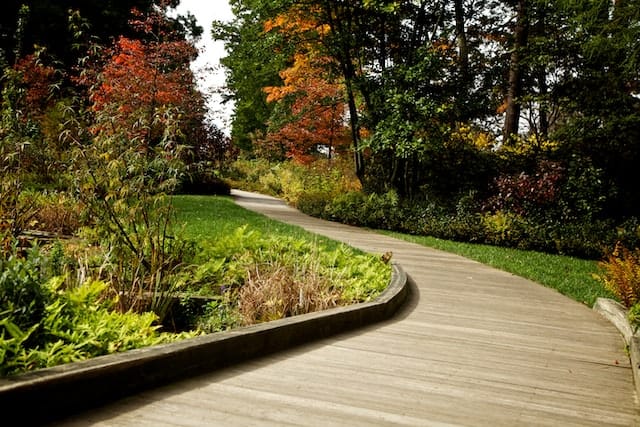 In most cities, the botanical gardens are free. So, head on over to it and take some selfies. They will turn out great, and you will enjoy doing it.
Wine and Dine at the Park With a Picnic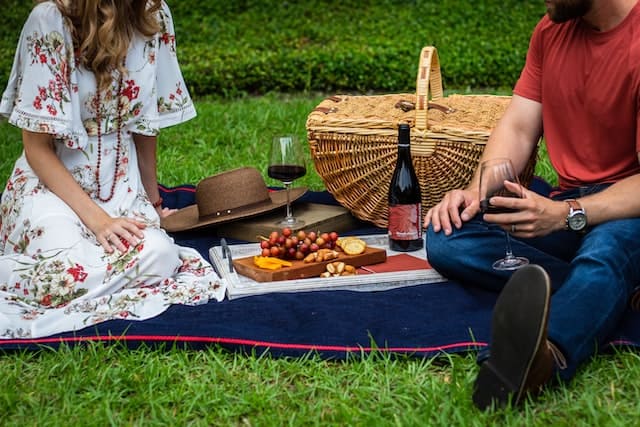 Spring is the perfect time for a picnic with wine. It isn't too cold, and it isn't too hot. Enjoy these moments before the humid heat sinks in.
Play a Game With Another Couple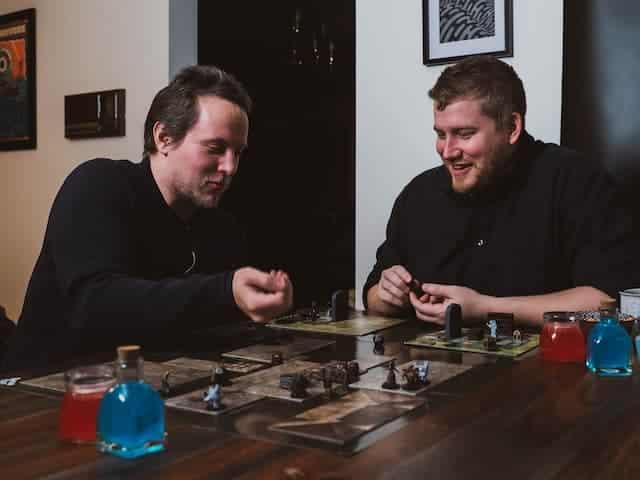 One of our favorite games to play is Couples Minute to Win It. With a little laughter and fun, this is the perfect game to play on your patio.
Treasure Hunt at Thrift Stores and Yard Sales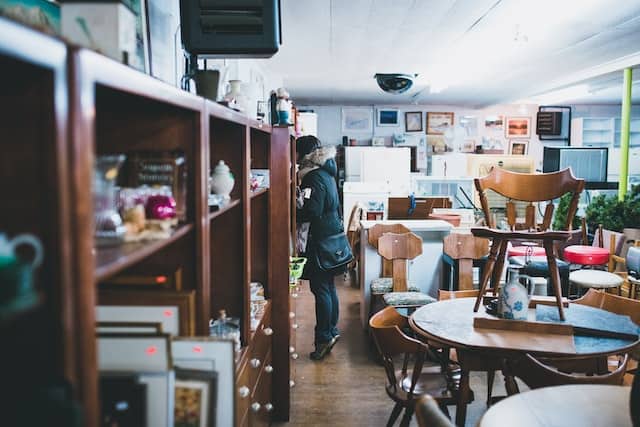 Go shopping, I mean buying other people's old stuff that they don't want anymore. Spring is the time for spring cleaning, but it is also the time for amazing yard sales. Go get that end table you have wanted or that man cave shelf.
Go to a Spring Festival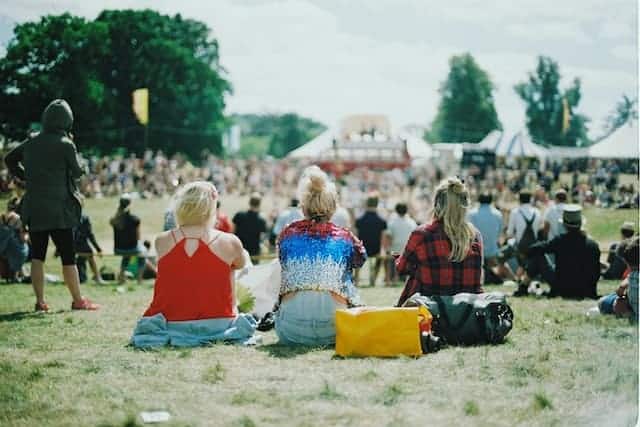 One of my favorite spring date ideas! Most cities will put on a spring festival where you can enjoy music, food, and tents full of things to buy. It might get pricey if you buy, but if you just go there to look, you won't spend a thing.
Go to the Beach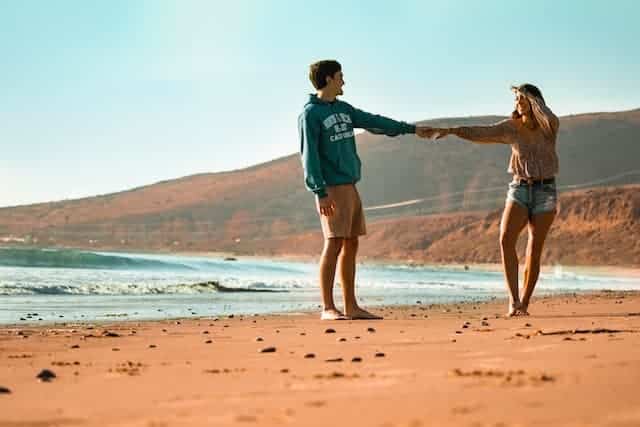 Although you probably can't get in the water yet, spring is a great time to bask in the sun while catching up on a good book. Spend time just relaxing by the water. Walk along the water's edge for a romantic talk or have a picnic there as well.
Volunteer Together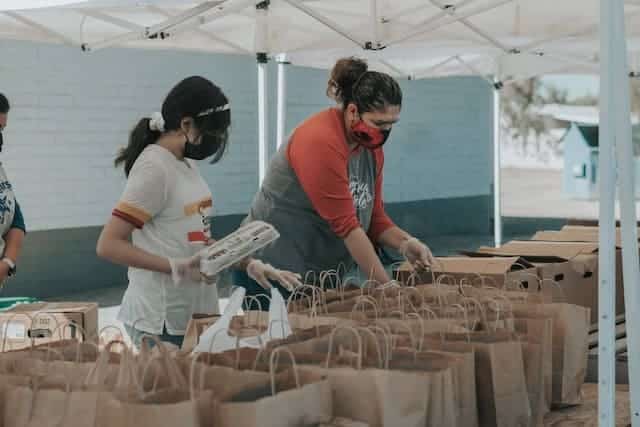 Studies have shown that couples who serve together are happier, healthier, and less depressed. So, spend your time helping the less fortunate in your area. A friend of mine spent a whole day just mowing people's yards for free.
Go to a Drive-in Movie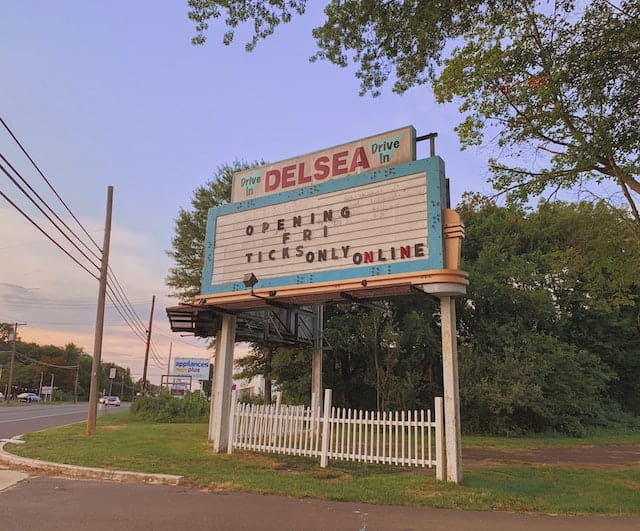 Before it gets too hot, head to a romantic outdoor movie just like you were teenagers. You can sit in the back of the car watching the movie or making out. Either way, it's a fun getaway.
Have a Paintball Competition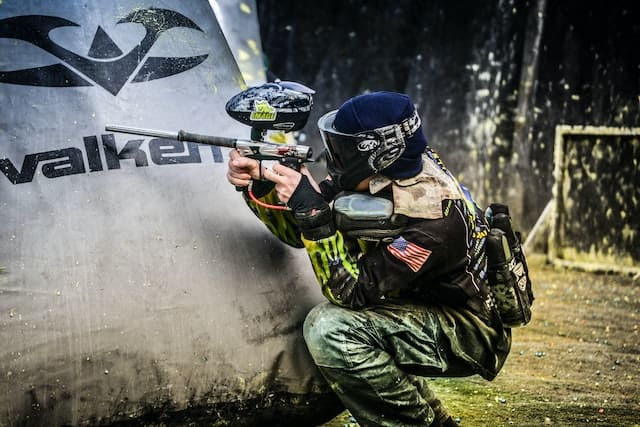 Whether you go out to the paintball grounds or you do it in your backyard, paintball is super fun, competitive, and a great way to spend time together. Find paintball arena tickets on Groupon for cheap.
It's Time for a Water Balloon Fight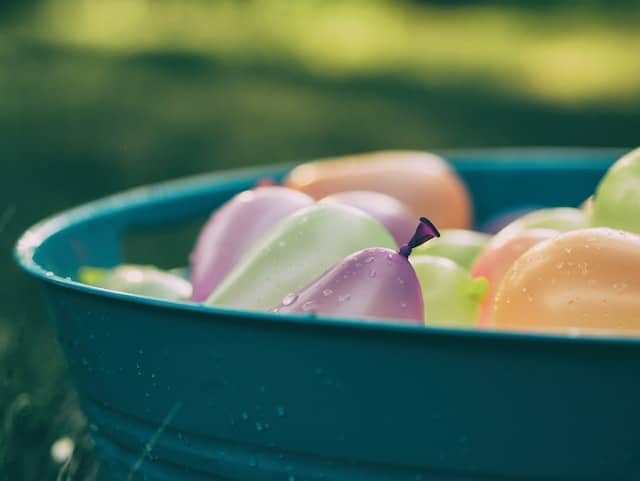 Water balloon fights aren't just for kids. So, wait till the kiddos are gone and nail your lover with a nice big water balloon. Let the games begin.
Spend a Night in the Tent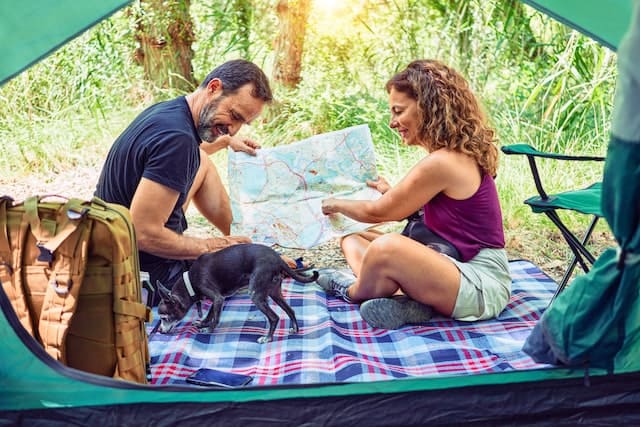 If you aren't too keen on primitive camping, you can always throw a tent in the backyard. This is an inexpensive way to get away from your phones and electronics and just spend time together.
Let Someone Else do the Driving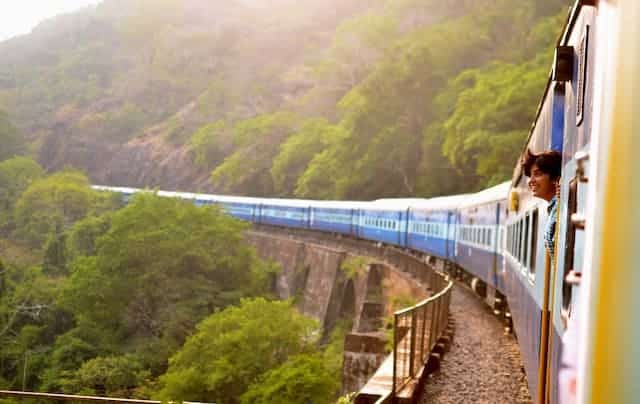 Most places only cost around $10 per person to ride a train. Take a ride on a train near you. This is a great way to do some sightseeing.
Go Get Ice Cream for Two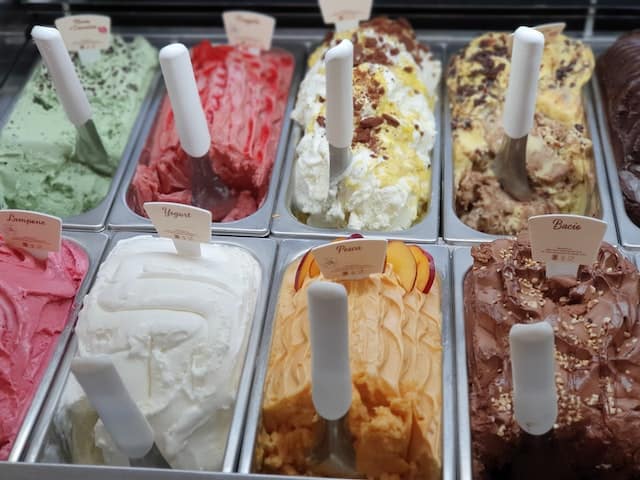 Spring is a great time to flag down the ice cream man for a little treat. Grab your ice cream cones, and go for a little walk.
Sometimes, it is the easiest dates that make the most memories. So, don't worry about how extravagant the date may or may not be. Instead, focus on just spending time together.
Do you have any other spring date ideas? If so, share them in the comments below for other readers to enjoy.