Disclosure of Material Connection: Some of the links in this post may be "affiliate links." This means if you click on the link and purchase an item, I will receive an affiliate commission. Disclosure in accordance with the Federal Trade Commission's 16 CFR, Part 255. This site is a participant in the Amazon Services LLC Associates Program, an affiliate advertising program designed to provide a means for sites to earn advertising fees by advertising and linking to Amazon.
The Best Gift Ideas for Cat Dads
Dogs or cats, we are all dads, and cat parents are criminally underrated. Even their sanity gets questioned! You and I though, we know that cat dads should get some love too, and they have birthdays and anniversaries like the rest of us. If you need some pointers on what to give to a cat dad, then this is for you.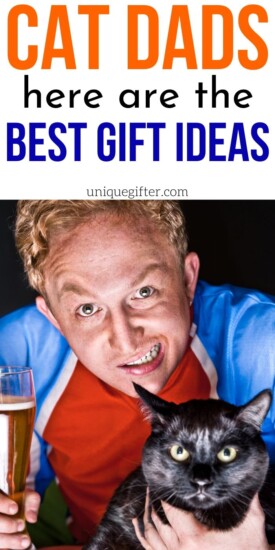 Top Gifts for the Cat Dad in your life
Safety, style, guidance: these are the best ideas to help your feline parent celebrate that special occasion.
"The Catfather" T-Shirt
For the proud parent who wants to wear his dadness on full display, while casually reminding those around him that a cat was the choice pet of don Vito Corleone.
"This Human Belongs To…" Keyring
Because, let's face it: no such thing as ownership here, or at least it doesn't go the way we usually think. This keyring can be customized with the names of up to 3 furbabies. It's aluminum, so it's lighter, cheaper, and it doesn't tarnish or rust.
Guys Can Be Cat Ladies Too: A Guidebook for Men and Their Cats
This guide walks the reader through the nitty-gritty of what it means for a male of the human species to embrace his inner cat lady. Packed with funny, sprinkled with useful advice.
Cat Dad Custom Mug
His favorite hot brew, and a painting of himself with up to two of his cats. Is there a better way to start the day?
Cat Daddy: What the World's Most Incorrigible Cat Taught Me About Life, Love, and Coming Clean
This one is for the serious readers: Jackson Galaxy (of "My Cat From Hell" fame) lays out in detail his long transformation into a top cat behaviorist, and how Benny the cat helped him on the road to rehabilitation. Past the weighty topics and the swearwords, your feline parent will find some great advice from the man whose tough looks have redefined the 'cat dad' stereotype.
Cat Moodycards
Bad hair day? In need of some privacy, please? There's a card and a cat for almost every mood at the office or at home. Brighten the day of your fun-loving cat lover!
Cooking for Two–Your Cat & You!
Cats are picky eaters, and they also love to steal their human's food. Help your cat dad solve both problems with this cookbook, which provides recipes for meals that both cat and caretaker can eat. Comes with dietary guidelines, quotes and fun facts.
Royal Cat Portrait
For the lord/lady of the house, only a regal portrait will do. With many elegant attires to choose from, this lofty work of art will impress anybody who enters the cat's abode.
Cat Collar with Bell (6-Pack)
This collar reflects light and its bell rings to alert the parent when the cat is on the move, making her easier to find. Made with nylon, this collar is breakaway, which means it will come undone if the cat gets stuck.
'Crazy Cat Dude' Novelty Socks
Because if there's something better than being a cat dude, it's being loud about it.
Harness Vest
Safety in style! This harness, tailored to the cat's measurements, makes it easier for your cat dad to keep his beloved feline in check without inconveniencing her. Plenty of colors to choose from, too!
Pet Portrait Keychain
A small and shiny way to take your furbaby wherever you go. Gold, silver, and rose gold finishes available.
Distillery Cats: Profiles in Courage of the World's Most Spirited Mousers
Cocktails and Cats: I needn't say more. Includes recipes for 15 cocktails for your cat dad to enjoy while he treats himself to the stories of these brave guardians of the spirits.
'Cats In Boxes' Socks
For the man who wants to look snappy while showcasing one of cat's favorite pastimes.
'Circle of Trust' T-Shirt
'The more I learn about people, the more I like my dog', said Mark Twain, and this is the ideal gift if your cat dad agrees —except for the taste in friends, that is.
Father's Day Card from Cat
Tight budget? No time to be choosy? Then this card is the perfect solution, even if all you want is to give him something that comes straight from the king (or queen).
Now you're ready to impress your cat dad! Oh, and when you give him the gift of your choosing, tell him this dog dad salutes him.