Disclosure of Material Connection: Some of the links in this post may be "affiliate links." This means if you click on the link and purchase an item, I will receive an affiliate commission. Disclosure in accordance with the Federal Trade Commission's 16 CFR, Part 255. This site is a participant in the Amazon Services LLC Associates Program, an affiliate advertising program designed to provide a means for sites to earn advertising fees by advertising and linking to Amazon.
Drool Worthy Gifts for Taco Lovers
We all have that person in our lives who literally drools for tacos, or maybe that is even you! These gifts here are all insanely drool worthy. Get your taco loving friend something they will love, enjoy, and use for a long time. When you have made them drool or start daydreaming about tacos, you know you have found the perfect gift for them.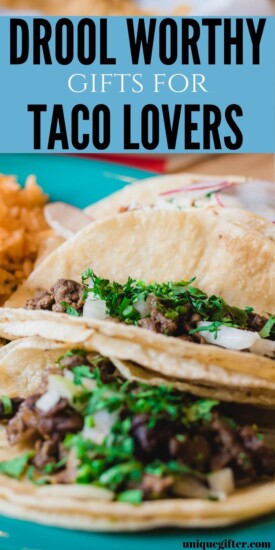 Read this amazing list full of drool worthy taco gifts for the taco lover in your life
If you are at a loss of what to get the taco loving person in your life, aside from giving them actual tacos, then you need this drool worthy list of taco gifts.
The Taco Twosday Train Taco Holder
Trains aren't just for kids, the Taco Twosday train taco holder can hold two tacos. That way, their tacos aren't falling over on their plate and they can enjoy flour or corn tortillas no matter what.
"All I need is this gift card and tacos" Printable Gift Card Holder
Print up this gift card holder for a gift card to their favorite restaurant with tacos, a local joint, Taco Bell, Del Taco, El Pollo Loco, or wherever else they love going. Then, they can go out and get tacos anytime.
Taco Earbud Case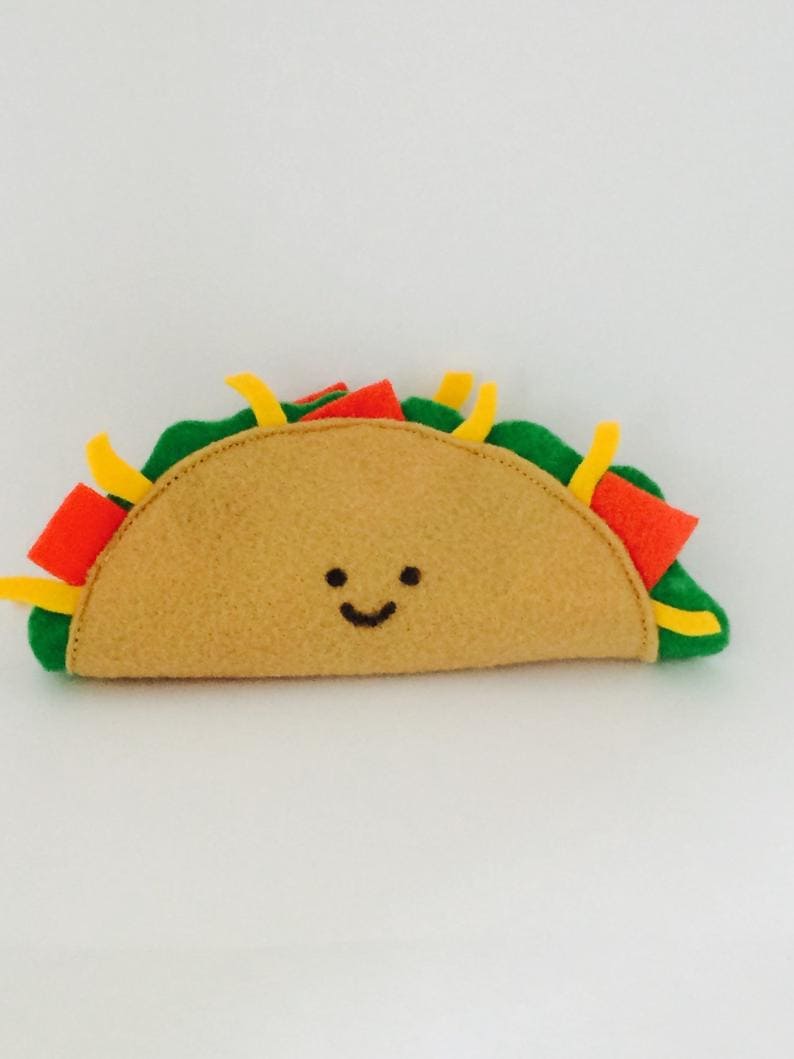 Help them keep their earbuds safe and collected with a taco. Every time they look at this taco earbud case, they will probably crave those tacos.
"Surround yourself with tacos, not negativity" Badge Reel
It's always better to surround yourself with tacos rather than negativity. If your taco loving friend is a nurse or someone else who wears a badge, they need this badge reel.
Taco Print Lipgloss Holder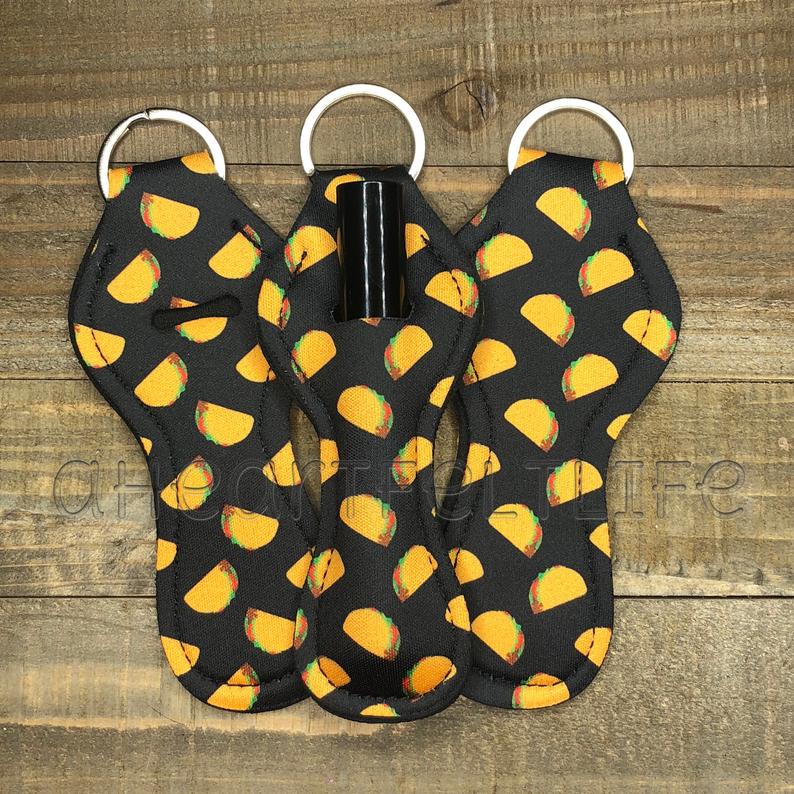 I'm not sure if there is a lip gloss or chapstick that tastes and smells like tacos, but there probably is. For now, the next best thing is a taco print lip gloss holder to keep their lip gloss from falling to the bottom of their purse.
Taco and Avocado Quilted Cotton Reversible Microwavable Soup Holder
They can make taco soup and have this taco and avocado soup holder to keep them from burning their hands when they pull it out of the microwave.
"I'm just here for the tacos" Shirt
Wherever they go, they are always there for the tacos first. Whatever else is happening is lower on their radar and maybe not even on their radar at all.
"Feed me tacos and tell me I'm pretty" Makeup Bag
The way to her heart is through tacos! That's why she needs this makeup bag for all her makeup on the go.
"You better have tacos" Welcome Mat
Anyone who visits their house must have tacos… or else!
Taco Leggings Capris
Your taco loving friend needs this to go with a taco themed shirt or even a regular shirt. Wherever they go, they will grab attention and show their love for tacos.
"Live everyday like it's taco Tuesday" Pot Holder
The best way to live is to live everyday like it's taco Tuesday, as well it should be, especially according to your taco loving friend.
"Every now and then I fall apart" Taco Mug
Tacos fall apart sometimes, it's just a part of eating them. Having this mug to drink their coffee from in the morning will have them looking forward to having tacos for lunch or dinner.
Taco Keychain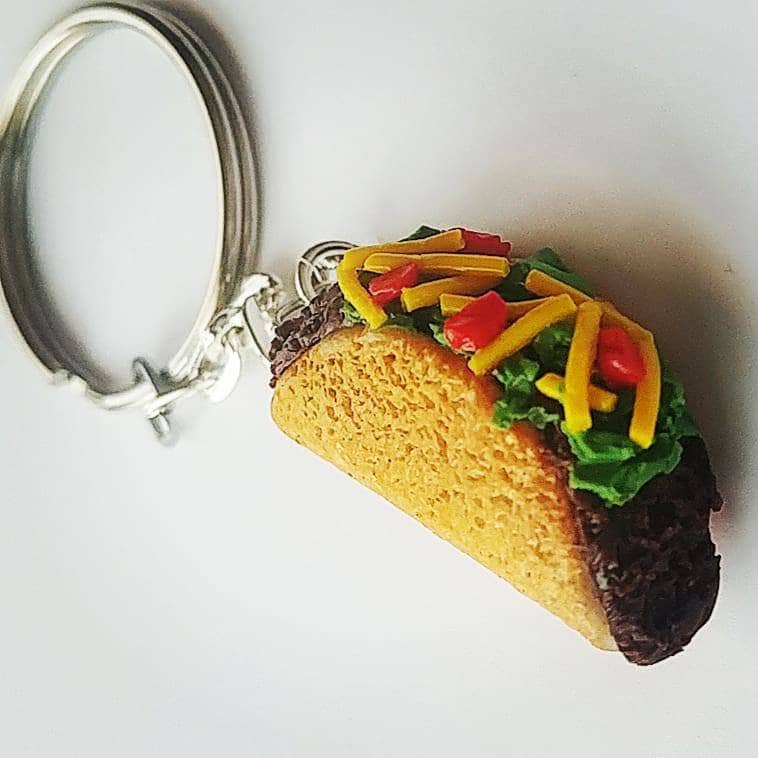 Looks super realistic and is sure to get them drooling like crazy anytime they use their keys.
"Check out my six pack" Taco Six Pack Shirt
Their six pack is made out of tacos! According to them, that is also the best kind of six pack!
"There's a good chance tacos are in here" Neoprene Lunch Tote
There's nothing that says "drool worthy" more than a taco print lunch tote to take their very own homemade tacos to work in. It may not work as well to premake them, but they can put all the fixings in there.
"You had me at tacos" Dish Towel
The word "taco" will always get their attention, no matter where they are, and this dish towel is perfect for wiping their hands while they make drool worthy tacos at home.
Drool worthy taco gifts are something that will make your taco loving friend the most happy, and hungry, person!