Disclosure of Material Connection: Some of the links in this post may be "affiliate links." This means if you click on the link and purchase an item, I will receive an affiliate commission. Disclosure in accordance with the Federal Trade Commission's 16 CFR, Part 255. This site is a participant in the Amazon Services LLC Associates Program, an affiliate advertising program designed to provide a means for sites to earn advertising fees by advertising and linking to Amazon.
These are the best Big Lebowski gifts you can find! As I prepare to write this list, guiding you through the winding and horrifying halls of retail to that shining golden gift that for that Big Lebowski fan in your life, I can't help but wonder: Who isn't a fan of The Big Lebowski? It's probably one of the greatest movies in creation! If you haven't seen it, you probably should. There's a reason why the fan in your life is such a big fan.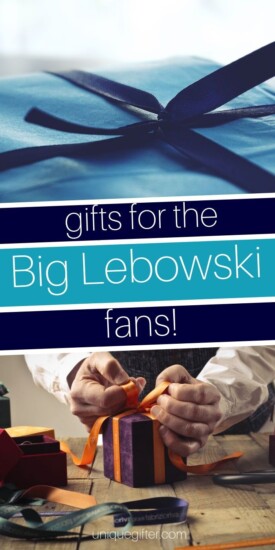 Where Are The Gifts, Lebowski?
Alright, so such a cool Coen Brothers flick with such a significant cult following has to have a lot of merchandise surrounding it, right? If you haven't even seen the movie, how are you supposed to know which gift is more rad than the other? This is where I come in! I've combed the minefield of gifts and came back with the winners. Buckle up and get ready for the best Big Lebowski gifts!
The Big Lebowski (Blu-Ray)
Let's start out with the actual movie. Maybe the fan in your life has a copy of it on DVD, but do they have it on Blu-Ray? While you're at it, maybe you should pick up a copy for yourself and see what all the fuss is about, huh?
Where's The Money, Lebowski?
How much does your Lebowski fan know about the movie? This trivia game is sure to provide entertainment and allows them to put their money where their knowledgeable mouth is!
The Big Lebowski Apron
This apron is sure to be beloved by any fan. Featuring the dude in all of his wisdom and chill grace, you'd be hard-pressed to find someone who doesn't dig this apron.
Man Of The Year Bar Mirror
I mean, who hasn't watched that part of the movie and thought that this would be a nifty mirror to have? Make that dream come true for someone!
The Abide Guide: Living Like Lebowski (Paperback)
Maybe your favorite fan has been looking a little uptight lately. With this wonderful publication, they can study on topics like "The Seven Spiritual Laws Of Taking It Easy" and "The Way Of The Dude."
The Big Lebowski Movie Poster Print
What fan wouldn't want this fantastic trio taking up space on their wall? That's right. Make sure the fan in your life isn't missing out on this awesome print!
The Dude T-Shirt
Jeffrey Lebowski can't make it any clearer to Mr. Lebowski: "I'm The Dude, man.". Not sure how he can make it much clearer, to be honest.
Pajama Pants
When you've got that Lebowski lover that even wants to imitate his style? I've got you covered. These pajama pants bear a striking resemblance to the one that The Dude sports in the film!
Rug Journal
I can't sit here and promise you that the gift recipient is going to write in it. I can promise that they'll love it and it'll likely really tie the room together.
The Dude's Gran Torino
Well, maybe you can't afford to actually buy your fan The Dude's actual Gran Torino, but you can get them the next best thing: This snazzy miniature replica!
"Careful!" Coffee Mug
I'm sure that you've got someone in your life that loves The Big Lebowski as much as they love their morning cup of coffee. I've got them covered as well. Not only is it Lebowski related, but it's also pretty valid!
Opinion T-Shirt
Easily the most memorable phrase from the flick besides "That rug really tied the room together," I don't have a doubt in my mind that any Lebowski fan you present this to is going to absolutely adore it.
Abide Decal
Does The Dude abide by your fan's ride? You can help them out with that question with this sweet decal!
Meet Your Match, Dude
Definitely one of the more unique gifts that I've come across. This puzzle is very cool, but not just because it involves The Big Lebowski but because the pieces double as coasters!
Legends Never Die Photo Collage
When you've got someone that is a hardcore fan of the film, I'm pretty sure they would love something like this hanging around their place. This showcases poster art from the film, a picture of the actors, and even a cutout of info about the film itself, all brought together in a neatly framed collage!
The Big Lebowski Mouse Pad
A very cool addition to the list for those fans that also have a love affair with sitting at their desks! Featuring members of the cast showcased in GTA style art, this mouse pad is guaranteed to bring a fresh look to their work area.
Robe
Did you really think that I'd make it through the list without including the robe, though? Shame on you. This is a robe, and it looks almost exactly like the one The Dude wears! Not much to say except that your fan will definitely get the reference and dig the gift.
The Big Lebowski Lifesized Cardboard Cutout
I'm not sure how I'd feel walking through my house at night and coming across a lifesized cardboard cutout, but that's not my problem is it? It's your fan's problem after you pick up this awesome cutout for them!
The Dude's Sweater
How can I include the robe and not include the sweater? You're right; I can't! This sweater is awesome and guaranteed to spark some Dude style in your fan's life.
Calmer Decal
Walter is my favorite character in the movie, but I can totally see how he would grate on the nerves. I think it's part of his appeal, honestly. He's calmer than you are, dude, and he's totally willing to prove it with this decal!
That's the end of the list! I've led you through some of the coolest gifts that I could find when it came to The Big Lebowski, and I'm willing to bet that you've found at least a couple that you know that the fan in your life would love. Maybe you found something that you can't wait to get for yourself? Tell us all about it on Twitter (@ugifter) or maybe even on Instagram (@uniquegifter), and thanks for checking out The Best Big Lebowski Gifts!