Disclosure of Material Connection: Some of the links in this post may be "affiliate links." This means if you click on the link and purchase an item, I will receive an affiliate commission. Disclosure in accordance with the Federal Trade Commission's 16 CFR, Part 255. This site is a participant in the Amazon Services LLC Associates Program, an affiliate advertising program designed to provide a means for sites to earn advertising fees by advertising and linking to Amazon.
From nuts to nails, N is a great letter for the kids of all ages. Below I will share a mix of gifts that will fit a variety of age ranges for your child! Give them a fun gift that starts with the letter N. There are so many toys listed below to choose from that will represent the letter N in a great way. Check 'em out.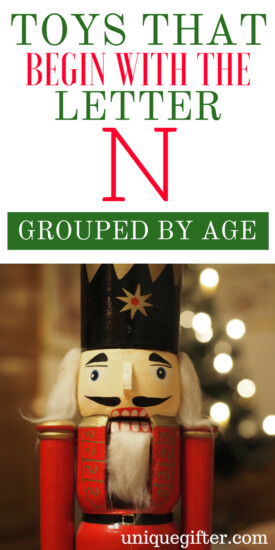 Find more toys for the rest of the alphabet:
20 Toys That Begin With The Letter N For Ages 2-5
Shopping for children ages 2-5 is absolutely so fun! The excitement and wonder in their eyes when they get to open their gift is unmatchable. Finding them toys that they will play with for a long time can sometimes be a difficult task because they have such short attention spans! I have found some of the most fun, exciting and attention-grabbing toys on the market that start with the letter N. Some of these toys are educational which makes them a double threat!! No matter what you are going to have a great time shopping, so you might as well get started now.
Night Light: Rotating Star Projector
There isn't a child on the planet that won't absolutely go crazy for this projector! It's so cool to see the stars on the ceiling and you can choose some fun color combinations.
NextX Magnetic Drawing Board
NextX blew it out of the water with this one! It's easily portable so you can take it anywhere, the grocery store, the dentist office or even riding in the car. Plus, it has fun colors, stamps, and stickers.
Nature Bound Bug Catcher
Do you have a kiddo that is fascinated by bugs and other creepy crawlies? If so, then this is seriously such an awesome gift idea. Encourages exploring and staying active.
NextX Color Matching Puzzle
Your child can get creative with these fun and colorful puzzles. They will help develop their motor skills and brain while having a blast! I call that a win!
No Fuss Fish
Okay, so maybe little Susie is too young to have her own fish, but with this unique fish, you can fulfill her dream of being a pet owner without all the hard work! Plus, they are just adorable!
Nerf Football
This is one football that can be played both inside or outside! It's durable and will be there for your child through all the laughs, giggles and touchdowns.
Nickelodeon Teenage Mutant Ninja Turtle
This cuddly ninja turtle will become your child's best pal for play and even naptime! You just need to be prepared for all the "Cowabunga's" that are going to be said as the turtle flies across the room!
Name Puzzle
Your child is going to love anything with his/her name on it! This fantastic puzzle will help teach them how to spell their name and learn their numbers.
Ninky Nonk Train Set
A fun pull-along train set that wobbles and shakes. It is strong and durable to keep up with all the hours of rough play it may endure!
Nemo Plush Toy
Children and adults alike all love the Finding Nemo movies! Now your kiddo can have a friend to snuggle with while enjoying the show. This Nemo even has one large fin and one small fin!
Noah's Ark Little People
This adorable Noah's Ark has the cutest animals! These little toys fit perfectly in small hands…which is great because they are going to get taken everywhere.
Nature Exploration Adventure Toys
This fantastic set encourages exploring new things and developing science skills. Any kiddo that loves the outdoors is going to love this set.
Necklace Activity Set
Now your child can create a necklace with her favorite princess and she can wear it everywhere she goes. The beads are really cute and a great size for developing fine motor skills.
Number Magnets
Brightly colored magnets will hold your childs attention for a while. These are great to help start teaching early math skills.
Narwhal
And the cutest toy ever award goes to….this Narwhal toy! It's soft and simply adorable. Great gift for a girl or boy and it will be loved for years and years to come.
Night Light Plush Pillow
Sometimes being in the dark is a very scary place, especially if you are small child. Help them feel comfortable sleeping in their own room with this awesome night light pillow! Plus, it's great for using in a homemade fort!
Nickelodeon Paw Patrol Blanket
I promise you can never have too many blankets! Think of all the blanket forts that can be made. Plus, this blanket is super soft and just begs to be snuggled.
Nickelodeon Blaze & The Monster Machines
Your child can wear the remote control on his or her wrist! Super fun! It can go from being a monster truck to racing. Any kid is going to love this.
Num Noms Surprise Jar
Hold onto your hats! This really adorable Num Nom toy smells amazing and is so sweet! All the kids are going to want one.
Nickelodeon Bubble Guppies Book
Brightly colored book with sounds. Your child will love pushing these buttons (instead of yours for a change) and reading along with the story.
What was your favorite toy when you were really little? Do you still have it?
Toys that Begin with the Letter N Ages 6-8
National Geographic Dinosaur Puzzle
Putting together this National Geographic dinosaur puzzle will keep their little hands and minds busy.
Nail Designer Device Makeup Kit
You can't go wrong with a nail designer kit for the kid that loves to do nails.
Native American Colour-In Headdress Kit
Not only can they learn about Native Americans, but they can also have fun coloring in the headdresses too.
Nature Bound Bug Catcher Toy
Learning about bugs and catching them is one of the most fun rites of childhood.
Navy F-18 Hornet BlueJet
Planes and military are two very interesting topics, but when you put them together, you have something greater and more fun.
Nature Cat Cal Plush
Nature Cat is a fun PBS show, and now your kiddo can have Cal by their side all the time.
Novelty Fake Needle Syringe Pens
They can pretend they are drawing blood, giving shots, and more with these fake needle syringe pens at their fingertips.
Nemo Plush
This list couldn't possibly be complete without a Nemo the fish plush.
Nickelodeon Teenage Mutant Ninja Turtles Pillow Pet
Keep their heads comfy when they take a rest, with this Nickelodeon Teenage Mutant Ninja Turtles pillow pet.
Navy Seals Speedboat Playset
They can be in the Navy Seals now with their brand new Navy Seals speedboat playset.
Nutcracker Ballet Mouse King Plush
The Mouse King plush from the Nutcracker may not exactly be popular, but it is no doubt a fun way to represent the letter N.
Ninjago Flying Phantom Minifigures
Ninjago flying phantom minifigures are strong and intimidating, even if they are small.
Nightwing Action Figure
Nightwing is a great superhero!
Nemo 10" Backpack
This backpack is originally for preschoolers but can be used for older kids who don't need to carry a lot or just need to carry tablet or coloring tools in the car or to a friend's house.
Nature Bound Toys Field Microscope with Compass
They can learn more about nature with this Nature Bound microscope with a compass. Combine it with research, and their minds will expand so much.
Note Diatonic Metal Hand Bells in 8 Colors
They can make music with these beautiful and colorful hand bells.
Nightwing Logo Cap
Toy, or a way to keep the sun out of their eyes, they don't know the difference!
Native American Inspired Feather Headdress
Another awesome headdress to help them have fun while learning more about Native Americans.
Neptune Table and Lid Set
Playing with water and sand just got a whole lot more fun and expansive.
Nurse in Training Scrubs
Pretend play that involves being a nurse will teach them how to take care of others and explore medical care as well.
The letter N is a fun letter and I loved all of these fun toy choices here. Now, it's your turn to pick your favorite for your kid!
20 Toys that Begin with the Letter N for Ages 9-12
From nothing to never, it may seem like there aren't many choices of toys that begin with the letter N for kiddos ages 9-12, but there are quite a few. Some of the best ones are those that start with nature, or are based off of the Ninjago movies. If you don't want to take my word for it, check out these twenty toys that begin with the letter N!
National Geographic Mega Slime & Putty Lab
Slime is super popular right now, and this National Geographic mega slime and putty lab will keep your child busy for many hours, just creating and having fun.
Num Noms Nail Polish Maker
Now they can make their own nail polish, how exciting!
Nature Bound Bug Catcher Toy
Send them outdoors with the Nature Bound bug catcher toy to catch some bugs, just make sure they aren't catching ones that will sting them.
Navy Seals United States Speedboat Playset
They can have endless fun with the Navy Seals United States speedboat playset.
New Ray 1/60 Boeing CH-47 Chinook
The New Ray Boeing Chinook is educational because it is highly detailed and authentic.
Nature Cat 8" Plush
Nature Cat might be a show for younger kids, but if your kid still enjoys watching it, they will love this plush.
National Geographic Mega Gemstone Mine
They can discover more about gemstones with the National Geographic mega gemstone mine kit.
Nail Art Craft Kit
Imagine all of the fun nail art they can create with their new nail art craft kit.
Ninjago Movie Fire Mech LEGO Building Kit
Ninjago is one of the coolest movies, and now they can build the Fire Mech from the movie with this LEGO building kit.
Nickelodeon Blaze & the Monster Machines- Zeg
Another show that might be for younger kids is Nickelodeon's Blaze & the Monster Machines, but a toy version of Zeg can be fun for all ages.
Night Mission Goggles
Now that they have night mission goggles, they can have missions at night when it is dark!
North America Dragon Night Hunter Figure
The North America dragon night hunter can hunt down all of the dragons and keep the world safe.
Noodle Chair by SwimWays
If your family spends a lot of time in the pool, the noodle chair is a great gift for them to just sit in and cool off if they don't want to fully immerse themselves.
New Ray 1/60 Air Tractor AT-502
This New Ray air tractor has a lot of true-to-life detail.
Ninjago Movie Water Strider LEGO Building Kit
Help them build a Ninjago movie water strider with this LEGO building kit.
National Geographic Shark Tooth Digging Kit
Oh my! Digging for shark teeth is one of the coolest things ever, and now they can do that too with the National Geographic shark tooth dig kit!
Neon Maracas
These just may drive you crazy, but they look super fun!
Nuclear-Powered Submarine 'Sturgeon' Long Hull
They definitely need a nuclear-powered submarine to teach them even more about the letter N and nuclear-powered vehicles.
Nurse Scrubs Outfit for American Girl Doll
Now their American Girl doll can become a nurse, with the nurse scrubs outfit.
Nickelodeon TMNT Puzzle in a Lunch Box
This Nickelodeon TMNT puzzle doubles as both a fun, interactive puzzle, and a lunch box they can use for their lunches later on.
The possibilities are endless when it comes to toys that begin with the letter N for your 9-12 year old. My favorites are the ones that have something to do with nature!