Disclosure of Material Connection: Some of the links in this post may be "affiliate links." This means if you click on the link and purchase an item, I will receive an affiliate commission. Disclosure in accordance with the Federal Trade Commission's 16 CFR, Part 255. This site is a participant in the Amazon Services LLC Associates Program, an affiliate advertising program designed to provide a means for sites to earn advertising fees by advertising and linking to Amazon.
Gift Ideas for Mammoth Lovers
They might be extinct, but they're coming back in style! The woolly mammoth is one of the most legendary mammals to walk the earth! With a menacing pair of tusks and a coat to put any fashionista to shame, it's no wonder why it has so many fans! These are some of the most unique gift ideas for mammoth lovers you'll find anywhere!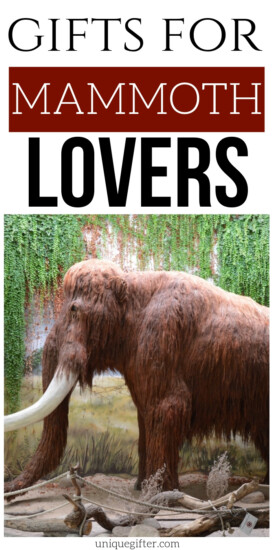 Here's Some Gift Ideas for Mammoth Lovers
Get ready to dig your tusks into some of our top picks! Check out these one of a kind unique finds for those mammoth lovers out there!
Mammoth Envelopes
Who couldn't use some extra envelopes? These artsy handcrafted envelopes are perfect for accompanying any mammoth gift, or for thank yous! Don't pass up these one of a kind gifting must haves!
Mammoth Pillow
This handmade wooly mammoth throw is a no brainer! IT makes an easy decor gift, perfect for any piece of furniture, sure to please any mammoth lover on your list.
Mammoth Decal
Keep it simple! This mammoth decal will leave your friends totally spaced! Gift to the artsy, great for scrapbooking!
10 Pc Wooly Mammoth Playset
This adorable set of figurines features the iconic wooly mammoth and some of his most notable friends! The caveman, and sabertooth tiger to name a few join in for a play time nobody could forget!
Mammoth Bottle Opener
This handy little wooden bottle opener is a quality addition to anyone's home bar or garage that'll be treasured for ice ages. Ok, terrible puns aside bar ware is always a huge hit!
Mammoth Rocking Animal
For the young mammoth lovers at heart, (or for the ones with youngin's), this adorable mammoth rocking toy will be the most beloved item in the house! With an adorable set of ears and a big long trunk it's guaranteed to be a huge hit!
Mammoth Cufflinks
This set of cufflinks will have any guy roaring! Get your tusks on with this pair of indispensable men's fashion accessories! Whether it's the start of a collection or a new treasured piece, it's sure to go over well with that mammoth loving guy of yours!
Mammoth Necklaces
These laser engraved necklaces are a fashion hit! Featuring three different wooly mammoth designs and chains, they are truly one of a kind! Pieces like these that you won't find in stores are the best! Pick one up or your mammoth loving friend!
Wooden Mammoth Puzzle
Puzzles are all the rage, and what better to celebrate with than the wooly mammoth? This 3D puzzle is a walking wooly mammoth with sound and motion!
Mammoth Pommel
For the artsy friend in your life! This wooly mammoth head pommel is the end piece for just about anything you'd like, typically knifes! Cast in silver, it's an impressive and eye catching accessory that you can truly call unique!
Mammoth Bangle
Charm bracelets are always a hit! Give your mammoth loving friends the gift of memories with this one of a kind, personalized charm bangle featuring a tiny mammoth!
Glass Blown Mammoth Figurine
Collectable decor, or mantle pieces are something nobody has enough of! Start your friend or loved one's collection off right with this eye catching glass mammoth! Handmade, pieces like this always impress!
Crochet Mammoth
This adorable crochet mammoth will have you searching crochet how to's on youtube asap! Perfect for the mammoth lover's desk, this little guy will have you getting your tusks in the air!
Mammoth Story Book
This bedtime story book has it all! With an adorable cover of a mammoth, it includes an alphabetic journey into prehistory! Give your young ones the gift of the legendary mammoth with this truly unique story book!
Mammoth Patch
Adorn your backpack with this 'remember' mammoths patch! In the style of a badge, it's sure to turn heads! These things are great for accessorizing, as well as for scrapbooking! Great for the artsy and expressive mammoth fans out there!
Thanks for stomping on into our mammoth gift suggestions! These are truly a unique bunch of selections, let us know what go your feet stomping!