Disclosure of Material Connection: Some of the links in this post may be "affiliate links." This means if you click on the link and purchase an item, I will receive an affiliate commission. Disclosure in accordance with the Federal Trade Commission's 16 CFR, Part 255. This site is a participant in the Amazon Services LLC Associates Program, an affiliate advertising program designed to provide a means for sites to earn advertising fees by advertising and linking to Amazon.
Racing sailboats makes them happy. A gift centered on sailboats, racing, or the two combined is perfect in their eyes. Not to worry, because there are so many choices for your favorite sailboat racer, just check out all these awesome ideas. Let them hit the open waters and remember that you thought of them as they take off on their water adventure.

Fun Gift Ideas for Sailboat Racers
Nautical Bracelet
A nautical bracelet is super simple and practical.
"Lake mode" Tank Top
For the sailboat racer, they are always in "lake mode!"
Captains Wheel Bottle Opener
Of course they need a captains wheel bottle opener for their beer bottles.
"Who cares? You're on sailing time" Wood Wall Clock
Who cares, you're on sailing time. After all, no one really pays that much attention to the clock when they are sailing or sailboat racing.
Personalized Sailboat Water Bottle
This personalized sailboat water bottle will keep them hydrated as they race or simply sail their boat.
"But he, that hath the steerage of my course, direct my sail. -William Shakespeare" Journal
They can keep logs of their time and other factors in his journal with a William Shakespeare quote on it.
"I'd rather be sailing" Tank Top
Let's face it, there is never a time when a sailboat racer wouldn't rather be sailing.
Vertical "Sail" Sign
They can put this vertical "sail" sign on their porch like a proud beacon.
"I love it when my wife lets me go boating" Mug
If your husband is the sailboat racer, he really does love it a lot when you let him go boating, but not everyone has to know the whole truth because most people will only be able to read "I love my wife."
"Eat. Sleep. Sail." Sweatshirt
Life is all about eating, sleeping, and sailing!
Sailboats Drink Coaster
Using the sailboats drink coaster at home will keep the water rings away.
"Keep calm and sail on" Wine Glass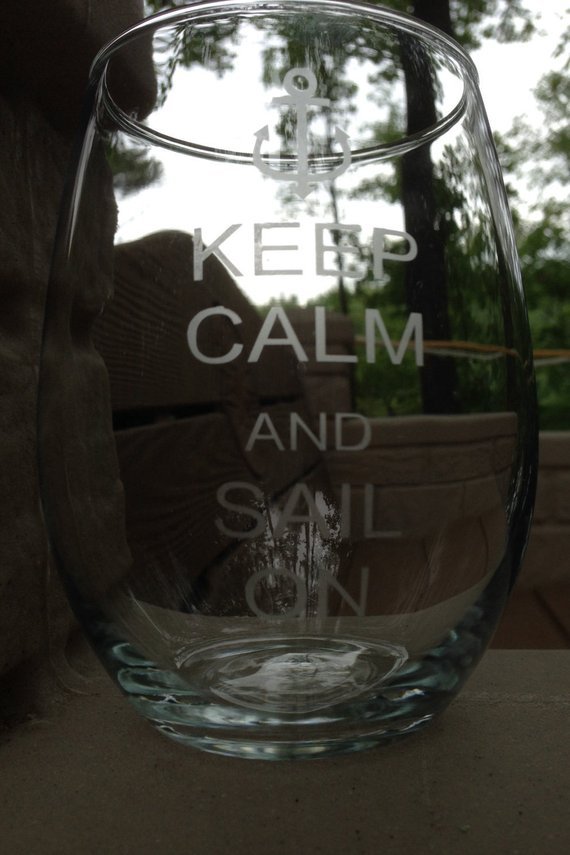 A constant reminder while drinking wine to keep calm and sail on.
Fish Business Card Holder
For the sailboat racer who is also in business, a proper place to keep those business cards is necessary.
Boat Racing Shirt
Of course they need a boat racing shirt.
Racing Yacht Bookmark
This racing yacht bookmark will keep their place in whatever book they are currently reading, as well as any future books they pick up.
Sailboat Racing Home Art
Imagine how magnificent this sailboat racing home art piece will look on their wall at home.
"Education is important, but boating is importanter" Mug
Education is important, but boating is sure importanter.
Gamecock Racing Sailboat Patent Poster
This gamecock racing sailboat patent poster just looks really cool and shows the inner workings of the sailboats that they know and love.
Leatherette Sailboat Flask
Their drinking gear just wouldn't be complete without a leatherette sailboat flask.
"See you soon" Copper Washer Keychain
Remind them that you are always waiting for them when they return from sailboat racing, with this "see you soon" copper washer keychain.
Sailboat racers are a special kind of person, so they certainly deserve a special kind of gift, such as those from this list.