Disclosure of Material Connection: Some of the links in this post may be "affiliate links." This means if you click on the link and purchase an item, I will receive an affiliate commission. Disclosure in accordance with the Federal Trade Commission's 16 CFR, Part 255. This site is a participant in the Amazon Services LLC Associates Program, an affiliate advertising program designed to provide a means for sites to earn advertising fees by advertising and linking to Amazon.
They might not be the next member of a NASA mission or a participant in Elon Musk's SpaceX program, but that doesn't mean they can bring the planets and stars down to earth. These space jewelry gift ideas are the perfect amount of sparkle and geeky!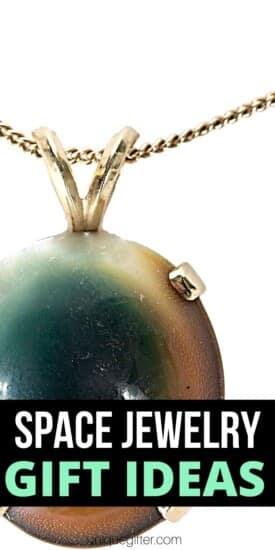 See also: Planning on moving in together? Check out these gift ideas!
Space Jewelry Gift Ideas
These would make "out of this world" (sorry) gift ideas for someone's birthday, or a special holiday like Christmas or Hanukkah. They'd be great for someone who's really into space, or anyone who just thinks this sort of thing looks cool. Because let's face it: space is awesome.
Moon Pendant
Not only is this a lovely moon pendant, you can also choose both the bead and the charm for it. Personalize it with their birthstone, favourite colour, or something sentimental to you.
Galaxy Earrings
Galaxy is so in right now. These earrings are trendy and would look great casually or for a night out.
Shooting Star Necklace
Make a wish! Or gift this lovely necklace to someone who's already made your wishes come true.
Star Necklace
This dainty star necklace would be so stylish to wear on a night out or to the office. You might not be able to give someone the stars in the sky but this is a nice attempt.
Saturn Ring
Saturn has rings so a Saturn ring makes complete sense. This ring was handmade using brass and a Saturn charm, perfect to charm space nerds in your life.
Meteorite Necklace
You can't have space jewelry gift ideas without jewelry made from actual things from space! This necklace is made from authentic meteorite for a truly "out of this world" gift.
Constellation Pendant
These astrological sign charm pendants are a perfect gift idea for someone who knows their star sign, and loves the stars.
Astronaut Earrings
You can order these as a matching pair or as a mismatched set. The charms are attached to hook earrings for a trendy, dangly pair of earrings that any space travel loving person will adore.
Astronaut Necklace
This adorable necklace has a spaceman out for a space walk among the stars and asteroids. This would be great for someone who likes cute things or a child.
Solar System Bracelet
This bracelet is handmade, including the planets. Don't settle for giving someone the whole world; give them the entire solar system!
Moon Phases Pendant
From new moon to full moon and everything in between, this charming necklace is a perfect space jewellery gift idea. This pretty charm necklace is about the size of a dime, making it the perfect accessory for work, school, or anywhere.
Big Dipper Broach
Broaches are starting to come back in style, and for good reason. They're classy and charming, but can also be full of personality like this big dipper broach shaped like a bear, or Ursa Major.
Saturn Necklace
Saturn is one of the most recognizable planets due to its iconic rings. It also makes for a great pendant necklace for the same reason; it's definitely a piece of space jewelry!
Cosmic Necklace
For something a little different, this necklace draws from the cosmic style to pull together a cool design. The image used is an actual one from the Hubble telescope, too.
Solar System Bracelet
This is a really caring space jewellery gift idea. It says "You are the Sun. Let the planets surround you with their positive energy." and features the solar system's planets separated by black beads and stars.
Meteorite Rock Earrings
This pretty little earring pair looks like tiny meteorites, and that's because they are! Made from tektite, they stones actually came from space.
Hand Painted Solar System Pendant
Rather than just getting them something that's made from a photograph or charm, choose a completely handmade space jewelry gift idea. It has all 8 planets plus Pluto on it, the 9th planet in our hearts.
All these wonderful space jewelry gift ideas definitely have some space in our hearts. Give them as an out of this world gift idea to a friend, family member, or someone who means the universe to you.