Disclosure of Material Connection: Some of the links in this post may be "affiliate links." This means if you click on the link and purchase an item, I will receive an affiliate commission. Disclosure in accordance with the Federal Trade Commission's 16 CFR, Part 255. This site is a participant in the Amazon Services LLC Associates Program, an affiliate advertising program designed to provide a means for sites to earn advertising fees by advertising and linking to Amazon.
Your doggy daycare gives your dog so much love, care and special attention. Show them how you appreciate how well your dog is taken care of while you are at work or away on vacation. Gift them some useful items for the staff to use or gives them motivation. Gift them items that they can use with not just your own dog but others too. Don't forget to look for things that offer staff members and dogs a way to reduce stress. So what exactly can you gift to a doggy daycare to show appreciation, take a look at this Thank You gift list to start off with. (We also have fun gift ideas for your vet office staff, including vet techs!)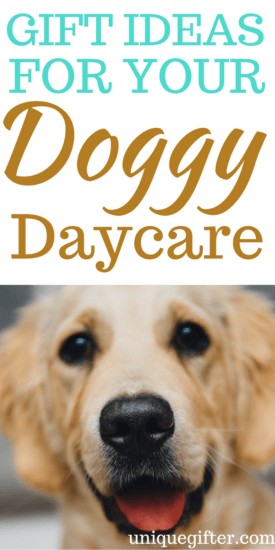 Gift Ideas For Your Doggy Daycare
Handle Every Stressful Situation Like a Dog
A humorous sign to lighten the mood around the daycare. Reminds staff at the doggy daycare to not stress or worry so much. When doggy parents come in to get their fur-child they too will see the sign and lighten their moods too from their own stressful day at work.
Motivated By Cannes and Caffeine T Shirt
Get a T-shirt for the staff members. They will proudly display their love and passion for dogs even when not taking care of your fur-child. The cannes and caffeine saying can be placed on a women's or men's shirt so you don't have to single anyone out.
iCalmDog Portable Speaker with 4 hours of music play
What a great thank you gift for any doggy daycare! Some dogs get overwhelmed or are full of stress and anxiety being away from their parents. Help the staff and the dogs all have a nice calm environment to enter into and have a nice quiet time for naps.
"Bunch of Dogs in Here" Doormat
A fun doormat for the doggy daycare itself or the owner's own home. Chances are they have dogs of their own. It is a nice subtle way for the fur-child's owner to alert others without being really offensive.
Wine With My Dog Stemless Wine Glass
Get a few personalized wine glasses for the doggy daycare staff to unwind at home with their own dog. Nice thank you gift shows them you want them to relax and also shows off their love for dogs.
Personalized Dog Photo Ornament
Get a nice photo of your dog on this ornament for the doggy daycare staff to always remember your dog, even after your dog no longer goes to the daycare. A nice, elegant and fun way to gift a reminder of your special fur-child.
Anchor Floating Pool Toy for Dogs
Doggy daycares can always use a few extra toys to go around. Fur-childs are just like human children, sometimes they just don't want to share. Get a few toys for your fur-child to share with their fur-friends.
Pet Care Grooming Glove Brush
These glove brushes come in pretty handy. Staff are always petting the dogs, while doing so the glove will also help groom them too. A two in one tool that satisfies the dog, the staff member and you too!
Classic Gift Basket
A nice basket of items for staff to enjoy while the doggies all play tug of war. With fruit to give them all that sweet energy to play tag with the dogs and other sweet treats just for added pleasure.
Pet Sitter Coasters
A nice set of coasters for your dogs daycare staff to hold their drinks on. Whether it is on the job or at home, they will have something nice to look at and feel really proud of them self.
Pawsitively Awesome Key/Leash Sign
After a hard day of work dog daycare staff will have a nice place to hold leashes and keys. Easy to find at any given moment, no frustration trying to figure out where the keys and leash is.
Paw Tote Bag
Staff members can put all types of items inside for easy on the go errand running, groceries or even a nice day at the park with their own dog! They can use it to tote small dog items around the daycare, quite handy when they have a new dog that arrived.
Personalized Notepad
A doggy daycare can keep this on the counter for when dog parents come in or leave they can jot down a quick note for staff members. Staff members can easily jot down little notes about everyday stuff as well.
Dog Shaped Word Art
Dog shape has all the words related to canines inside it. The nice frame allows the doggy daycare to place it where dog parents drop off and pick up their fur-child.
Relieve Tired Achy Dog-Care Providers Feet
Be sure to get some foot spas for doggy daycare staff members. Taking care of lots of fur-children means they are up on their feet most of the day. Playing with multiple dogs can take a role on legs and feet. Gift them relaxed legs and feet so they can be charged and ready for the next day.
Dog Expressions On Bone Shaped Tile
Really nice ceramic tiles in a dogs favorite shape, a bone. With dog related expressions these tiles are pleasing to anyone and will get a nod in agreement. They can be placed anywhere.
Whimsical Dog Shaped Tiles
Doggy daycare scan use these dog shaped and dog related shaped tiles to decorate any part of the daycare, including where the doggy's go swimming. Get specific breeds, colors and dog related accessories made to offer.
Dog Shaped Chocolate Lollipops
Dog day care staff will love this gift of lollipops. Shaped like their favorite kind of animal and made out of nice chocolate. Kind of like a two in one treat for daycare staff to enjoy. Chocolate is a great way to show how thankful you are for their passion, commitment, dedication and how well cared for taking care of their fur-child.
Dog Shaped Cookie Gift
Each already comes ready to gift! Dog shaped detailed cookies are always a great addition to a doggy daycare staff room or the checkin desk. Tasty treats for the human breed to enjoy in between playing with their dog-friends.
Mixed Breed Dog Figurine
Mixed breeds can make some amazing animals. You are getting the best traits from each breed and combining them, making a really talented dog. A nice detailed figurine that displays two dogs of mixed breeds, adds some "spice" to a doggy daycares checkin desk.
Doggy Daycares Are A Peace Of Mind Woof-Care Necessity
Doggy daycare staff works hard and they are on their feet making sure all the fur-children are getting plenty of affection from all the staff members. Show how grateful you are that this type of care even exists. You can have stress free peace of mind while you are away at work or on vacation. Gift items that the owner and or staff can enjoy by themselves or something that can be used in the fur-care center itself. Maybe even bundle a few things together as a grand gift as a thank you gift.