Disclosure of Material Connection: Some of the links in this post may be "affiliate links." This means if you click on the link and purchase an item, I will receive an affiliate commission. Disclosure in accordance with the Federal Trade Commission's 16 CFR, Part 255. This site is a participant in the Amazon Services LLC Associates Program, an affiliate advertising program designed to provide a means for sites to earn advertising fees by advertising and linking to Amazon.
Your hairstylist does a lot for you, so it's always nice to pay it forward. If they happen to be the salon owner, then maybe getting gifts for hair salon owners is a little more fitting (and practical) than just a regular stylist gift.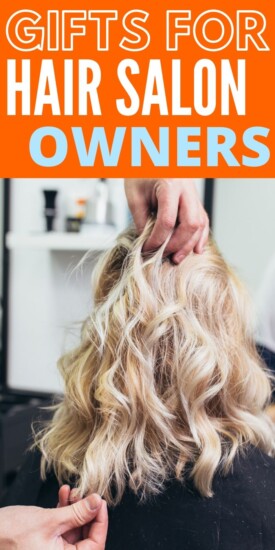 Gifts for Hair Salon Owners
Or give these any occasion gift ideas to a hair salon owner that's on your list. These will either make a salon owner's personal life better or are practical gift ideas that can be used in the salon. Either way, they're going to love it!
Good Hair Sign
This would be great for a salon owner to include in their decorating. The modern design should fit well with almost any decor style, and it's small enough that even small spaces can still give it a home.
'Fully Booked' Book
This book will help salon owners increase their client base. It would be a great gift idea for someone who's just starting out as a new salon owner to help kick start their new business.
Best Hairdresser in the World Mug
Well, someone has to take the title. It might as well be your hairdresser. If the salon owner you're shopping for is also a hairdresser, then they'll probably appreciate this compliment in a mug.
Unique Hair Cutting Cape
If you want to give a salon owner some practical gifts, think about salon accessories instead of traditional gifts. Something unique like this fun salon cape, for example, makes for a great present.
Retro Hair Coasters
These would make great accessories at home or inside the salon. Either way, they're a cool piece of history to give!
Touchless Vacuum
This vacuum sucks dirt up without you having to scoop it with a dustpan. Perfect for sweeping up hair in the salon.
Custom Pillow
You can customize this pillow to have the salon's name on it. It would look super cute in a salon's waiting area. This is a great gift idea for a new salon owner or an established one who could use with some decor updates.
Anti-Fatigue Mat
If the salon owner you're buying a gift for doesn't already have one of these (or theirs is worn), definitely think about getting them one. Standing all day is tough!
'Marie Antoinette's Head' Book
This book isn't about the queen; it's about her personal hairdresser—a great read for salon owners, hairdressers, or anyone who's a fan of history.
Salon Gift Certificates
If you're looking for gifts for hair salon owners who are just opening up, office supplies and stationery are excellent. These pretty salon gift certificates are a perfect gift idea. Once you give them to the salon owner, consider buying some gift certificates for other people in your life.
What happens at the Salon Sign
Mum's the word! Hairdressers, stylists, and salon owners know that they sometimes act as therapist or best friend to their clients. Your secrets are safe at the salon!
Colour Storage Shelf
If space is a factor, or the salon has a mostly open concept, then there might not be enough room to store products like colors. This rack holds and displays tubes so stylists and customers can easily see what's available.
Salon Felt Play Set
If you're buying a gift for a salon owner who has kids or kids frequently come into the salon, then a cute salon playset is a creative gift idea. This one comes with all the basics for mini stylists in training to enjoy.
Cordless Curling Wand
A handy tool to have on hand when working in a salon. This wireless curling wand will make it easier for the hairdressers to style their clients' hair. No more getting tangled!
Salon Appointment Book
Help salon owners stay organized and on top of their appointments with a dedicated appointment book. This one is pretty and modern but still full of great features.
Hair Appointment Planner Stickers
Speaking of scheduling appointments, these super cute planner stickers are a great gift idea for a salon owner who already has an appointment book or planner they love. They'd also be great for salon owners to give as gifts to clients!
Hair Stylist Apron
Salon owners and hairstylists often wear aprons while they work. Giving them a new one is a practical gift idea you know will actually go to use, especially if theirs is starting to wear. If you can find one in a unique design that you know, they'll love, even better.
Hair Salon Line Art
This modern and minimalist print showcases some popular hairstyles. It would look great displayed in a salon, or a salon owner might even hang it in their own home.
Hairdresser Bracelet
These pretty bracelets are a perfect bit of 'bling' to give to your favorite salon owner/hairstylist. It's a super cute accessory that's minimalistic enough to be worn comfortably at work.
Hairdresser Tote Bag
These totes are fantastic for carrying all your needed supplies and documents. A salon owner can't have too many bags, either.
Hopefully, with these gifts for hair salon owners, you'll find the perfect idea to give someone in your life. Whether you pick up something that can be used in their hair salon or a more personal gift, stylists and hair salon owners will appreciate you getting something that's based on their business and passion.