Disclosure of Material Connection: Some of the links in this post may be "affiliate links." This means if you click on the link and purchase an item, I will receive an affiliate commission. Disclosure in accordance with the Federal Trade Commission's 16 CFR, Part 255. This site is a participant in the Amazon Services LLC Associates Program, an affiliate advertising program designed to provide a means for sites to earn advertising fees by advertising and linking to Amazon.
There's an allure to the classic message in a bottle idea… so many amazing things can live inside of a bottle. We're not just talking about wine, either, which can definitely live inside of a bottle! We're running with the idea and rounded up a selection of creative gifts in a bottle that you can get your friends and family.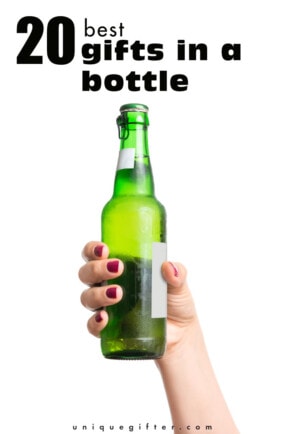 Heck, if you need a last minute idea, write a message in a bottle and go leave it in their bathtub. You'll definitely surprise them, though they may wonder what on earth you're doing in there.
The old classic ship in a bottle

Dexterity is required if you're going for the "build it yourself" kit, but don't worry, you can buy them pre-made, too!
Money jar 'bottle'

If you get your friend this gift, you can take credit for getting them a new truck as a present. That's some solid leveling up right there.
Decorate your bottles as gifts

Turn the bottle itself into a gift!
A portable wine bottle flash

Glass can sometimes be a hamper to enjoyment. It's not welcome poolside in a lot of places, for example, and no hiker wants to take that extra weight up a mountain with them.
A cookie in a jar recipe

These are adorable gifts and you can often DIY them, too.
Salt and pepper shakers and oil and vinegar bottles

Olive oil & vinegar tasting bars are all the rage, and for good reason. Get a nice cruet set and add some rosemary balsamic oil to it, yum.
Or this lovely olive oil bottle set

My current favourite olive oil is satsuma, it makes a delicious salad dressing.
Christmas wine bottle covers

Aren't these cute? They add an extra custom touch to a standard housewarming or hostess gift.
Wedding bottle covers

Keep the couple's beer cold and make sure they don't steal from each other's full drinks.
Wine bottle glass

This is giving you the wine in the bottle… and the ability to drink it, too.
Wine bottle accessory gift set

This one is still a wine bottle, but it's what's on the inside that's the surprise.
Perfume bottle travel set

These travel perfume bottle sets are handy to have, they're the perfect size and shape to fit into your luggage for a weekend away.
Wine bottle puzzle case

The best method of approach for these puzzles is to have a bottle first, otherwise the frustration level in the room may become too great.
Dog water and travel bowl

This is a very handy bottle gift for someone with a furry friend. The lid turns into a mini bowl, so there's no loss of water from squiring your own bottle into the air to feed your dog.
Beautiful textured wine bottle

This is a lovely decorative bottle.
Wine bottle dog toy

What do you get the vineyard dog (every vineyard has a dog, it's a thing)? Or what do you get the dog of some oenophiles? A wine bottle dog toy, of course!
Stay hydrated

Message on the bottle, anyone?
Classic bottle filled with wine

I know, I know, we've all been waiting for this one.
Beer

Craft brews are amazing, we even have a whole gift guide devoted just to craft brew fanatics.
Candy in a jar

Someone in every office has to have a candy jar. You could be that person. Praise will rain down upon you. Coworkers will come visit. Sugar will power the troops.