Disclosure of Material Connection: Some of the links in this post may be "affiliate links." This means if you click on the link and purchase an item, I will receive an affiliate commission. Disclosure in accordance with the Federal Trade Commission's 16 CFR, Part 255. This site is a participant in the Amazon Services LLC Associates Program, an affiliate advertising program designed to provide a means for sites to earn advertising fees by advertising and linking to Amazon.
League of Legends, or LoL as it is commonly referred to, is known around the world by almost every gamer. It's a simple, free to play team game which is played by professional gamers. Know someone who'd love gifts for all league of legends fans? With the world championships attracting over 32 million viewers this year alone, it's a decent bet that some of your friends would have heard about it, or maybe even play it themselves.
Gifts for all league of legends fans
Even though the game is most popular amongst young adults, it's not uncommon for those older to be interested in the game. Regardless, even without playing or watching the game, some of these gifts are just too cute to pass up on, even if you have no interest in the game!
1. League of Legends Poro Gooney Plush Toy Figure
Who would have thought something from a video game would be so adorable? This cute little fellow is the perfect size to carry around with you. Regardless of being a child or adult, this guy would melt the heart of any recipient.

2.League of Legends Rammus Plush
Staying with the adorable plushies, this one is one of the "Champions" in the game, or playable creatures. Who wouldn't want to have that cheeky smile anywhere they go?

3. League of Legends Crystal Keyring
This keyring features the same guy from our first gift, a Poro. Coming in different colours from green to purple, it's LED light can be turned on whenever you want to see your very own Poro.

4. League of Legends 13pcs Character Weapons.
Don't worry! These aren't real weapons. These recreations of character weapons are made from alloy, and have a length of 8-10cm. Something a little different, but still a great gift.

5. League of Legends Wristbands
These silicone wristbands come in 5 different colours for the 5 main roles in the game. Something that would be a bit more personal for the player or fan, they can now show which role they are most supportive of!

6. League of Legends Jinx bust mousepad
Here's one that I imagine will appeal to the male gamers out there. This delightful mousepad supports your wrists while gaming in style!

7. Eat Sleep League of Legends T-Shirt
What better way to show your love for a game then show it off to the world with this cool T-shirt!

8. League of Legends Riot Points
This is something more aimed towards players than fans – This gift card gives in-game currency, which can be used to purchase things like new Champions and Skins to make them look cool!

9. Anime Jinx Fabric Painting
Perfect for a gaming room, or even on show in your family living room – This painting will add spice to any room its in.

10. Corki Cosplay Hat
This is another of the collectible plushies. However, this would you can wear!

11. Caitlyn Primeval Hat
Sticking with hats, this Unisex hat is great for cosplaying, or just simply wearing when out.

12. Set 3 In 1 League of Legends 2549pcs Building DIY 3d Brick Block Toy
Now you can build your own champion, with this amazing Do-It-Yourself brick set.

13. Garen Building DIY 3d Brick Block Toy
If the whole set isn't for you, you can buy individual Champions, such as this mighty Garen figure.

14. J!NX Men's League of Legends Shield Crest Zip Hoodie
Being incredibly comfortable, not only will this hoodie show your love for LoL, it will also be a great addition to your wardrobe.

15. League of Legends Logo Mouse Pad
This Mouse Pad is ideal for both gamers and casual PC users. You could even light up your office space with one of these on your desk!

16. Champions Mouse Pad
Staying with Mouse Pads, this one features the different champions of LoL, and being made from a great material, you won't go wrong with this.

17. Map of Valoran Print
Something a bit quirky! This is a map from League of Legends which would be perfect framed and hung from a wall.

18. Champion Art Poster
This high quality poster represents many of the different playable champions in LoL.

19. League of Legends Print Drawstring Backpack
This lovely bag is ideal for those gym-goers who feel like taking their passion for LoL with them.

20. Cartoon Style Annie Backpack
This scary backpack is great for students of any age. Not only does it have a great design, it's comfortable and easy to use.

More Gifts For League Of Legends Fans
League of Legends is a video game behemoth. There's no other way to describe this game and it has single-handedly become the most popular MOBA game since its release in 2009. When a title has been out for a decade, there's no doubt in anyone's mind that there is a massive fanbase surrounding it.
Zoning For The Ultimate Gift
Millions of players enjoy League Of Legends and with numbers like these, that ensures that there are millions of fans. The odds are pretty astronomical that you know a few of these fans, I'd say. With a plethora of merchandise to choose from, it's going to be a daunting task finding that ultimate gift and that's where I come in with these 20 gifts for League Of Legends fans!
Mini Poro Plush Set
If you've played the game before, you know how adorable Poros are and I'm pretty certain that the fan in your life would love to have one of these for their shelf!
Akali Scythe And Dagger Replica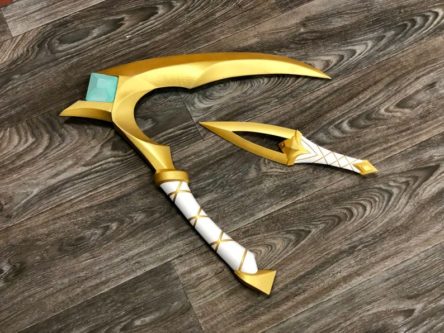 Akali is hands down one of the coolest characters in the game and her weapons are pretty legendary. These replicas are as close as you're going to get to the real thing and they're sure to be cherished!
I Just Care About League T-Shirt
When you have a hardcore fan on your hands, this shirt makes the ultimate gift. Proudly stating that all they care about is their favorite game….and perhaps a few people in the world.
League Of Legends Beginner's Guide (Paperback)
Anyone who has played the game has had some embarrassing moments. Help the fan in your life stop feeding the enemy team with this awesome book. It'll help their game for sure!
Jhin Mask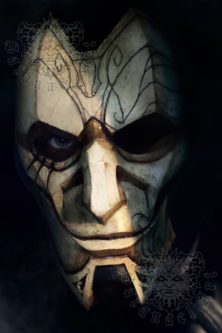 Barring the fact that he's a psychopath, Jhin is, without a doubt, one of the coolest looking characters the the game has to offer. Whether it's for a collection or cosplay, this mask is a treasure.
League Of Legends Coloring Book
People of all ages enjoy coloring. What better way to do it than with this awesome LoL coloring book featuring your fan's favorite characters and settings?
League Of Legends Lamp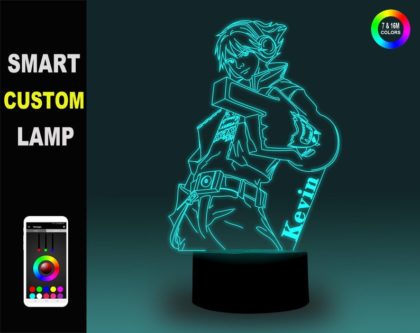 One of player's favorite marksmen. Anyone who has gotten hit by some of his abilities knows that he is not to be trifled with. This custom lamp is here to remind your fan of how cool this character is and can even be customized with their name!
Beemo Pin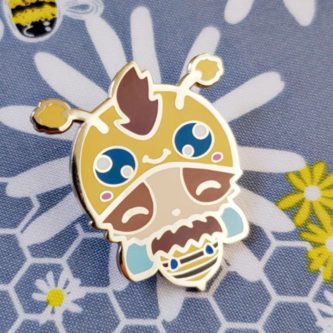 Undoubtedly one of the most adorable champions that League Of Legends, Teemo manages to get even cuter. This pen showcases the champ in all of his bee costume glory and will add some pizazz to your fan's wardrobe!
League Of Legends Couples Ring Set
Two of the most iconic classes. Carry and Support. This gift is a perfect one for couples that enjoy playing the game together and are each other's carry and support in real life!
League Of Legends Mousepad
With artwork featuring the entire roster of champions from the game, this one is sure to be your fan's favorite mousepad. It's even waterproof and skidproof for those intense matches!
Soraka Wig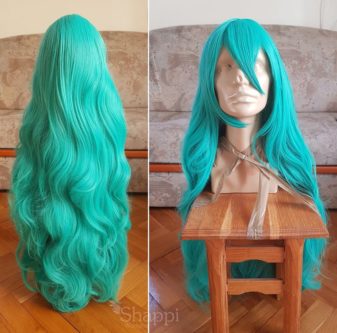 There are quite a few fans out there that love to cosplay and this wig is going to make that a cinch. Help the fan in your life bring one of the most popular and coolest support characters to life!
League Of Legends Sticker Pack
From poros to Nidalee, this sticker pack has it all! I'm not responsible for your loved one sticking these to everything around them though.
Ryze Trophy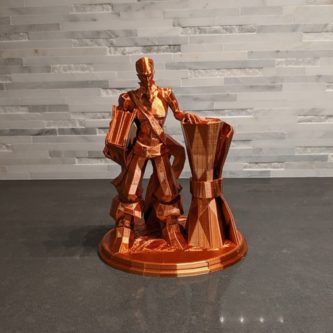 Ryze is one of the toughest champs to lane against, so how fitting is it that he gets his own trophy? Any fan worth their salt is going to want this guy on their mantle!
We've reached the end, friend! I'm certain that you've managed to snag a magnificent present for that fan in your life with all of this merchandise to choose from. Maybe you're checking some of these out for yourself. I know I am! Did you find anything that you or the fan in your life couldn't go without? Feel free to let us know on Twitter (@Ugifter) or Instagram (@uniquegifter) and thanks for checking out 20 Gifts For League Of Legends Fans!