Disclosure of Material Connection: Some of the links in this post may be "affiliate links." This means if you click on the link and purchase an item, I will receive an affiliate commission. Disclosure in accordance with the Federal Trade Commission's 16 CFR, Part 255. This site is a participant in the Amazon Services LLC Associates Program, an affiliate advertising program designed to provide a means for sites to earn advertising fees by advertising and linking to Amazon.
Cool gift ideas for hockey players that are super impressive. There is just something so entertaining about watching hockey like the fights, fast skating, and quick pace of the game. If you are looking to purchase a gift for a hockey player in your life, then you have stopped at the right place.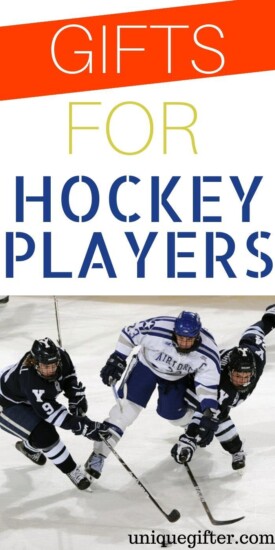 Terrific Gift Ideas For Hockey Players
Anyone who receives one of these presents is going to be happy!I have found some fun and useful gift ideas that will please anyone who loves the sport of hockey. I remember being a little girl and going to watch Wichita Thunder hockey games and what a great time I had! With all the loud music, cheering crowd and yummy food, I can see why people can become hockey fanatics. Check out this list of terrific gift ideas for some inspiration!
Hockey Tape

Buy Now
Keep their game going strong with tape they can use on their sticks, pads, or socks.
Stick Wax

Buy Now
They can't win games if they're having trouble controlling the puck. This wax helps them focus on the game.
Gear Cleaner

Buy Now
Sweat happens, even when you're surrounded by ice. Keep your hockey player's gear fresh and clean!
Epsom Salt

Buy Now
Playing hard means sore muscles. Give your favorite hockey player some relief from aches and pains.
Mouth Guard

Buy Now
Because having all of your teeth is never overrated.
Sports Illustrated Hockey's Greatest

Buy Now
Teammates arguing over who the greatest goalie ever is? Give them this book and let them see what the pros have to say.
Goal Alarm Clock

Buy Now
Does your friend need a pre-game nap? Make sure he is up and ready in time to kick some ice!
Hockey Puck Cell Phone Stand

Buy Now
Never lose a phone with this stand that's made from an actual hockey puck!
Ice Hockey Shooting Pad

Buy Now
Help your hockey player protect her stick and get in some valuable practice time when she's away from the ice.
Water Bottle

Buy Now
Keep your favorite hockey player hydrated with this bottle with a built-in straw.
Hockey Stick BBQ Grilling Tools

Buy Now
Hockey players have to eat (and since you've bought them, mouth guards, they still have all of their teeth to chow down). Gift him this grilling set so he can show his love of the game off the ice.
Miracle on DVD

Buy Now
THE ultimate hockey movie (sorry, Mighty Ducks fans). Have the tissues ready for your hockey fan because there will be at least a single tear shed when the United States wins!
Editor's Choice Gift Idea for Hockey Players
Harmsen's Hockey Stick BBQ Scraper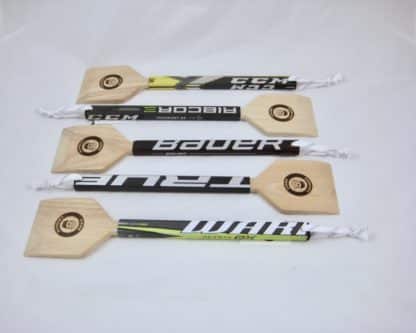 Handmade items made from recycled broken hockey sticks. Harmsen's Hockey currently offers bottle openers and Wood BBQ grill scrapers as well as custom items and t-shirts.
Hockey Player Half Cushioned Socks

Buy Now
Keep those feet comfortable on or off the ice. Fits men's shoe size 5-11 and women's shoe size 6-12.
Hockey Sports Saying Wall Decal

Buy Now
Let your friend show her love of the game in a subtle, decorative way.
Skate Laces

Buy Now
Your friend can't skate with untied skates. These come in a variety of colors and would make a great stocking stuffer!
Lego Hockey Player Minifigure

Buy Now
Every hockey player needs a little inspiration on his desk. Plus, on slow days at work, he can start a tiny hockey game with a scrap of paper.
Hockey Equipment Dryer Rack

Buy Now
Your hockey player needs to air out his gear between games. Trust me.
Chicken Soup for the Soul: Hooked on Hockey

Buy Now
Get in touch with your hockey player's softer side with these heartwarming stories. Warning do not let him read this and watch Miracle on the same day…
NHL Team Sherpa Throw

Buy Now
Get your hockey player a soft blanket with her favorite NHL team's logo on it for those pre-game naps. Go Preds!
Glovestix – Antimicrobial Deodorizer

Buy Now
Just because hockey players get sweaty and stinky doesn't mean they can't be sanitary too! Please these into gloves or boots to deodorize and kill germs.
Automatic One-Timer Passer

Buy Now
Your favorite hockey player probably wants to practice playing a lot! This passer is fantastic and includes 4 street hockey balls too.
Hockey Cup Beer Stein

Buy Now
Is there anything more satisfying than drinking a cold beer out of a hockey cup beer stein? I think not!
Hockey Puzzlers

Buy Now
Does your hockey fanatic think they know everything there is to know about the sport? Test their skills with this puzzle and trivia book.
No Sweat Hockey Helmet Liners

Buy Now
These helmet liners quickly absorb dripping sweat! They even prevent acne and reduces visibility issues due to fog.
Hockey Mug

Buy Now
Enjoy a bowl of cereal, hot chocolate or soup out of this frosty hockey mug that even has a net! Who says you aren't supposed to play with your food?
Re-Edger Multi-Function Tool

Buy Now
Sharpen you skate blades in a snap with this re-edger tool. You can take it and use it anywhere.
Hockey Training Equipment

Buy Now
Put your hockey skills to the test, and see how fast your reaction time is. You can also practice your puck control.
Hockey Tie
This hockey tie is perfect for looking professional on game days or dressing up any suit. Plus, it is simply awesome!
Hockey Bottle Opener
Imagine opening your bottles in style with this hockey bottle opener. Time to get the party started.
Hockey Socks
A true hockey fanatic isn't just going to play games; he is going to watch them too. Now he can keep an eye on the game while wearing cozy socks.
Hockey Man Cave Sign
Surprise him with a cool custom hockey sign that can be personalized. He will love hanging it in his man cave or garage!
Massager

Buy Now
Give those achy muscles what they need; a deep tissue massage! It is cordless, and you can give it to yourself instead of having someone else do it for you.
Water Bottle

Buy Now
Keep hydrated with this double-walled leak-proof water bottle. When you work out and play, sports, you will want to drink as much water as you can to replenish what you lose.
Hockey Cards

Buy Now
Give the gift of 400 NHL hockey cards and your recipient will be flabbergasted! There are cards with hall of famers included in the set!
Slap Shot Soap

Buy Now
This soap is scented with essential oils, but is totally manly while being clean! I love that it looks like a hockey puck too!
Stanley Cup Popcorn Popper

Buy Now
If you love hockey, then you should know what the Stanley Cup is! Now you can have your own that pops your favorite salty snack!
Hockey Pencils

Buy Now
Whether your favorite hockey player is a student, business person, or just an ordinary guy, he needs to have some of these hockey pencils!
Meat Sticks

Buy Now
Hockey players know first hand that when you expel that much energy playing the game, you need some major protein to replenish your energy. This gift set has 20 pieces of delicious meat sticks.
Brilliant gifts for hockey players are useful, fun, and creative.