Disclosure of Material Connection: Some of the links in this post may be "affiliate links." This means if you click on the link and purchase an item, I will receive an affiliate commission. Disclosure in accordance with the Federal Trade Commission's 16 CFR, Part 255. This site is a participant in the Amazon Services LLC Associates Program, an affiliate advertising program designed to provide a means for sites to earn advertising fees by advertising and linking to Amazon.
Gifts For Rick And Morty Fans
Ever since it first aired, Rick and Morty has been a phenomenal hit with people of all ages and from all walks of life. We're pretty sure that you have a fan of the series in your life, and if there's one thing for certain, it's that the fanbase of the show is an avid one.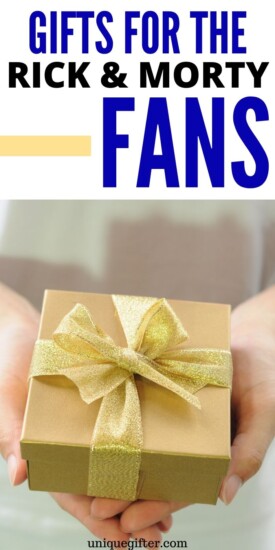 An Entire Dimension Of Gifts
It can be an arduous task trying to think of the perfect gift for that certain someone, and we totally understand that. It's the primary reason that we've worked so hard to bring together this monster of a list of Rick and Morty items that is sure to please any fan or collector. Whether they're from C-137 or any other dimension, there's something for them in these 40 gifts for Rick and Morty fans!
Rick And Morty Sheet Set
For the fan that wants Rick and Morty on everything they own, they can go to sleep thinking about their favorite characters. Let's just hope that they don't encounter Scary Terry while they're wrapped in their cartoon finery!
Rick and Morty Wall Banner
Who knows what atrocities that Rick is forcing his grandson to stare at in this banner? We're not going to try to guess, but we will guess that your gift recipient is going to absolutely adore this!
Mister Meseeks Socks
Keep your feet warm and still show off appreciation for the show? Ooooooo, Yeah! Caaaan Do! These socks will make existence a bit less painful, and your fan's feet a bit more warm!
Meseeks Box Coffee Mug
I'm Mister Meseeeeeks! Drink From meeee! This mug is an awesome gift for the tea or coffee lover as its a replica of that fantastic Meseeks box and even has a Meseeks hiding out in the mug!
Pickle Rick Funko Pop
It's Pickle Rick! This fearsome-looking funko pop is a fitting addition to any funko pop collection! Fully upgraded with his rat limbs and fist weapons, Pickle Rick is ready for battle and ready to be on your fan's shelf.
Rick And Morty Seasons 1 – 3
What better gift to give than the gift of the series itself? This collection includes all 3 seasons on Blu-Ray and in digital! Wubba lubba dub dub!
Rick And Morty Slippers
Oh Jeez, Rick, how are we gonna keep our feet warm? Slippers, Morty! These slippers look insanely cozy and feature the genius scientist and his anxiety ridden grandson!
Rick And Morty Windshield Cover
What better way to look cool while keeping your car cool at the same time? Including art from the Run The Jewels video featuring Rick and Morty, this gives a rad look to any parked vehicle!
Rick And Morty Portal Gun
What fan wouldn't want to own a replica of the portal gun from the show? We won't sit here and say that it has the power to open up a portal and send you to a fantastical new world, but we won't sit here and say that it won't either! *wink wink*
Rick And Morty Dungeons And Dragons Guide
No universe is safe from Rick And Morty. Even Dungeons and Dragons! If you know that your fan is a fan of this RPG, let them be the dungeonmaster of a new fantasy! One including these two dimension-hopping weirdos!
Anatomy Park Board Game
Bringing the innards of a homeless man to your tabletop in board game form, Anatomy Park is the perfect board game for the Rick and Morty fan. Will it feature Pirates Of The Pancreas? We guess you'll have to buy it to find out!
Rick And Morty Coloring Book
Sometimes, you just have to sit and relax and enjoy the simple things in life. Like coloring prints of a genius alcoholic and his grandson visiting different dimensions and bringing all kinds of chaos with them! Ah. So peaceful.
Rick's Gym Water Bottle
Wanting to get fit? Maybe have a score to settle with the devil? Come to Rick's Gym! Get in shape and smite your enemies! This water bottle can serve as a souvenir!
Rick And Morty Projector Pen
This sweet little gadget of a pen featuring the duo doubles as a projector! Projecting a well lit image of your favorite characters, it's sure to be the only pen your fan uses after they recieve it!
Mister Meseeks Plush
Mister Meseeks is likely the most popular character in the franchise besides Rick and Morty themselves. Of course, there's going to be an awesome plush of him, and you can make that gift happen for the fan in your life!
Rick And Morty Trivial Pursuit
How much knowledge of the show does the fan in your life really know? Put their brains to the test with this Rick and Morty themed version of Trivial Pursuit! Sure to be a hit!
Rick And Morty Monopoly
Another classic board game taken over by the scientist and his grandson, doesn't Rick and Morty Monopoly sound like a wonderful way to spend an afternoon? Our only question is if the currency in the game is Schmeckles or Brapples!
Rick And Morty Shopping Tote
Rick and Morty everywhere! Even when your favorite fan goes out on their shopping excursions! Let them pack their merchandise around in style with this shopping tote featuring their favorite characters.
Rick And Morty Lanyard
Whether they're attaching keys, badge, or even a necklace to this lanyard, it's a fashionably nerdy way of keeping things around. What a sweet looking lanyard!
Rick And Morty Pop Socket
Even down to the little things like smartphone decoration, we have you covered! This Pop Socket features Rick Sanchez's smiling face and is ready to be adhered to your fan's cell at a moment's notice!
Tiny Rick T-Shirt
I'm Tiny Riiiiick! Well, not actually, but your fan is going to flip over this t-shirt. We guarantee it. Featuring Tiny Teenage Rick himself, it's bound to be worn out soon from all of the times they'll wear it!
Rick And Morty Gaming Mousepad
PC gamers need a lot of room with their mousepads, and you can deliver it with this big boy here. Yet another item on our list to satisfy two different interests, it has an image of the familiar face of that wacky scientist!
Rick And Morty Szechuan Sauce Button Down Shirt
Covered with images of Rick and his biggest ambition in life, this unisex button down shirt is bound to please that beloved fan of yours! They'll be stylish with this Hawaiian style shirt with Rick's face, chicken nuggets, and Szechuan sauce floating everywhere!
Rick's Catchphrases T-Shirt
Rick has so many catchphrases that it is hard to keep up with all of them. Well….that's not exactly true considering fans know them all, but it sounded good, right? The fan in your life is going to adore this shirt as it's covered with "Rickisms"!
Water Bottle With Plumbus Ice Cube
Does anyone even know what a Plumbus does? We sure don't, but what we do know is that the Plumbus in this water bottle doubles as an ice cube to keep your loved one's water nice and cold!
Rick And Morty Headphones
Rick and Morty has a fantastic soundtrack to the show. What better way to listen to those songs from it than with these headphones prominently featuring the characters from the series?
Rick And Morty Keychain
Rick's smiling face as a keychain. What more could a fan ask for? If you want to get them the trifecta of gifts, feel free to bundle this in with the windshield cover and steering wheel cover from earlier in the list!
Toxic Rick And Morty Energy Drink
Just to be clear, Rick and Morty are toxic. Not the energy drink itself! Featuring the green and slimy version of the duo, these energy drinks are sure to be a tasty treat for your superfan!
Plumbus
We've stated before that we have no idea what a Plumbus does. We're pretty sure that the creators of the show are uncertain of its exact purpose. No matter! The Plumbus is still unique looking, and we're sure all fans of the show want to own one!
Well, we've scoured many different dimensions, and while there may be infinite dimensions (and, therefore, infinite gifts), we're pretty sure that we've brought you the best ones with this list! These 40 gifts for the Rick and Morty fan are sure to include a few that's going to shock and please the fan in your life and when they do? Feel free to let us know on Twitter (@ugifter) or Instagram (@uniquegifter)!