Disclosure of Material Connection: Some of the links in this post may be "affiliate links." This means if you click on the link and purchase an item, I will receive an affiliate commission. Disclosure in accordance with the Federal Trade Commission's 16 CFR, Part 255. This site is a participant in the Amazon Services LLC Associates Program, an affiliate advertising program designed to provide a means for sites to earn advertising fees by advertising and linking to Amazon.
Are you super frugal and on a tight budget? If so and you are looking to buy gifts and keep the cost low, then I have some great ideas for you. I have scoured the internet to find the best gifts you can give at the lowest prices. You will be surprised by how many cool things you can get without spending loads of money. Whether you are looking for a gift for a co-worker, friend or family member I have some great options for you. Time to have a look and see what you can buy with your hard earned money!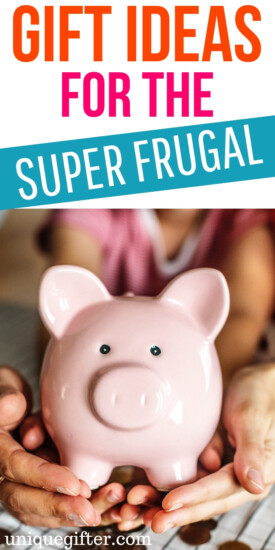 Must Have Gift Ideas for the Super Frugal
Last Chip Standing Game
This fun game is small and fits comfortably in your pocket or purse so you can play anywhere you want.
Milk Soak For Hands
Your hands will be smooth and glorious after using this milk soak. All you need is some warm water, and you can relax.
Funny Magnet
A terrific gift for someone who has a great sense of humor! These magnets can quickly be put on the refrigerator, filing cabinet or anywhere else you can think of.
Summer Car Air Freshener
You can hang these air fresheners on your rear view mirror and enjoy the beautiful scent. They have several smells to choose from.
A Great Big Really Useful Notebook
Everyone needs paper, and this notebook is a must-have! You can even color the doodles on the cover too.
Flower Floral Cosmetic Bag
Toss in your makeup or pens and pencils for an easy to go bag. It might look small, but you can fit a lot of things inside.
Jelly Belly
This Krispy Kreme assortment of Jelly Belly jelly beans is something everyone needs! The flavors are out of this world!
Saucy Socks
Whoever you give these socks too will get a kick out of how funny they are. Plus, they are warm and comfy.
Bath Bombs
After you relax in a hot bath with some fizzy bath bombs, you will never want to bathe the old way again. Did I mention that they smell amazing and come in bright colors?
Scarf
These scarves are elegant and make a wonderful gift. Besides, you can't have too many scarves anyway!
Soy Candle
They have so many delicious scents to choose from like: Harvest Spice, Grandma's Kitchen, Evening Snow and many more!
Gloves
These gloves are wool lined, and you can wear them and still be able to text and navigate on your phone or other touch screen electronics.
Dog Ate My Mad Libs
Dog inspired mad lib stories are sure to be the life (and laugh) of any party! 21 different stories to make you laugh until you cry! Perfect for dog lovers!
Magnetic Wristband
Any handyman or handywoman will love this magnetic wristband. The wristband will be especially appreciated when working in tight spaces.
Homemade Bar Soap
If you are looking for a classy looking and useful gift you should consider this bar soap. Each bar is handmade and smells phenomenal.
Adult Coloring Book
The coloring is relaxing even when you are a grown up! Take away some of the stress, break out some crayons or markers and go to town!
Manicure Nail Kit
Each kit comes with ten pieces that will help shape and sculpt your nails! You can also use them on your feet too.
Revive Lip Balm
Turn those cracked, sore and bleeding lips into soft and sultry lips with this balm. It comes in a beautiful tube in eucalyptus mint.
Charm Necklace
These necklaces are so pretty, and they come with a cute little gift bag. The only problem is that everyone is going to want one!
Credit Card Survival Wallet Pocket Tool
Each set comes with eight pocket tools so that you can give them to multiple people! The device has a can opener, flathead screwdriver, knife edge and more!
How are some ways you like to save money while staying frugal?