Disclosure of Material Connection: Some of the links in this post may be "affiliate links." This means if you click on the link and purchase an item, I will receive an affiliate commission. Disclosure in accordance with the Federal Trade Commission's 16 CFR, Part 255. This site is a participant in the Amazon Services LLC Associates Program, an affiliate advertising program designed to provide a means for sites to earn advertising fees by advertising and linking to Amazon.
If you gift thank you cards, is the gift recipient required to send a thank you card for that gift? Does that cause some sort of weird loop in the continuum? Never mind if it does. To someone who strongly believes in sending personal thank you cards, and cherishes paper weight and grains, any cool or cute addition to the stash is greatly welcomed. Or so I hear … !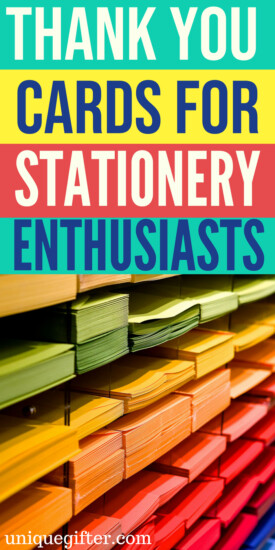 Unique Thank You Cards for Stationery Enthusiasts
Crane & Co. Navy Hand Engraved Cards
The Ferraris of the card world, Crane thank you cards are what I aspire to send someday when I'm terribly rich. For now, I ogle their terribly classy cards like this classic navy card, engraved with a simple "Thank You" and a neutral symbol.
Sesame Street Cards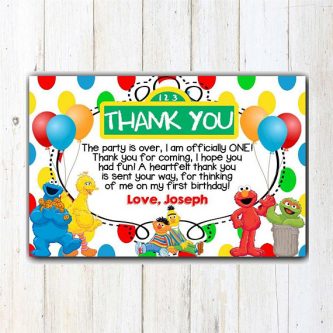 Sesame Street and Mr. Rogers are timeless for kids and for adults. Stationery enthusiasts in training can get their start by scribbling on this preprinted card.
Crane & Co. Clementine Lion
Cute as a button, still with that lovely thermography, with an envelope lined in a bright orange pattern – this card may seem more suited to a child but it's equally suited to a fun personality.
Sailboats
For the nautically inclined, this card conjures the seaspray and cards composed sitting on the pier or on the foredeck.
Gummy Flowers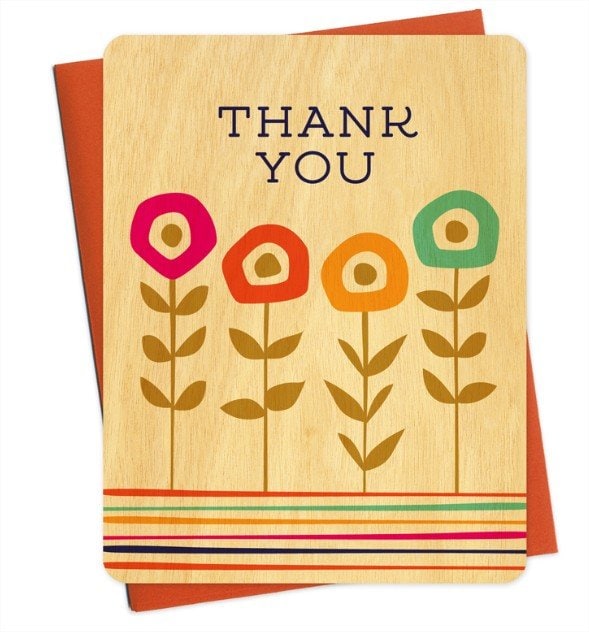 Printed on real birch wood, this thank you card will stand out from the rest. Don't let the wood deter you, it can be written on with color pencils, ballpoint or gel pen.
Kiss @$$ Card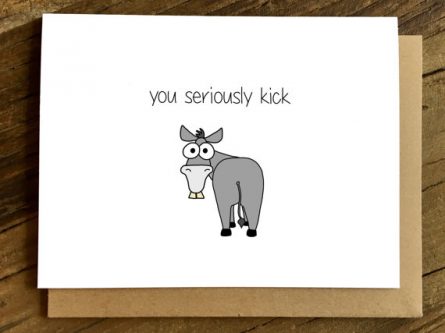 For the irreverent thank you. This would be awesome for thanking a colleague but possibly NSFW if you clock into a relatively conservative office.
Straw Otter
Otter puns otter get old but they never do! This card would only be cuter if the otter was holding a spiky sea urchin.
Bridesmaid Card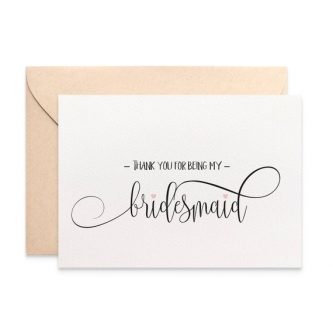 To be fair, this should also have the option to thank your bridesmen as well, but these cute cards will help a bride/groom out after their big day.
Frenchie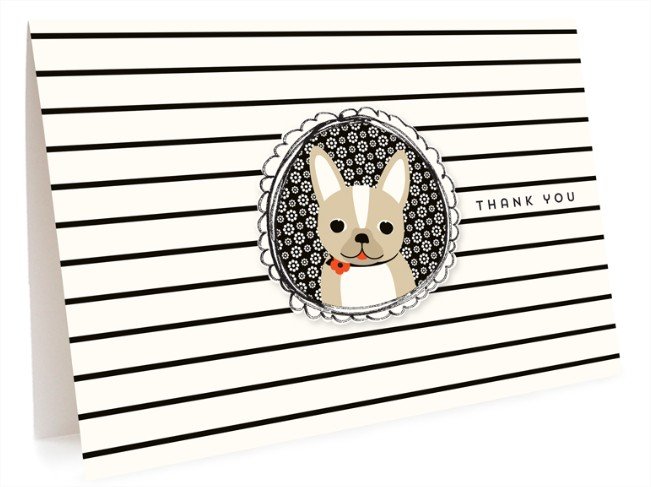 Frenchie parents or wannabe Frenchie parents will love this Parisian flavored card starring their beloved French Bulldog.
Rainbow Narwhal Unicorn Card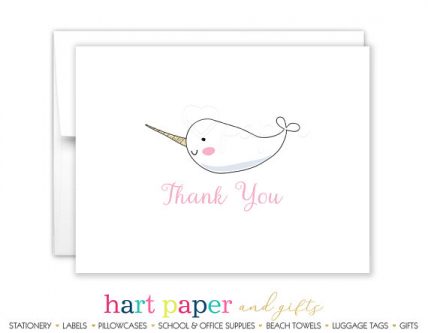 Cute times three – who wouldn't want to send thanks from an adorable mythical creature?
Kitty Pounce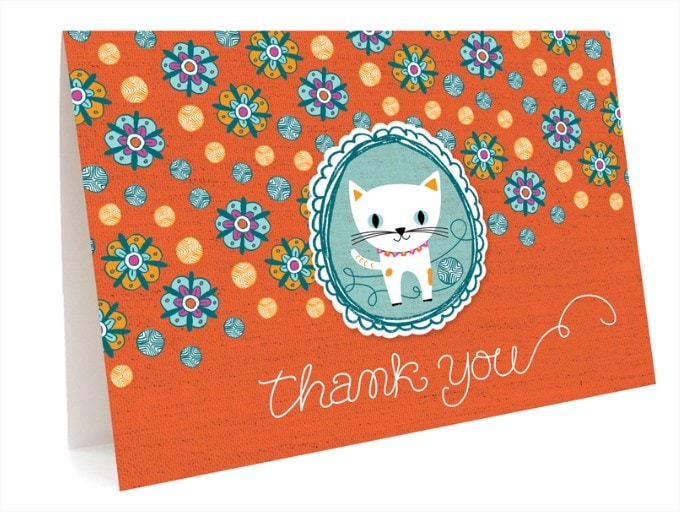 This beatific kitten looks like it only bears thanks and good wishes but cat owners know they could also be hiding a bit of a pounce.
Poop Card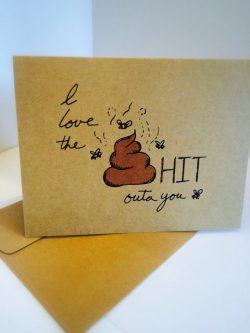 Let's be honest, there are times people go above and beyond for love of us. They deserve the most honest thanks you can muster.
Crane & Co. Engraved Bumble Bee
This more anatomically correct than cutesy bumble bee lights gently on this engraved kid finish Crane card.
Letterpress Navy Waves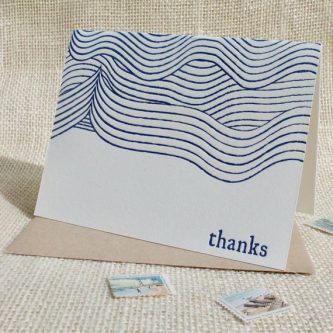 Soothing blue waves, reminiscent of Japanese art, adorn the front of this elegant letterpress card.
Robot Card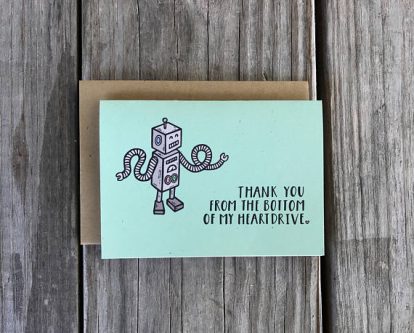 A little robot nerdery for the multi-variant nerd!
Rose Gold Foil Confetti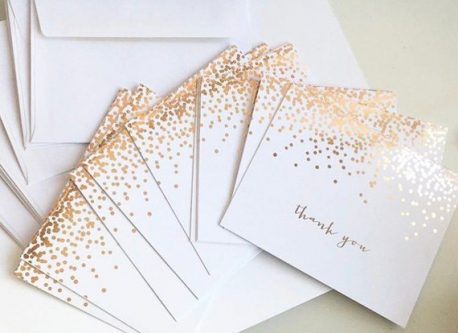 The rose gold has such a lush feel to it on this confetti sprinkled card, and it's far better than a glitter spackled card.
Mario Mushroom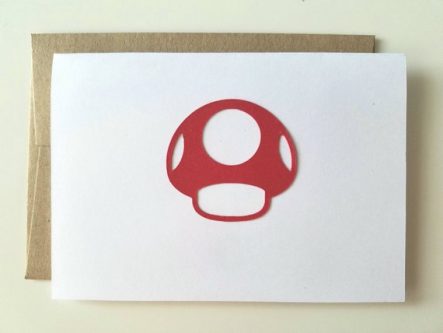 An old-fashioned Mushroom for an old-fashioned Nintendo fan.
Vintage World Map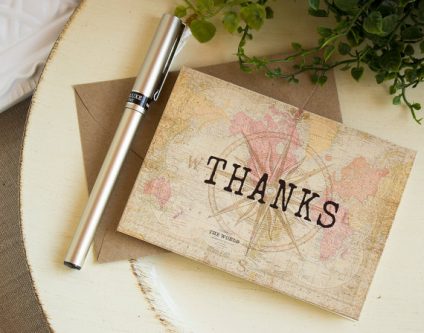 This world map and compass has an aged vintage look, perfect for the world traveler.
Crane & Co. Multi-lingual Cards
Thanks in many languages sound just as sweet as the language you know.
Thank You Times Infinity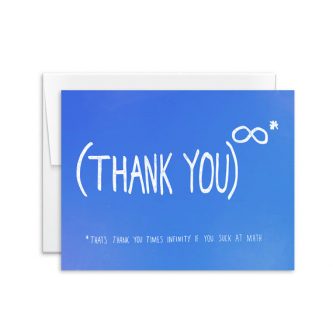 A more casual but definitely no less heartfelt thanks with this explanation of just how grateful you really are.
For some folks, any thanks at all is impressive. It's time to raise the bar a little, don't you agree?