Disclosure of Material Connection: Some of the links in this post may be "affiliate links." This means if you click on the link and purchase an item, I will receive an affiliate commission. Disclosure in accordance with the Federal Trade Commission's 16 CFR, Part 255. This site is a participant in the Amazon Services LLC Associates Program, an affiliate advertising program designed to provide a means for sites to earn advertising fees by advertising and linking to Amazon.
Ahh, the Power Rangers. One of the TV shows that definitely had kids sprinting for their home after school. This franchise has touched thousands and holds nostalgia for a massive amount of people, so it stands to reason that you can't throw a stone without hitting a fan of the Mighty Morphin Power Rangers.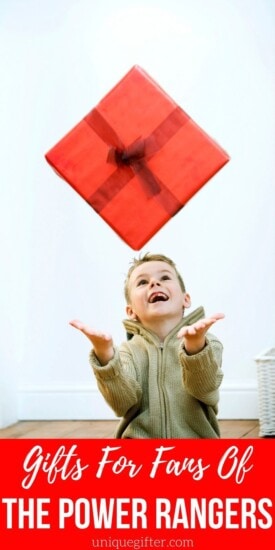 Best Gifts for Power Rangers Fans: It's Gifting Time
When you're dealing with a fan of a series, you've gotta make sure to grab the perfect gift, and that goes double when it comes to a franchise that holds so much nostalgia. You're bound to get a tiny bit nervous when you've got such a daunting task at hand, and that's where I come in. I've gathered some of the best gifts that you're going to find when it comes to this, so relax and check out these 40 gifts for Power Rangers fans!
Green Ranger Legacy Helmet
Anyone who is a fan of the series knows that the Green Ranger was one of the coolest ones that exist. Who wouldn't want a replica of the helmet?
Black Ranger Hoodie
Got a fan that wants to wander around looking like a Power Ranger? This hoodie is right up their alley!
Megazord 6-Pack Crew Socks
Everyone needs socks, right? What better socks for a fan than these that look like the Power Ranger uniforms?
Blue Ranger Robe
Even when the fan in your life is drying off, they should be able to show off their love of the series. Help them do that with this awesome robe.
Power Rangers Vintage Team T-Shirt
The entire team shows up for this stylish tee! Available in multiple colors, it's sure to please any gift recipient that wants to show off their Power Ranger pride.
Power Rangers Movie Legacy Coins
Say what you will, but the Power Rangers movie has a special place in tons of fans' hearts. Give them a piece of one of their fondly remembered films.
Power Morpher
To be fair, you can't be a fan of Power Rangers without wanting one of the morphers. Find out which Ranger is their favorite and make their dream come true with this gift!
Power Rangers Adult Coloring Book
Coloring is a pretty relaxing activity for anyone. Even when you're dealing with something as exciting as the Power Rangers.
Golden Power Staff
If you know about the Power Rangers, you're aware of the multiple spin-offs from the original series, and I'm sure the fan in your life knows about them as well. Check out this awesome Gold Ranger's staff!
Power Rangers Board Game
Is your friend or family member a true fan? Find out with this awesome Power Ranger related Trivial Pursuit!
Mighty Morphin Power Rangers: The Movie (Blu-Ray)
As I stated before, the Power Rangers movie holds a special place in fans' hearts, but I'm willing to bet that the fan in your life doesn't own a Blu-Ray copy of the classic film.
Red Ranger Mug
Everyone needs a favorite coffee mug, yeah? This is bound to be your loved one's favorite when they get ahold of it!
Power Rangers Oversized Throw
What better way to cuddle up and stay warm than with this awesome Power Rangers blanket? The fan in your life is sure to be thankful for this one.
Lord Zedd Action Figure
Zedd was undoubtedly one of the coolest villains back in the day, and I can't think of any collector that wouldn't love to have this figure on their shelf.
White Ranger T-Shirt
The White Ranger was another one of the coolest to exist, and I'm sure there are massive amounts of fans out there that would really dig running around dressed like him!
Legacy Dragon Dagger
If you watched the original show, there's no way that you don't remember being envious of the Green Ranger and his Dragonzord. Now you can give your fan what they really want!
Black Ranger Funko Pop
Even Power Rangers aren't exempt from Funko Pop, and I'm pretty sure that the fan in your life is thankful for that one.
Dragonzord Figure
One of the coolest Zords to exist. The Dragonzord! Hands down one of the coolest gifts that you can snag for a Power Rangers fan.
Power Ranger Belt
Sure, they don't have functional morphers, but they are pretty rad looking belts and sure to please any fan of the franchise!
Power Ranger Crocheted Hat
A cool and stylish way to show off the love for the Power Rangers, this hat is colorful, comfy, and available in every color of the Ranger rainbow!
Power Ranger Keychain
How cute are these little keychains, though? I'm fairly confident that the fan in your life is going to love this flair for their keyring!
Power Ranger Paracord Bracelet
Paracord bracelets became pretty popular both in style and function. Give your fan that cool look that also ties their favorite series into it.
Power Rangers Trucker Hat
If your loved one isn't a fan of beanies, there's always this nifty trucker hat. Complete with the Power Ranger color scheme!
Mini Mason Jar Light
If you're looking for something a bit more unique, there's this rad Mason Jar light. Guaranteed to be the only one of it's kind for their next holiday!
Dinozord Symbol Decal
Maybe the fan in your life wants to stick Power Rangers flair to everything they own? Help them out with this awesome little stickers representing the Dinozords.
Power Ranger Zipper Pull
It's the little things that put a smile on people's face, right? These zipper pulls are perfect for adding flair in a subtle way.
Power Rangers Wall Decal
Perfect for a Power Rangers themed room, this decal shows off the team in a spectacular fashion!
Rita Repulsa Pin
The lack of Rita Repulsa merchandise in the world is criminal! Whether you loved or hated her back in the day, she definitely left an impact either way.
Vintage Power Rangers Lunchbox With Thermos
There are few things cooler than original retro gear. This vintage lunchbox is sure to put a smile on your fan's face and even includes a neat matching thermos!
Black Ranger Axe Replica
Who can forget the Power Ranger weapons? Give the gift of the sweet-looking ax for their next birthday!
Collectible Action Marbles
I'll bet that you never thought of something as small as collectible marbles. Well, lucky for you that I did! These nifty little marbles are sure to fill a fan with glee as they add them to their collection.
Power Ranger Lightswitch Cover
Another addition to a Power Ranger themed room; this light switch cover helps to be sure that every inch is covered when it comes to Ranger decoration.
Red Ranger Sword Replica
The Red Ranger was definitely a fan favorite, so it stands to reason that there are a plethora of fans out there that would love to own a replica of his sword!
Power Rangers Watercolor Print
What's cooler than a Power Ranger print? A unique watercolor design that puts a different spin on the art style!
Power Ranger Chibi Sticker Pack
If Dinozord stickers aren't your fan's thing, maybe they'll dig something a bit cuter. It doesn't get much cuter than these Chibi Rangers, that's for sure!
Green Ranger Tumbler
More awesome Green Ranger gear! This tumbler is sure to be your fan's favorite when they unwrap it.
Goldar's Coin Box
Everyone remembers Goldar, right? Your fan can finally get their hands on his coveted coin box, and you'll be the hero of the day when they unwrap this gift.
Black Ranger Stein
Maybe your fan has a penchant for awesome steins? It doesn't get much more impressive than this design here!
Power Ranger Earrings
Who doesn't love a subtle way of adding their favorite flair to their wardrobe? These earrings manage to convey a love for the Rangers while remaining low-key. A unique and wonderful gift for sure!
Alright, we've reached the end of the list! You're definitely going to save the day now that I've presented you with these awesome selections. Did you find something in this list that the fan in your life absolutely adored. Maybe you're a fan of Power Rangers yourself, and you found something you couldn't live without? Feel free to let us know on Twitter (@ugifter) or Instagram (@uniquegifter), and thanks for checking out 40 Gifts For Power Rangers Fans!