Disclosure of Material Connection: Some of the links in this post may be "affiliate links." This means if you click on the link and purchase an item, I will receive an affiliate commission. Disclosure in accordance with the Federal Trade Commission's 16 CFR, Part 255. This site is a participant in the Amazon Services LLC Associates Program, an affiliate advertising program designed to provide a means for sites to earn advertising fees by advertising and linking to Amazon.
All of these Virginia gifts are sure to bring a smile to your friends or family that are Virginia natives. Virginia is a state full of beautiful scenery and a positive atmosphere. If you are looking for a gift for someone in your life who lives there or grew up there, this is the list for you. There are so many beautiful ideas here!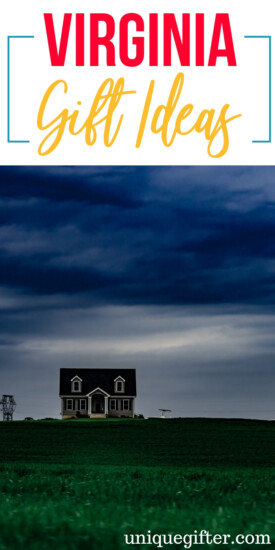 Four Seasons Canvas Set
Virginia gets to enjoy all four seasons, which is why you should get them this four seasons on a single tree canvas set.
"This coffee is almost as hot as people from Virginia" Mug
Their coffee is surely almost as hot as the people from Virginia because hot people live there!
University of Virginia Rotunda Watercolor Print
This stunning University of Virginia rotunda watercolor print can be framed and hung up on their wall at home.
"Country roads take me home" Shirt
Country roads are the lifeblood of the state, and what beautiful scenery you will find on those roads.
"Home sweet home" Pillow Cover
This home sweet home pillow cover has the shape of the state of Virginia as the "O" in home.
Mountain Necklace
Now they can wear the mountains of Virginia around their neck, with this beautiful mountain necklace.
Virginia String Art
String art is simple, yet intricate, and this Virginia string art will look great up on their wall at home or in their office.
Virginia Beer Map Print
If they want to know where all the beer is in Virginia, this is the map for them!
"Homemade" Kitchen Sign
The cooking in Virginia is like no other, which is why they definitely need this "Homemade" sign for the kitchen. It even has a hanger.
"Just a small town girl" Shirt
For those who live in small towns, that small town is life.
"I might live in _____, but my heart is in Virginia" Mug
For the Virginian who lives in another state, but will always be a Virginian at heart, this mug is for them.
Mountain Earrings
If a mountain necklace is not their thing, then these mountain earrings are a great choice, or you could get them both!
Virginia Shaped Cutting Board
For the Virginian who loves to cook a Virginia shaped cutting board is a great place to cut their fruits and vegetables.
Blacksburg Virginia Tech Rocks Glass
This Blacksburg Virginia Tech college town rocks glass will be a great addition to their glasses collection.
"Life is better on the farm" Shirt
For them, life is better on the farm.
Grassroots Virginia Soy Wax & Essential Oil Candle
This grassroots Virginia soy wax and essential oil candle will help their home smell homey and comfortable, whether they are on their own or having guests over.
Horse Name Sign
Get their last name put on this horse name sign so that they can hang it up inside or outside their home. They don't even have to have horses to enjoy this sign, as long as they love horses, they will love the sign.
Personalized Highway Distance Sign to: Martinsville Speedway
Martinsville Speedway is a great race track right in the state of Virginia. Personalize the mileage on this sign for however far away they live from the race track. They can hang it up at home.
Virginia Love Colorful Watercolor Wall Art
This stunningly colorful Virginia love colorful watercolor wall art can be framed and hung up on the wall to show off their love for their state.
Richmond "R/M/N/D" Shirt
If your friend or family member is from Richmond, this shirt is great for them and it's unique! It looks like a railway sign design, except it has letters from the city of Richmond in the cross.
Someone who lives in Virginia believes it is one of the most beautiful places and deserves a beautiful Virginia gift.