Disclosure of Material Connection: Some of the links in this post may be "affiliate links." This means if you click on the link and purchase an item, I will receive an affiliate commission. Disclosure in accordance with the Federal Trade Commission's 16 CFR, Part 255. This site is a participant in the Amazon Services LLC Associates Program, an affiliate advertising program designed to provide a means for sites to earn advertising fees by advertising and linking to Amazon.
Being one of the most popular and successful anime series since its release, Attack On Titan is bound to have a lot of fans and we're certain that you've got one or two in your life. We're here to help you find the perfect gift for that certain someone!
Attack On Gift Giving
Being a diehard fan of the series probably means that they have a lot going on in their collection already. Don't fret! We're sure that we can find you a gift with these 20 gifts for your Attack On Titan fan!
Attack On Titan Workout Shirt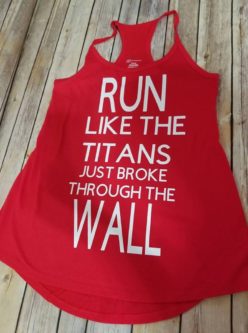 Sporting a slogan that is fear-inducing enough to make the laziest person get up and run, this shirt is a hit! Available not only in multiple sizes but in different colors as well!
Scout Cosplay Cloak
Let's be honest: Who doesn't want to look as cool as the scouts look in the show? We're sure the fan in your life is going to love this cosplay cloak as much as we do!
Attack On Titan Monopoly
Just like in the show, the stakes have never been higher! The fan in your life is sure to love this version of Monopoly almost as much as they love the series itself!
Attack On Titan Backpack
Unlike the characters carrying the weight of the world on their shoulders, they'll be carrying things with ease with this stylish backpack. With plenty of pockets and art from Attack On Titan, this is guaranteed to please.
Attack On Titan Wallet
Want to give them a nerdy way of carrying their money? We've got you. This Attack On Titan wallet is subtle but speaks volumes at the same time. Cash not included!
Attack On Titan Sword Replicas
Let's get real. If you've seen the anime, we all know how righteous those swords are. They absolutely need these.
Eren Jaeger Action Figure
The protagonist of the show comes to life with this action figure! Designed by McFarlane, this 7-inch figure even comes with a stand to show it off with!
Attack On Titan Hoodie
What better way to show their appreciation for the show than with their clothing? This hoodie is available in different styles and colors and displays art from the series!
Levi Funko Pop Figure
It really is a close call with who is the most heroic character in Attack On Titan. Is it Levi? Is it Mikasa? Either way, they are bound to be thrilled to receive this pint-sized Levi!
Attack On Titan Sneakers
Fancy footwear? Yes. These stylish sneakers will have them walking on sunshine when you give them this gift! They even glow in the dark!
Attack On Titan Wall Clock
What time is it? Anime time! This wall clock is made from old vinyl records and features impressive art from the series! We promise it'll have them staring at the time, counting down to next week's episode!
Attack On Titan Laptop Decal
No surface is safe from Attack On Titan! This decal is ideal for their laptop but can be used in many different places!
Attack On Titan Season 2 (Blu-Ray)
With season 3 of Attack On Titan Out, you can help your favorite titan buff build their series collection up with season two of the acclaimed series! Available on Blu-Ray and DVD!
The anime may be filled with dangerous twists and turns but as you can see, you're in no danger of being able to find that perfect gift! We hope that we've been able to help you with that certain someone in your life with these 20 gifts for the Attack On Titan fan!