Disclosure of Material Connection: Some of the links in this post may be "affiliate links." This means if you click on the link and purchase an item, I will receive an affiliate commission. Disclosure in accordance with the Federal Trade Commission's 16 CFR, Part 255. This site is a participant in the Amazon Services LLC Associates Program, an affiliate advertising program designed to provide a means for sites to earn advertising fees by advertising and linking to Amazon.
Is there a girl in your life that just loves anime? These anime lover gifts for her are going to make that otaku scream with delight. Or at least she'll love them almost as much as she loves to watch anime.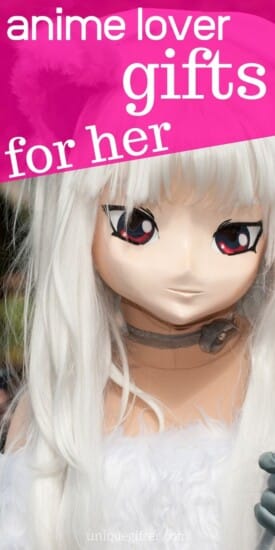 Anime Lover Gifts for Her
Whether it's an anime lover's birthday or a special holiday like Christmas, there's plenty of great anime lover gift ideas to choose from. But if you don't know much about anime where do you start? Check out these anime gift ideas for girls to get you started.
See also: Want some more anime in your life? Here's even more gift ideas for anime lovers!
Cosplay Costumes
There's nothing more "anime" than the Japanese school girl uniform. But you can also gift her any kind of cosplay accessories for an anime she's into to wear at the next con.
Anime Games
There's so many anime or Japanese themed game out there that female otakus will adore. Hatsune Miku makes great anime lover gifts for her because you can get it on almost every game console and it's super "kawaii".
Editor's Choice Anime Lover Gifts for Her
The My Hero Academia Deku Night Shirt

She'll love this soft and adorable crew neck nightgown. It's perfect for watching anime in the evening without sacrificing comfort or style!
Anime Art Print
Find out what her favourite anime is and gift her a unique art print to hang. This Sailor Moon print is a good choice – most girls who love anime are going to have a special place in their heart for it.
Neko Atsume Backpack
Although not quite an anime, anime lovers are going to be thrilled to get this backpack all the same. Based on the adorable Japanese mobile game "Neko Atsume" where you collect cats.
UWU Hat
It's hard to write a description here so I'll just put that this is an anime thing. Anime lovers and female otakus will get it, trust me.
Anime Figures
Don't rule our figures when shopping for anime lover gifts for her! Pick up her favourite anime character for her to proudly display.
Anime Inspired Dress
Something like this can be worn to conventions or to regular otaku hang outs. They're not a full cosplay but they are anime inspired which is perfect for a girl who wants to show off her love of anime without going all out.
Editor's Choice Anime Lover Gifts for Her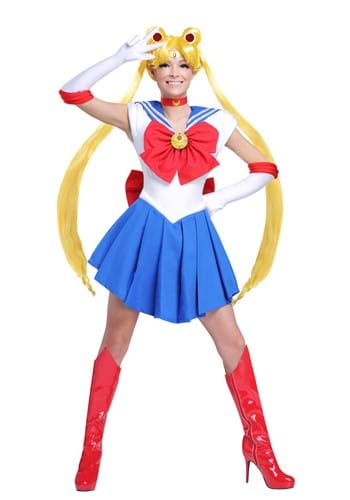 Sailor Moon Costume
If she's a serious anime lover, this Sailor Moon costume will absolutely steal her heart! Give her the chance to dress up like one of her favorite characters with this high quality costume.
Manga Boxed Set
Loving anime and manga go hand in hand. If you want to get some for her, make sure to pick up a set of the entire series so she can read the whole thing!
Kawaii T-shirt
There's so many cute shirts that make perfect anime lover gifts for her. If you don't know what anime she likes, pick up something more generic like this cute cat eating ramen shirt.
Pikachu Planter
You'd be hard pressed to find an anime lover who doesn't like Pokemon! This adorable planter is perfect for any Otaku and ready for a nice succulent to be planted inside.
Gudetama Slippers
This Japanese icon is made by Sanrio, the same people who brought the world Hello Kitty. That explains why it's so cute.
Anime Earrings
If she wears earrings then the otaku on your list is going to love a pair of anime inspired ones. These ones have the adorable bananya on them – a banana cat. Yes, this really is an anime.
Japanese Anime Inspired Shoulder Bag
Bags are great anime lover gifts for her and this cute over the shoulder bag is the perfect choice. It might not be from a specific anime but anime loving girls will still love showing off this kawaii design.
Anime Character Socks
These adorable socks have the faces of popular anime characters. This set happens to have some of the best known icons from Studio Ghibli.
Editor's Choice Anime Lover's Gifts for Her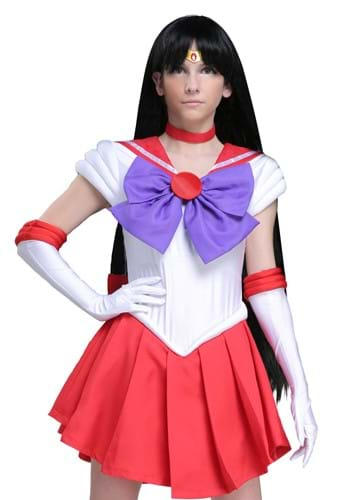 Adult Sailor Mars Wig
This wig is perfect for hitting a cosplay convention in style! Even if she doesn't commit to the whole Sailor Mars outfit, it's perfect for any occasion. Anime lovers like her will adore accessories like this!
Anime Notebook
Notebooks are practical gift ideas for anime loving girls! This one is inspired by Boku no Hero Academia, or My Hero Academy, and looks like the ones they use in the show.
Magical Staff Make Up Brushes
If your anime loving girl loves make up these are the perfect gift idea. The brush handles are designed to look like magical staffs from popular anime so she can feel magical every time she gets ready to go out.
Her Favourite Anime on Blu Ray
She might like a boxed set of her favourite series or popular anime movies, like this one. Whatever you pick anime is usually a safe bet when shopping for an anime lover.
Sexy Taiyaki Pin
This is too funny not to include. Taiyaki is a popular dessert taking Japan (and the world) by storm. The "sexy" face is a popular meme in otaku circles. This pin combines both for a hilarious combo that anime lovers and otakus alike will love.
Bonus: Wrapping Paper
When you're shopping for anime lover gifts for her, don't forget to pick up the perfect wrapping paper for your gift!