Disclosure of Material Connection: Some of the links in this post may be "affiliate links." This means if you click on the link and purchase an item, I will receive an affiliate commission. Disclosure in accordance with the Federal Trade Commission's 16 CFR, Part 255. This site is a participant in the Amazon Services LLC Associates Program, an affiliate advertising program designed to provide a means for sites to earn advertising fees by advertising and linking to Amazon.
20 Gifts For Coraline Fans
If you've never heard of Coraline, we need to talk. It's perhaps one of the best dark horror fantasy movie adaptations to date. It won tons of awards and is by bestselling author Neil Gamon! Unfortunately, it can be hard to find gifts for people who adore this movie! Being a fan myself, I went ahead and found the things that your Coraline fan would absolutely love to get!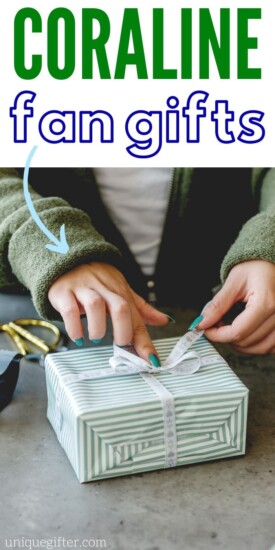 Gift Ideas For Any Coraline Fan
Let's brave this journey together! Are you ready?
Book Set
If your Coraline fan doesn't already have these, they will definitely love to read the book their favorite movie is based off of – and two other books by the same author!
Bendy Doll
You're never too old for toys! This bendy doll is great because your fan can pose it however they want!
Journal
Whether it's for dreams or venting – this journal would be a great way for your Coraline fan to express themselves!
Double DVD Set
This double DVD set is a steal! Two fantastic movies by the same director? Yes, please!
Key Pendant And Necklace
Whether your Coraline fan is dressing up for cosplay or just wants to wear it every day, who are we to stop them?! This necklace is a great accessory!
Stationary Set
This stationary set is to die for! It comes with a ton of stuff – even a wax stamp!
Funko POP!
So many Funkos, so little time! Grab your Coraline lover a new action figure to add to their massive collection!
1000 Piece Puzzle
Puzzles are a great way to pass the time. Give your fan the chance to put this beauty together while watching their favorite movie!
Starry Night Inspired Poster
Add a unique twist to your Coraline fan's art collection with this wonderfully inspired poster!
Coraline: A Visual Companion
This book is packed full of beautiful images and tells you how the movie and stage adaptation were made! A must have for every fan!
Wooden Door Hanger
Halloween or not, this door hanger is awesome! Your Coraline fan will keep it up all year!
Themed Soy Candle Pack
Allow your fan to submerge themselves in the environment of their favorite movie with these handmade candles!
Enamel Pin
A practical yet adorable gift! Perfect for pin collectors!
Bracelet
This bracelet is minimal and adorable! It could also be perfect for a keychain!
Other Mother Mug
Your fan will thoroughly enjoy their breakfast every morning with Other Mother! These are custom and handmade so grab one before they're gone!
Keychain
When you're a fanatic, there's no limit! This keychain is another gorgeous handmade craft by a fan just like yours!
More Awesome Gift Ideas
I hope you found what you were looking for while you were here! We here at Unique Gifter love hearing from our readers, so if you grabbed anything off this list, give us a shout over on Twitter (@ugifter) or Instagram (@uniquegifter) and tell us what you got!