Disclosure of Material Connection: Some of the links in this post may be "affiliate links." This means if you click on the link and purchase an item, I will receive an affiliate commission. Disclosure in accordance with the Federal Trade Commission's 16 CFR, Part 255. This site is a participant in the Amazon Services LLC Associates Program, an affiliate advertising program designed to provide a means for sites to earn advertising fees by advertising and linking to Amazon.
Borderlands players may roam around Pandora, but you can stay right here on Earth to find them some epic loot! We've scoured the most dangerous corners of the planet for the best gift ideas for your psycho-killing-machine-gun-toting fan so you don't have to!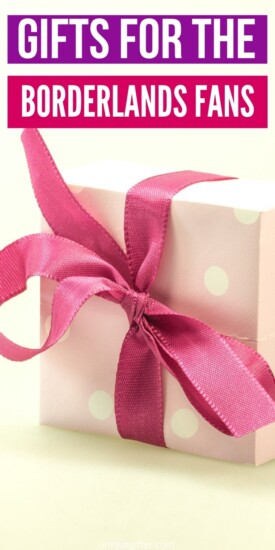 The Best Gift Ideas To Satisfy All Borderlands Fans
Fill up on ammo and catch a ride, we're about to dive deep into the vaults of Borderlands gifts!
Vault Hunters Wanted T-Shirt
Let your fan recruit more hunters for their escapades with this Vault Hunters Wanted shirt!
Hand Cut Wooden Desk Sign
Give your Vault Hunter the gift of representing their fandom with this hand cut Vault Hunter sign for their desk or end table!
Borderlands Sticker Logo Water Bottle
This bottle isn't just eco-friendly, it's fan-friendly too! Grab one of these for your Boderlands loving friend, so they can appreciate all of the in-game logos it sports.
Character Rubber Ducky
This collectible rubber duck comes in a variety of styles detailing some of the fan favorite characters from the game series.
Borderlands KontrolFreak Accessory
This key piece of gaming accessory is the perfect upgrade to their current setup. It works with newer game controllers, and provides an advantage to gamers who enjoy playing titles such as Borderlands!
Borderlands 3 Game Cover Blanket
This blanket will keep your favorite gamer warm while they're enjoying some of their favorite games! This way, they can add a touch of their favorite series to their living room, bed or couch.
DAHL Customized Beer Mug
Fans of the series will instantly recognize this in-game brand for their iconic weaponry. Bring a piece of the game into their cupboard with this functional and stylish mug.
Gun Manufacturer Vinyl Decals
All vault hunters have a favorite brand of guns. Let 'em sport their favorite manufacturers with these color-customizable vinyl decals!
8×10 Moxxi Art Print
Give your hunter the gift of art! This print is of everyone's favorite bar owner in all of Pandora!
Hyperion Loot Chest
The perfect gift for all vault hunters – a highly secured place to hide their loot.
Hyperion Blaster Functional Replica
This gun is an exact replica of one of everyone's favorite guns and can hold 6 nerf darts!
Handsome Jack Action Figure
Amaze your fan with this action figure of the video game industry's best super villain! And it comes with a DLC code!
CL4P-TP Yahtzee
Two awesome games for the price of one! Any Borderlands fan will love this addition to their collection!
Borderlands 2 Vintage Style Poster
This vintage poster based on the style of old wildlife preserve posters is the perfect addition to any hunter's secret vault!
Handsome Jack Mask
Your Vault Hunter will be absolutely thrilled to have this mask if they missed it the month Loot Crate sent it out! Grab it before they run out!
Vault Hunter Vinyl Decal
This decal is the perfect way for any vault hunter to show off their lucrative career by slapping one of these bad boys on the back of their Outrunner!
Zer0 Funko Pop
Give the gift of an adorable robot assassin that speaks in haikus!
Claptrap Messenger Bag
Whether they're dancing to dubstep or looting a shield off of a corpse, this bag will help them carry their swag in style.
Tiny Tina's Tea Party Racerback Tank
I went to Tiny Tina's tea party and all I got was this lousy tank top. No, wait. That one was sold out, so you'll have to settle for this one instead.
You caught a ride with us as we steered you through some of the most awesome gift ideas for borderlands fans. No matter how finicky the Borderlands fan in your life is, we're certain there's a gift on this list to satisfy that Vault Hunter you're buying for. Give us a shoutout on Twitter (@ugifter) or Instagram (@uniquegifter) if you loot a gift off this list and let us know what you got!