Disclosure of Material Connection: Some of the links in this post may be "affiliate links." This means if you click on the link and purchase an item, I will receive an affiliate commission. Disclosure in accordance with the Federal Trade Commission's 16 CFR, Part 255. This site is a participant in the Amazon Services LLC Associates Program, an affiliate advertising program designed to provide a means for sites to earn advertising fees by advertising and linking to Amazon.
You only get to have a birthday once a year, right? Not if you celebrate your half birthday! These half birthday gift ideas are perfect for surprising someone part way through the year or to bring to a half birthday party.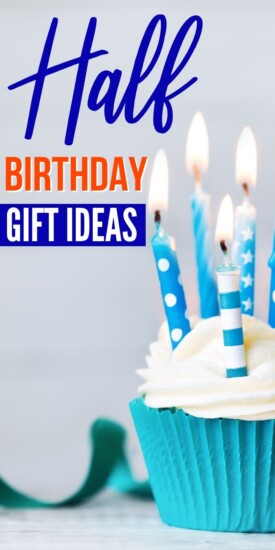 Half Birthday Gift Ideas
Half birthdays are not that crazy of a concept. With babies, it's a fun way to celebrate their 6 month milestone. For older kids and adults, it's a nice excuse to get someone a gift "just because". Another great idea is celebrating your half birthday if your real birthday lands on a holiday or awkward time of year.
One and a Half Birthday Topper
Don't just bring them a cake topper, bring the whole cake as a gift idea. You can get these in different ages, but one and a half is a great excuse to bring a toddler some cake.
Happy Half Birthday Card
If you want to show someone you're thinking of them give them a half birthday card this year. You could even put a gift certificate inside for a little treat or something fun to do together, or include this card with another gift.
Half a Necklace
Friendship necklaces, or in this case a mother-daughter one, are traditionally two pieces of a whole that interlock. Give them half and keep the other for a thoughtful half birthday gift idea.
Half Finger Gloves
You have to give them a whole pair of gloves unless they're like Micheal Jackson, but if you want a clever half birthday gift idea you can give them fingerless gloves. (It's half, after all.) Perfect for a half birthday that lands during winter, but they still like to have their fingers out for using touch screens.
Updated 6 Month Planner
Planning a whole year is so overrated. Give them a 6-month planner for their half birthday so they can be all set until their actual birthday. The best part is this is undated, so it doesn't matter when they start!
Half Moon Earrings
Another pair that still works well when giving halves. Use a half birthday as the perfect excuse to them a set of these adorable half-moon earrings.
Half Birthday Shirt
This half birthday shirt is designed for kids, but I'm sure you could find one in adult sizes too. Either way, it's too cute to not give on a toddler's half birthday!
Half Apron
This is kind of a practical gift idea. If they prefer half aprons then a half birthday is perfect timing to gift anything that's half of something else.
Half a Sixpence Earrings
These super cool earrings combine to make a whole sixpence, but it's split in two. Perfect for a half birthday!
Felt Half Birthday Cake
This cute cake is made of felt so it is part gift, part half birthday keepsake. It would make a great photo prop for a half birthday photoshoot!
Halfway to 50 Shirt
OK, it's not quite for a half birthday, but it is a funny gift idea for someone who's halfway to a milestone birthday. It's a funny way to make 25 sound a lot older, that's for sure.
Love Half Moon Necklace
This half-moon necklace is a chance to give something personalized for their half birthday. You can get it hand stamped with a message or their name for a unique gift idea.
Half Sized Notebook
Full-sized notebooks should be for full birthdays only! A half birthday calls for a cute half sized notebook instead.
Half Circle Earrings
You could pick up a single earring if they only wear one (or wear them mismatched), or grab a pair. Either way, half circle earrings are definitely an appropriate gift idea for a half birthday.
½ Pound Reese Cups
If you want a small and fun half birthday gift idea this is for you. Each of these oversized Reese Peanut Butter Cups weighs half a pound, a perfect treat for their half birthday.
Unbirthday Candle
Whether it's their half birthday or their unbirthday that you're celebrating, this yummy candle will make it feel like a party. It smells like a birthday cake!
Half Circle Necklace
Half birthdays and other "made up" holidays really are just excuses to get someone you like some jewelry, let's be honest.
½ Birthday Bodysuit
This cute bodysuit is perfect for a baby's half birthday but doesn't look super girly.
Cut in Half Book
This book will definitely get you props for a unique gift idea. Just like it's halfway to their birthday, everything in this book is cut in half too. If you ever wanted to know what's inside ordinary things this is definitely the book for you.
Personalized Half Birthday Card
It's nice adding a card to a gift or just giving a card by itself. This one can be personalized for a nice touch. You could also mail it to someone for a really nice half birthday surprise!
I love parties, and I love giving gifts, so any excuse to do either of those things is perfect in my books. That's why I love half birthday gift ideas; it's a fun excuse to celebrate and treat someone "just because"!