Disclosure of Material Connection: Some of the links in this post may be "affiliate links." This means if you click on the link and purchase an item, I will receive an affiliate commission. Disclosure in accordance with the Federal Trade Commission's 16 CFR, Part 255. This site is a participant in the Amazon Services LLC Associates Program, an affiliate advertising program designed to provide a means for sites to earn advertising fees by advertising and linking to Amazon.
No other font seems to have the cult-like following that Helvetica does. As a graphic designer, I can attest to the versatility of this simple font. But there are some people who are downright Helvetic obsessed. That's where these Helvetica gift ideas come in.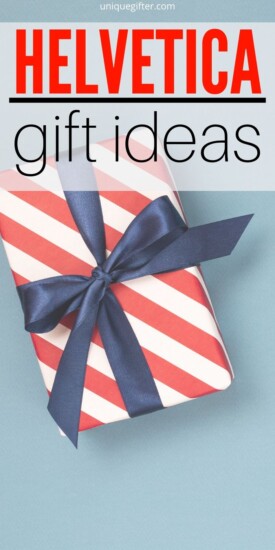 Helvetica Gift Ideas
Here's a collection of the best Helvetica themed gifts that graphic designers and typography enthusiasts of all kinds will adore.
Helvetica and the New York Subway System
Did you know that for the longest time, the New York City Subway system signs were a mod podge of typefaces dating back to the 1900s? Legend has it that Helvetica saved the day, but apparently, that's not the whole truth.
Thing & Thing & Thing & Thing Shirt
Did you know these popular shirts are done in Helvetica? Get your own custom one done up or just write Helvetica & Helvetica & Helvetica & Helvetica.
Helvetica House Numbers
Maybe they want to live in a Helvetica themed house? These house numbers show the world the beauty and simplicity of the best font.
Helvetica Cookie Cutters
Just like on the computer, no font compares to Helvetica when it comes to your confectionaries.
Helvetica T-Shirt
Oops, that's not Helvetica. Great gag gift idea.
More Perfect Art Poster
Who is more perfect than Helvetica? Well, it would have to be somebody really special…
Helvetica Documentary
Everything you've ever wanted to know about the history of Helvetica. This documentary talks about how Helvetica changed typeface and why it's so popular over 50 years later.
Sticker Pack
This funny sticker pack is a play on words for those who are against Comic Sans. Usually, Helvetica lovers are not so fond of other fonts, just saying.
Helvetica AF Tote
Graphic designers still need something to carry their things (or computer) around in. This tote is Helvetica AF.
Helvetica Poster
This is a cool, kind of retro-looking art piece. It would be a great addition to any retro or hipster decor scheme.
Helvetica Letter Shirt
Shirts are a great way to show off your personality. Or, in this case, your love for Helvetica. Available in every letter for a unique and personal gift idea.
To Helvetica and Back Book
If you ever wanted an excuse to buy mass-produced mysteries with a typographical theme, now is your chance.
Be Bold Art
Part inspirational piece, part Helvetica love. Art prints like this are great Helvetica gift ideas, so scoop up your favorite.
Helvetica Letter Board Letters
These letter boards are all the rage nowadays. Step up their font game with Helvetica letters.
Laptop Bag
Who doesn't love a play on words? This says, "Welcome to Hel Vetica." A perfect backpack for school or work.
Visual Design Book
We all know everyone who loves Helvetica also loves good design. This book has 95 things you need to know about visual design told, of course, in Helvetica.
Vinyl Letters
You can't have Helvetica gift ideas without including vinyl letters that you can stick everywhere. Now the whole house can be labeled in Helvetica.
Hell Yeah, Helvetica Pin
I mean, it doesn't get much more pro-Helvetica than this. This would make a great stocking stuffer.
Homage to Helvetica Book
Last but definitely not least is this Helvetica book. It's packed full of 400 examples of Helvetica use in all different kinds of applications. A perfect homage to the world's favorite font.
Helvetica Font Typography Poster
This Mid-Century modern poster is fantastic! It will add some style and some humor to your decor too.
Did you know Helvetica's been around since 1967? That might explain why so many brands like American Apparel and Panasonic use it as a base for their designs. What's your favorite font?