Disclosure of Material Connection: Some of the links in this post may be "affiliate links." This means if you click on the link and purchase an item, I will receive an affiliate commission. Disclosure in accordance with the Federal Trade Commission's 16 CFR, Part 255. This site is a participant in the Amazon Services LLC Associates Program, an affiliate advertising program designed to provide a means for sites to earn advertising fees by advertising and linking to Amazon.
O is not as popular of a letter as some other letters, when it comes to words that actually start with it, but there are some awesome ideas in this list that start with it! For example, owl, outdoor, observation, ocean, orange, and opposites are all great words. If you are teaching your child about certain letters and what words start with it, as well as what Toys that Begin with the Letter O toys they have or can get that do too, this list is for you.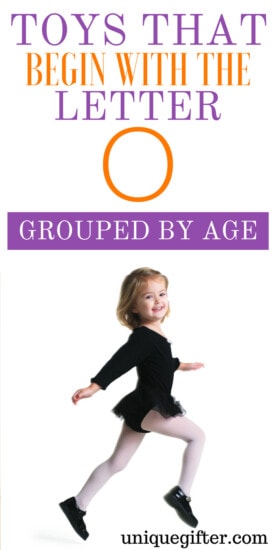 Find more toys for the rest of the alphabet:
Toys that Begin with the Letter O Ages 2-5
Trust us, they're gonna love them. We also have some ideas if their adults too!
Octopus that Lights Up, Plays Music, and Walks Around
This octopus lights up, plays music, and walks around. It is cute and entertaining for toddlers and preschoolers!
Oven Mitt Play Set
Children between ages 2 and 5 are learning how much fun it can be to help cook and to also play with their own kitchen sets, so they definitely need cute oven mitts that are just their size.
Ostrich 12" Plush
Stuffed animals are always a big hit, and this ostrich is a great animal to teach more about the letter O!
Otter Hand Puppet
Hand puppets are cool, and an otter hand puppet is even more fun.
Olaf Toddler Costume
Costume and dress-up play is an integral part of being a kid, so let them dress up as Olaf for the letter O theme! If they love Frozen, here's a whole list of them.
Oscar the Grouch and Elmo Figures
These Oscar the Grouch and Elmo figures will be fun for them to play with at school or home.
Ocean Animals Assorted
Assorted ocean animals can teach them about both the ocean and animals.
Owl 7" Plush Toy
Owls start with the letter O and are so adorable and fun to play with!
Olaf Mini Toddler Doll
This mini Olaf toddler doll is great to represent the letter O and from a popular movie too. Everyone will love him.
Octonaut Barnacles Booster Jet Pack
For the space loving kids, there is nothing better than Octonaut toys!
Oscar the Grouch Beanbag Gund Plush
Oscar the Grouch beanbag plush will keep everyone entertained and learning about the letter O.
Officer Girls' Costume
Little girls can be officers too and this costume for dress-up will help them aspire to be whatever they want to be when they grow up.
Ocean Water Sensory Beads
These ocean water sensory beads are great for sensory play and more!
Optimus Prime Superhero Cape
Almost every kid knows who Optimus Prime is, and now they can wear his cape.
Olivia Tights Costume
Olivia the pig has tights and now they can wear the same ones while they learn more about the letter O.
Olaf Toddler Slippers
Slippers are fun to wear for dress up and beyond, and while this is Olaf again, you can never have too much Olaf!
Ox Hand Puppet
Now they can pretend to be an ox, with this ox hand puppet.
Orange Outdoor Wagon Toy
Orange is a great color, and this orange outdoor wagon toy is great for learning outdoors. The bonus part is that both orange and outdoors start with the letter O!
Oak Step Stool
While not a toy, oak step stools help the kiddos reach things that are higher without putting them in unnecessary danger.
Orange 3D Dinosaur Backpack
Buy Now

3D backpacks are not only awesome, but also handy, especially one that is an orange dinosaur for the letter O!
Toys that Begin with the Letter O for Ages 6-8
Outdoor Observation Explorer Kit
Every child between the ages of 6-8 needs to be able to do some outdoor observation and exploration, and this kit makes it easier and more fun to learn.
Owl Solar Powered Puppet
Owls dancing will get your kids laughing, while the solar power part can teach them how the sun can power things.
Observation Tower United States Army Playset
This observation tower for the United States Army playset will entertain them for hours.
Oscar the Owl TY Plush
TY plush toys are adorable, and this Oscar the Owl is one of the most adorable of all.
Off the Wall Toys Alien Glow-in-the-Dark UFO Space Ship and Bendable Action Figure
Keep them intrigued about space and aliens, with this Off the Wall alien glow-in-the-dark UFO spaceship and action figure.
Octopus Plush
Octopus is another animal that starts with the letter O! They can cuddle or play with their new octopus friend.
Ocean Raiders STEM Math Game
Help them become more enthusiastic about math and STEM with this Ocean Raiders math game.
Orange Cat Action Figure
This isn't an official Minecraft product, but it will sure please your Minecraft loving kid.
Operation Board Game- Despicable Me 3 Edition
The Operation board game has been around for a long time, and this Despicable Me 3 edition of the game is modern and even more fun.
Off-Road Military Fighter Car
They will love driving this off-road military fighter car all around the house.
Once Upon Zombie Dolls- Alice
Once Upon Zombie Doll, named Alice, will entertain the kid who is fascinated with zombies.
O-Ring Magnet Game
Help them learn more about opposites and how to identify them, with this opposites magnet game.
Orange Tractor Toy
Every kid who is interested in construction needs an orange tractor toy to play with at home.
Ocean Squirters
These ocean squirters are great for bath time, showers, or outdoor water play on warm days.
Outdoor Glitter Chalk
Sidewalk chalk is always fun, the options are limitless on what they can draw, but how much fun would glitter chalk be?
Oliver the Sea Otter Plush
This cute little Oliver the Sea Otter plush is ready to hang out with your kiddo, whatever they may do.
Outdoor Explorer Set
An educational set that is also very fun, with binoculars, flashlight, compass, and magnifying glass. They can have hours of fun discovering bugs, animals, and other nature outdoors.
Oil and Carol Origami Boat
Both oil and origami start with the letter O!
Olivia Plush Doll
This list could not possibly be complete without an Olivia plush doll!
Owen Lockwood Battle Figure from Jurassic World
If your kid is a fan of Jurassic World, they need an Owen Lockwood battle figure to play with.
As you can see, there are so many fun things to choose from with the letter O! What will you choose for your kiddo?

This list just has so many letter O toys to choose from, which one do you think your kiddo will love the most?
Toys that Begin with the Letter O for Ages 9-12
Octopus Portable Kite
Buy Now
As an older child, they can be more independent with their toys. They can fly the octopus kite on their own and control it much better than a younger child can.
Ocean Raiders Math Game
Help them practice math and sequencing with a fun game.
Outee Mini Squishies
Buy Now
If they deal with a lot of stress, these outee mini squishies will really come in handy. Plus, they are adorable!
Orange Bullyland Two-Headed Dragon
Two-headed dragons are cool, especially when they are orange!
Oddly Obvious Party Game
This Oddly Obvious party game is perfect for family game night, sleepovers, parties, and more.
Oil Pastels from Crayola
While oil pastels may not be a toy, necessarily, they will give your kiddo a way to express their creativity and have fun.
Olaf Wall Decals
There are a whopping twenty-five of these olaf wall decals here, which means that they can decorate their whole room with them.
Orange and Black LEGO Speed Champions McLaren Building Toy
Imagine their delight when they finish putting together this orange and black LEGO speed champions McLaren car.
Owl in Pet Carrier
Now your kiddo can have their very own pet owl and they can even take it everywhere they go because it comes with a carrier.
Old Maid, Go Fish, and Rummy Card Games
These classic games, including Old Maid, are perfect for teaching your child something you played as a kid.
Oscar the Grouch Plush Puppet
Oscar the Grouch plush puppet lets them create their own story for Sesame Street.
Operation
Operation is a classic! They are at a good age for having control over being able to pull the pieces out. Although, it may still lead to some minor irritation when they can't do it, just like it does for adults.
Olivia's Deluxe Bedroom LEGO Friends Building Set
Who wouldn't love having a deluxe bedroom like Olivia's?
Once Upon a Time: Knightly Tales Card Game
The Once Upon a Time: Knightly Tales Card Game is a great way for them to express their creativity by creating stories of their own.
Oliver Queen from Green Arrow Funko Pop Action Figure
Oliver Queen from Green Arrow is one of the coolest superheroes.
Oscar the Grouch Funko Pop Action Figure
This Oscar the Grouch Funko Pop action figure can sit on a dresser, table, or desk in their room.
Mega Mantis Aluminum Sculpture Kit
Buy Now
Wow! This mega mantis aluminum sculpture kit makes it possible for them to learn more about praying mantises and be able to move the sculpture around too.
There are a lot of cool items on this list and even I want a lot of them!
If you need another letter, check out our A-Z list here!