Disclosure of Material Connection: Some of the links in this post may be "affiliate links." This means if you click on the link and purchase an item, I will receive an affiliate commission. Disclosure in accordance with the Federal Trade Commission's 16 CFR, Part 255. This site is a participant in the Amazon Services LLC Associates Program, an affiliate advertising program designed to provide a means for sites to earn advertising fees by advertising and linking to Amazon.
Wiccan Gift Ideas
So, you've got a Witch you need to do some shopping for, and that's why you're here. It can be hard to know what to buy for someone that doesn't share the same religion as you, and I totally get that! We're going to dive deep into a few awesome gifts you can grab your Wiccan loved one in this guide!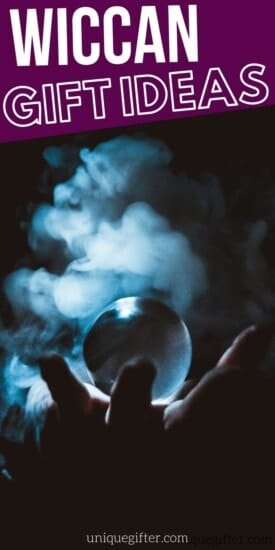 Witchin' Gifts For Wiccans
You won't find any broomsticks or pointy hats in this guide – let's start this party!
Goddess Plaque
This plaque would be a most welcome addition to any Wiccan's wall! It features a number of Goddesses and is beautifully crafted from resin!
Tree of Life Ceremonial Offering Bowl
Grab this bowl for your favorite Wiccan! They always need a new place to store their crystals, and the details on this bowl are absolutely stunning!
Pentagram Mortar and Pestle Set
Everyone, Wiccan or not, should own a mortar and pestle set! Let your witchy loved one grind their herbs in the most beautiful set they'll ever own!
Spell Candles
One thing a Witch can never have enough of is candles! Each color is meant for something different, so this 40 pack is perfect for their needs!
Blank Book of Shadows
This beautiful softback notebook is exactly what your Wiccan friend needs! Give them a fresh place to write their favorite spells down in with this Book of Shadows!
Smudge Kit
If you're unsure if your favorite Wiccan is in need of a new smudge kit, let me ease your mind by saying yes. They always will! This kit is beautifully packaged and comes with a ton of things needed for their next spiritual cleansing!
Tree of Life Wooden Box
This box is perfect for storing herbs, crystals, cards, or anything else that's small that your witchy pal may need to put away!
Maiden, Mother, Crone Incense Burner
This incense burner features the Triple Goddess in great detail and is perfect for incense cones or tapered candles. A must have for every Wiccan!
Black Meditation/Divination Crystal Ball
This beautiful ball is high quality and needed for any Divination practices your loved one may want to do. You won't find better quality for a better price!
The Wild Unknown Tarot Deck and Guidebook
This guidebook and tarot deck is a New York Times bestseller, and any Witch will fall in love with it! It also comes in a beautiful keepsake package!
Triple Moon Goddess Vinyl Decal
If your budget is tight this year, don't worry! You can still get your Wiccan something they'll love like this vinyl decal perfect for their car or laptop!
Mixed Crystal Collection
I'll let you in on a little secret: all Wiccans love crystals. Whether they have 5 or 500, you can't go wrong with a gift like this one!
Tree of Life Pendant Necklace
Although this pendant won't actually make them immortal, it doesn't hurt to make them feel like they are!
Wheel of The Year Wall Plaque
This wheel represents 8 Pagan festivals/celebrations throughout the year, which are symbolized by a unique icon on this beautiful piece of art!
Natural Crystal Pendulum
Help your Wiccan hone their psychic abilities with a brand new crystal pendulum!
Deluxe Wiccan Altar Kit
Whether they need a new one or are just starting out, this altar kit comes with everything needed for a Wiccan ritual altar! The table is small, so they can take it all on-the-go if they travel!
Personalized Intention Candle
Select the perfect scent/intent for your favorite Wiccan for their next birthday or Yule gift! These candles smell amazing!
Pentacle Earrings
Add a dash of style to your Wiccan's wardrobe with these simple stud earrings!
Granddaughters of Witches Banner
This canvas banner is a cute addition for any witch's home! If the quote doesn't make them feel badass, then nothing will!
I told you we had some awesome gift ideas! I hope you were able to find something that your Wiccan friend/family member will enjoy! If you grabbed something off this list, give us a shoutout on Twitter (@ugifter) or Instagram (@uniquegifter) and tell us what you grabbed!