Disclosure of Material Connection: Some of the links in this post may be "affiliate links." This means if you click on the link and purchase an item, I will receive an affiliate commission. Disclosure in accordance with the Federal Trade Commission's 16 CFR, Part 255. This site is a participant in the Amazon Services LLC Associates Program, an affiliate advertising program designed to provide a means for sites to earn advertising fees by advertising and linking to Amazon.
Star Trek. The franchise that is truly a titan of nerdery and has had a huge following since its debut in 1966, Star Trek has spawned multiple television series, books, movies, and even video games. All of this popularity boils down to one thing when it comes to finding a gift for that certain someone: There is a ton of merchandise surrounding this franchise.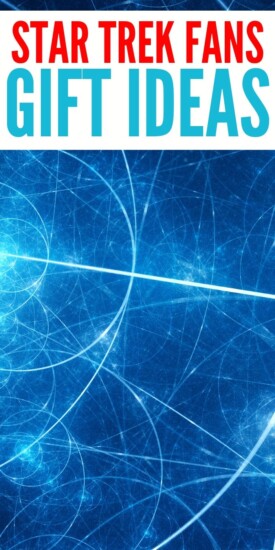 Shining Stars In The Galaxy Of Gifts
I'm gonna go ahead and save you the trouble of searching through infinite possibilities and present this list as a shining star to guide your way through it all! It's quite a daunting task to trudge through page after page of ideas for presents, so why not save yourself some time and effort and nail that perfect gift with help from this list of Stellar Star Trek Gifts?
Star Trek Touch LED Watch
This sleek and futuristic watch is sure to be loved by any Trekkie. Designed to look futuristic and minimalist, all you have to do is tap the screen to show the time!
Star Trek Bluetooth Communicator Badge
What Star Trek fan doesn't want their own communicator badge? After years of seeing these nifty things at work and considering this one syncs up to your phone so you can actually communicate with it, you'd be a fool to not go crazy for it!
Enterprise Pizza Cutter
Even pizza cutters aren't exempt from a Star Trek makeover and when they design one this cool looking, you won't hear any complaints from me. ThinkGeek is known for quality goods and this stainless steel pizza cutter is no exception.
What Would Captain Kirk Do? (Paperback)
WWCKD? That's what you've gotta ask yourself in situations that you get yourself into. This book is filled with tons of inspirational quotes, pictures, and witticisms from one of the most famous ship captains in existence.
Captain's Log
Know someone that wants their very own captain's log? Make their dream come true with this awesome gift! With over 60 pages, charts, and even inspirational quotes, it's bound to be carried with them everywhere.
Remote Control Enterprise Drone
An Enterprise replica that you can actually fly around? Sign me up! The fan in your life can go boldly go where no man has gone before with this awesome drone. Well….as far as the 2.4ghz control will allow, at least.
Star Trek Socks
Got a Trekkie that wants their wardrobe, socks included, to be decked out in Star Trek fashion? I got you covered! These socks are sure to match that uniform they likely have hidden away in their closet as well.
Star Trek Sushi Set
Really though, how cool is this thing? The ship itself turns into chopsticks and a soy sauce bowl. It's so rad that I'm considering eating sushi just to have an excuse to own it!
Live Long And Prosper T-Shirt
Everyone knows these iconic words from the series and everyone recognizes that wildly popular half-Vulcan. This t-shirt comes in 3 different designs and colors and is guaranteed to look great on your favorite Star Trek fan.
Star Trek: The Original Series (DVD)
The complete original series on DVD? Awesome. The complete original series remastered on DVD with snazzy collector's box and additional goodies? Even better!
Spock Lawn Gnome
This bad boy here is looking as stoic as the original Spock ever did. Standing tall at 9 inches, he's ready to live long and prosper on your fan's lawn!
Bridge Crew Framed Photo Collage
This Legends Never Die collage is surely one of the most rad gifts a Trekkie could receive. Measuring in at 11×14, the beautifully framed photos with the bio are guaranteed bragging rights to proudly display on their wall.
Dilithium Crystal Mints
These mints are sure to tickle any Star Trek fan worth their salt. The pink dilithium replicas are sure to keep their breath fusion fresh and come inside of an awesome-looking tin!
Blue Science Robe
Being fresh out of the shower is no excuse to not look like a true Trekkie! This robe delivers a fuzzy drying experience with an outstanding geeky style.
Sticky Notes Booklet
A very cool take on the classic memo pad. Different mini stickies for different crew members, hardcover memo pads, and even Uhura taking care of away messages!
Tiberius Cologne
While I can't promise that the fan in your life will smell like Captain James Tiberius Kirk if they wear this, I can say that it smells pretty dang good. I'm sure any Trekkie would love it just for the novelty of having Star Trek cologne!
Starfleet Academy Keychain
This is definitely a snazzy keychain. Sure to be beloved by any Star Trek nerd and really, can you blame them? It's a cool design and it's bound to hold up well with the alloy construction it has.
Star Trek: TNG Coloring Book
There are two types of adults in the world: Adults that enjoy coloring and adults that lie about not enjoying it. Trekkies are no exception and the fan in your life is guaranteed to be thrilled with this.
Enterprise Legacy Cutting Board
This cutting board is going to ensure that your fan's kitchen never forgets the name Enterprise. This awesome bamboo cutting board features the lineage of the Enterprise dating back to 1799 with the first schooner!
Patent Art Poster Prints
Know what your fan's wall is missing? Four different blueprints of ships from the Star Trek franchise! Highly detailed with the blueprint style, these cool posters show the ins and outs of some of the most popular ships.
Tricorder Toy
This is definitely one to add to your fan's collection! This tricorder is officially licensed by Diamond Select, has a removable scanner accessory, and even has sound and lights!
Star Trek Playing Cards
Everyone needs a deck of playing cards to carry around and why not get the deck that has a Star Trek makeover? 52 different images adorn these high-quality cards and I'm pretty sure the fan in your life is gonna love playing poker for Latinum with these babies.
Star Trek Wall Clock
Most people have a clock hanging up somewhere in their home and Trekkies are no exception, right? This cool clock is made from a recycled vinyl record and has some pretty sweet art carved into it. An awesome gift for sure!
Obsessed With Star Trek (Hardcover)
This book is an updated version of the original quiz book and contains a whopping 2,500+ trivia questions! This hardcover book even features questions about the newer Star Trek films!
Enterprise Replica Bluetooth Speaker
This is hands down one of the coolest Bluetooth speakers that I've come across. It has Star Trek related powering on and syncing sounds and even includes white noise that plays for an hour whenever you activate it. Perfect for any Star Trek geek!
Shot Glass Set
Even Trekkies like to party! Make sure your loved one doesn't go without the supplies needed for them to throw down at their next gathering. This set of four shot glasses features a different ship on every glass and looks stylish and sleek!
License Plate Frame
Even license plates aren't safe from Star Trek! Your fan is going to be able to let drivers around them know what a fan they are and let them know just how much power they are putting into their driving!
Star Trek Flag
This cool flag can be hung on a wall or proudly displayed outside your Trekkie's home! Featuring the Enterprise in all of its glory, it even has the model number below it!
Starfleet Flight Bag
For the lady Trekkies, there's this stylish flight bag! Made from durable PVC, so it can take a beating, the interior is decked out in Star Trek blue to bring the entire snazzy package together.
Captain Kirk Funko Pop
The wise and beloved Captain Kirk arrives in his own Funko bobble! The heroic captain has never looked cuter and is certain to look great doing all of his captain duties on your fan's shelf!
Looksee Collector's Box
What's better than one gift? A collectible box packed to the brim with more collectibles! The Looksee box contains a variety of gifts that even includes an air freshener!
Starship Schematic Lamp
This is one of the coolest lamps I've ever seen! Sleek and futuristic looking, it has the schematics for the enterprise and has customizable lights and base.
La Forge Visor
Whether it's for cosplay or for sitting around the house being the biggest nerd they can be, this gift is going to blow your fan away! Handcrafted with quality parts, it's even customizable with different sizes.
Star Trek Logo Decal
What fan doesn't want to tout the fact that they're a Trekkie? This decal allows them to do just that and it comes in a multitude of colors and sizes!
Tribble Plush
Who doesn't love tribbles? Though they may be trouble, they're the cutest trouble that ever roamed the universe and now your favorite fan can own one!
Picard Prayer Candle
Fans with a sense of humor are going to love this one! Next time they need to light a candle, they're going to thank their lucky stars that Picard is there to save the day, looking as stoic and pious in the way that only Patrick Stewart can manage!
Phaser Holster
Know what someone who has a phaser needs? A holster for it! I've got you covered with this snazzy phaser holster. It's cool looking, durable, and guaranteed to hold phasers!
Star Trek Apron
For the fans that brave the kitchen instead of the dark reaches of the universe, there's this nifty apron! Featuring a pattern with the Enterprise and the name of the iconic series, it's bound to be loved by the gift recipient.
We've made it to the end of the list! I told you that you'd find the perfect gift in this list and I'm pretty sure I was right about it. Did you find something wonderful for that certain someone? Maybe you snagged something off this list that you think you're going to love! Feel free to let us know on Twitter (@ugifter) or Instagram (@uniquegifter) and thanks for checking out Stellar Star Trek Gifts!