Disclosure of Material Connection: Some of the links in this post may be "affiliate links." This means if you click on the link and purchase an item, I will receive an affiliate commission. Disclosure in accordance with the Federal Trade Commission's 16 CFR, Part 255. This site is a participant in the Amazon Services LLC Associates Program, an affiliate advertising program designed to provide a means for sites to earn advertising fees by advertising and linking to Amazon.
Adventure time is one of those amazing cartoons that captivates audiences ranging from kids to adults and everything in between. With a series that's so popular and beloved, you know there's going to be a massive amount of merchandise involved so when you're in search of a gift for someone who adores the series, it's going to be a bit overwhelming! Check out these awesome gifts for Adventure Time fans!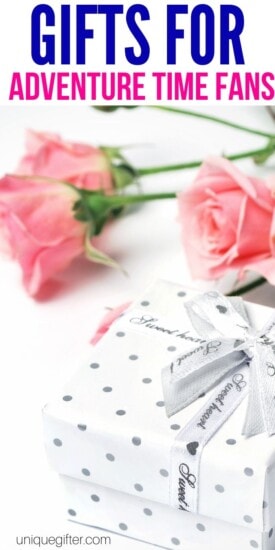 The Best Gift Ideas for Adventure Time Fans
When you're dealing with someone that enjoys going on adventures with Finn and Jake, it's bound to be a struggle with deciding on that perfect gift and we're here to help you out with that. We've gone on our own adventure to find this list of presents to help with your strife and we're pretty satisfied with what we've come up with! Sit back and rest assured that we've got you covered with this list of 40 awesome Adventure Time gifts!
See also: Does Bender, Fry and the rest of the Planet Express crew steal your heart, too? Check out our Futurama gift guide to satisfy your fandom needs!
Homies Help Homies Always T-Shirt
Let's start this list out with the right message and the entire vibe of the series in general: "Homies help homies always". This t-shirt displays that message in a minimalistic yet stylish way and we totally agree with that philosophy!
Adventure Time Stickers
The gang is all here! This sticker bundle includes 29 pieces and has every character from Finn to Marceline and everything in between! Mathematical!
Editor's Choice Adventure Time Gift Ideas
Recreate your favorite tasty treats from adventure time with this awesome cookbook! When you're looking at gifts for adventure time fans, get creative!
Adventure Time Coloring Book
Dark Horse and Cartoon Network come together to bring this awesome coloring book to the fans of Adventure Time! Featuring 45 original adventures, this coloring book has more than enough content to keep anyone entertained!
Adventure Time Mad Libs
Who doesn't like Mad Libs? Know what makes it even better? Mad Libs with an Adventure Time twist!
Aquarius Adventure Card Tin
This sweet looking tin case features Jake and Finn plastered across the front and even includes two decks of cards! You can combine this with the Card Wars game for an awesome twofer!
Adventure Time Women's Socks
These Adventure Time socks are totally legit! With four different pairs with four different characters, the fan in your life is guaranteed to enjoy having Finn, Jake, Princess Bubblegum and Beemo to choose from!
Earl Lemongrab T-Shirt
If you know anyone that doesn't go nuts over this Earl of Lemongrab t-shirt, they can spend a million years in the dungeon! Bound to induce a smile from even the most serious Adventure Time lover, this is a really snazzy gift!
Fiona Plush
Do you remember the episodes with Cake the cat and Fiona the human? We certainly do and we're pretty sure that the fan in your life does as well! Help them show off their love for this character with this righteous plush!
Adventure Time Blanket
Hiyaaaaah! What's more awesome than Finn and Jake rocking an amazing karate kick? Finn and Jake doing a karate kick on a snuggly and cozy blanket! This is an adorable gift for adventure time fans!
Finn's Hat
You're here, so you obviously have a friend or family member that's really into Adventure Time. Do you have a fan in your life that wants to wander around dressed like Finn though? We've got you covered with that awesome gift! Finn's hat!
Lego Dimensions Marceline The Vampire Queen
Marceline has never looked so righteous as she has with this Lego makeover! Including her awesome ax remade into a bass guitar and her lunatic amp, this is a very cool gift for someone looking to have that Lego Adventure Time set in their life!
Adventure Time Backpack
This Adventure Time backpack is awesome either as a collector's piece or for even carrying around every day! With Finn, Jake, Princess Bubblegum and Lady Rainicorn on the front, it's a stylish and rad way of carrying stuff around!
Editor's Choice Adventure Time Gift Ideas

Hook up your best pal with the ultimate piece of Adventure Time apparel! Who wouldn't want to rock a shirt with Finn's epic kick jump right on the front? This is a quick and easy gift for adventure time fans!
Duke Of Lemongrab Plush
The Duke of Lemongrab is definitely a fan favorite in the series. When the character is voiced by Justin Roiland and is full of hilarious yelling and threats of sending to people to a dungeon for ridiculous amounts of time, who wouldn't love him though?
Gunter The Penguin Funko Pop Figure
Gunter is the Ice King's favorite pet and if you've watched the show, we're sure that you've seen a lot of him. This Funko Pop is nearly as cute as the cartoon version itself and the fan in your life can actually hold it and admire it!
Monopoly: Adventure Time Edition
What the stuff? There's an Adventure Time version of Monopoly? With 22 different properties from the land of Ooo and six different collectible game pieces, this one is likely to be a staple in a fan's collection!
Peppermint Butler Plush
Isn't it odd that such an adorable character can open up a portal to the Land of the Dead and is a practitioner of the dark arts? We think so but we also think that this is one of the cutest plushes in existence!
Jake In Pocket T-Shirt
Everyone cracks up at that episode where it turns out that Jake has been inside the pocket of Finn's t-shirt the entire episode! This sweet shirt commemorates that episode with style and includes a Jake popping out of the pocket! We can't promise that he won't fart in the pocket though!
Beemo Sticky Memo Set
The niftiest way for a fan to take notes! This Beemo themed sticky memo set includes four different types of memo stickers with a total of 20. Plenty of room to write notes with style!
Adventure Time: The Official Cookbook (Hardcover)
Oh. My. Glob! This cookbook has everything from Miss Tree Trunk's apple pie to Jake's bacon pancakes! Absolutely any fan of the series is going to adore this cookbook with its brightly colored pages and backstories for the recipes. It's a wonderful addition to any collection!
Finn's Sword
Combine this with Finn's hat that made it on the list earlier and you've got yourself a set of gear worthy of an adventure! Surprise your fan with the entire set so they can vanquish baddies with the best of them!
Adventure Time Wristwatch
This snazzy looking watch features Jake, Finn, and Princess Bubblegum with a stylish and colorful design. While we can't promise you that it's the watch that Deadpool wears in the film, we can promise that your fan is going to really dig this piece!
Finn Plush
You didn't think we'd make it through this list without having an adorable Finn plush did you? Here he is in all of his glory! This officially licensed Finn plush is 17in tall and is even officially licensed!
The Adventure Time Encyclopaedia (Hardcover)
Written from the perspective of Marceline's dad, the lord of evil himself, this awesome encyclopedia covers all of the lore, spells, and characters that make up the land of Ooo and the Adventure Time Universe!
Marceline Concert T-Shirt
This sweet looking t-shirt features the popular vampire character on her very own tour type shirt. Advertising the XX15 Stakes Tour, it's a pretty nifty shirt for the fan that digs the darker colors yet loves Adventure Time!
Adventure Time Magnet Set
The gang is all here with this 100% officially licensed magnet set! Even the Ice King isn't excluded from the adventure taking place on your fan's refrigerator!
Adventure Time Hoodie
This stylish hoodie is filled with all kinds of colors and while we can't say that it has every character from the series on it, we can safely say that you'd be hard-pressed to find the characters that are missing!
Adventure Time Poster
This sweet canvas print poster features Finn, Beemo, and Jake sporting umbrellas while they hang out at a rainy bus stop! Perfect for that bare spot on the wall that is missing some Adventure Time!
Adventure Time Pen And Pencil Case
Whether it's being used for awesome school supplies, carrying art supplies or just decoration on a shelf or desk, this is a great collector's piece! Fashioned to look like a milk carton and featuring Finn longing for a hug, any Adventure Time fan is sure to adore it!
Adventure Time Desk Mat
This is definitely one of the coolest looking items on our list! This desk mat features Finn and Jake hanging out together and watching a lovely sunset over the land of Ooo. Guaranteed to be a favorite in a fan's collection!
Princess Bubblegum Crown
If you've seen the show, you're fully aware of who the lovely Princess Bubblegum is and now you can give the gift of her crown! Whether it's for cosplay, a collection piece or just headgear to sit around wearing while the fan in your life eats cereal, it's a stellar gift!
Fiona The Human Poster
This awesome poster features Fiona the human and Cake the cat in their Cavern Of The Dead adventure! Created with original art with a matte finish on archival paper, it's quite the perfect gift for an Adventure Time buff!
See also: Want to check out some video game gift ideas too? Capcom fans will love this Street Fighter gift guide for all kinds of top tier gifts!
Well, we've come to the end of this gifting adventure but we're sure that we've fulfilled the quest of finding the ideal gift for that Adventure Time fan in your life! Did you find anything that your loved one flipped out about? Did you stumble across anything that you just couldn't seem to live without? Feel free to give us a shout and let us know on Twitter (@ugifter) or Instagram (@uniquegifter) and thanks for checking out 40 Awesome Adventure Time Gifts!