Sunflowers are so beautiful that every summer Instagrammers flock to fields of them to take that perfect picture. While we don't recommend doing that (it ruins the fields!), we do want you to check out these sunflower gift ideas for those flower obsessed people in your life.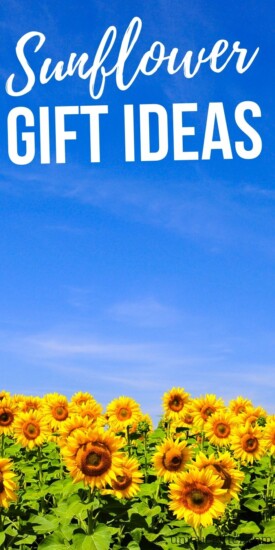 Trending Sunflower Gift Ideas For 2023
Does that cherished someone loves sunflowers? Maybe they bring cheer and warmth to your day, or perhaps this flower holds special meaning for the two of you. Whatever the case, here you will find great ideas to mark a memorable moment, tell them how you feel, or simply thank them. These are the best sunflower gift ideas that will melt their heart!
After all, these sunflower gifts are just as stylish and beautiful as the flower that inspired them. They'd make great birthday, Christmas, holiday, or graduation gifts for someone who brightens your life just like a sunflower.
Celebrating the flower that always follows the light. No matter the occasion, no matter the holiday, there's gifts here for that sunny person in your life.
Did you know that sunflowers turning to face the sun is called heliotropism? Well, now you do, and you also have some great sunflower gift ideas to choose from. Yay!