Disclosure of Material Connection: Some of the links in this post may be "affiliate links." This means if you click on the link and purchase an item, I will receive an affiliate commission. Disclosure in accordance with the Federal Trade Commission's 16 CFR, Part 255. This site is a participant in the Amazon Services LLC Associates Program, an affiliate advertising program designed to provide a means for sites to earn advertising fees by advertising and linking to Amazon.
Sunflowers are so beautiful that every summer Instagrammers flock to fields of them to take that perfect picture. While we don't recommend doing that (it ruins the fields!), we do want you to check out these sunflower gift ideas for those flower obsessed people in your life.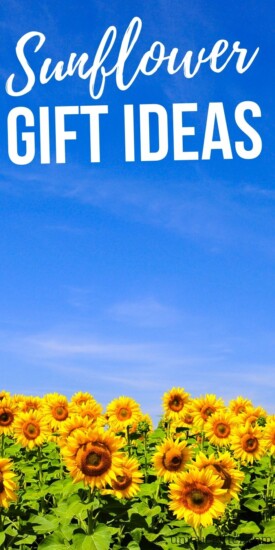 Sunflower gift ideas
After all, these sunflower gifts are just as stylish and beautiful as the flower that inspired them. They'd make great birthday, Christmas, holiday, or graduation gifts for someone who brightens your life just like a sunflower.
Sunflower Shirt
This sunflower sweatshirt is perfect for cool summer days. It's not very heavy, so it's a perfect addition to a spring or summer wardrobe.
Linen Hairbow
This stunning hairbow is hand embroidered with sunflowers and is made from linen, giving it a more vintage look.
Socks
Everyone needs socks so they're perfect sunflower gift ideas! This set has 5 pairs in it, a perfect way to add a little bit of fun to someone's wardrobe.
Sunflower Sneakers
These high top sneakers are the perfect fashion accessory for someone who loves sunflowers. Made to look like the expensive brands, they won't break the bank to add some excitement to their ensemble.
Rose Gold Locket
This beautiful piece of jewelry is an antique silver locket with a rose gold sunflower fixed to the front. Gift it with some sentimental photos inside for a personal gift idea.
Sunflower Friendship Bracelets
Sunflowers are symbols of happiness so it makes sense to want to share them with a friend. This pack of two bracelets is perfect for each of you to take one and think about each other wherever you go.
Black and White Art Print
Although sunflowers are iconically yellow, taking the color away in this art print makes for a cool design. Order it in your desired size and then frame it up for a great sunflower gift idea.
Handbag
Make a statement with this sunflower handbag! It even zips up so nothing can escape when a summer breeze passes by. A wonderful gift idea for birthdays, holidays, or even Mother's Day.
Baby Sleeper
Such a cute gift idea for someone who loves sunflowers who just had a baby! Plus feel good about it being 100% organic cotton.
Sunflower Tumbler
Keep drinks hot or cold for hours with this handy travel mug that also happens to have a nice sunflower design on it. Gift it with a gift card to their favorite coffee shop inside!
Sunflower T-Shirt
This t-shirt has a cool half sunflower design and says "She was life itself wild free wonderfully chaotic. A perfectly put together mess." A lovely gift idea for the women in your life.
Sunflower Tie
They're not just feminine! Sunflowers look amazing on this navy tie, which would be gorgeous in the summer months for work or special events.
Sunflower Dress
This sunflower dress has a vintage cut to it but has some stretch, making it a perfect and comfortable dress to wear all summer.
Hair Tie
It reads "Sunflowers end up facing the sun, but they go through a lot of dirt to find their way there" making this not only a cute gift, but also an inspiring one.
Be a Sunflower Sweatshirt
"In a world full of roses, be a sunflower". This isn't just a nice quote, the colors on this sweatshirt and the art design are absolutely stunning.
Sunflower Backpack
This mini backpack is a perfect alternative to a purse for someone on the go. It looks stylish like a nice bag but is still easy to carry like a backpack.
Embroidered Hat
Summer is the season for wearing hats, after all. Help them keep the sun off their head when they're out on a walk, in the garden, or just enjoying the summer sun with this cute sunflower embroidered hat.
Botanical Art Poster
This art print is a bit of a different way to show off a sunflower. Modeled after classic botanical scientific drawings, this vintage-looking print is a perfect gift idea for a sunflower lover.
Live a Little Shirt
Graphic tees are always a great gift idea, especially when they're as nice as this one. This comfy shirt with a sunflower on it is no exception.
Sunflower Engagement Ring
Let me paint a picture of your perfect proposal. You take her out to a beautiful field of sunflowers then you get down on one knee and offer her this beautiful sunflower engagement ring. Obviously, she says yes. Congratulations!
Did you know that sunflowers turning to face the sun is called heliotropism? Well, now you do, and you also have some great sunflower gift ideas to choose from. Yay!