Disclosure of Material Connection: Some of the links in this post may be "affiliate links." This means if you click on the link and purchase an item, I will receive an affiliate commission. Disclosure in accordance with the Federal Trade Commission's 16 CFR, Part 255. This site is a participant in the Amazon Services LLC Associates Program, an affiliate advertising program designed to provide a means for sites to earn advertising fees by advertising and linking to Amazon.
There are numerous occasions in life where we've been taught that sending flowers is the right thing to do. After receiving those flowers, where do they go? What happens to them? What about those times where you would have appreciated ANYTHING but flowers? Here are some ideas to get you started on what to send instead of flowers!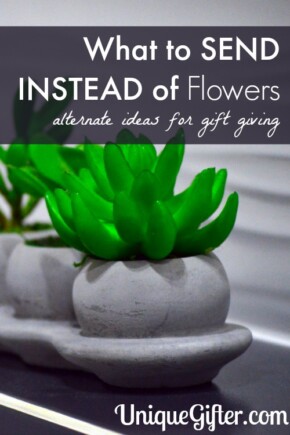 Have you thought of…
what it might be?
If you are looking for something else to send for a funeral, start here. If the family of the deceased has requested something else – like a donation to a favorite charity – in lieu of flowers, this is the easiest thing to choose. Your gift could have dual purpose in this way as a donation to a good cause and it honors someone's life.
Send a meal or plate of baked goods
When things are hectic, perhaps after a death in the family, while recovering from a surgery, or after accepting a new job offer, food may be the last thing on people's minds. Food is a surefire way to send condolences or well wishes. Preparing a meal & snacks for the present day or something that is frozen for later is useful and thoughtful. These can be homemade or purchased then delivered – either way would be appropriate. Also, consider a gift card to a favorite restaurant if you wish! Here is a whole host of tips on taking meals to grieving or celebrating families.
When life takes over, certain household chores fall by the wayside. Simple gifts of your time and service will be much more appreciated than another bouquet of flowers. Consider a gift of service for someone who is pre-occupied with other matters. Perhaps a lawn service or house cleaning service could be arranged as a gift? Ensuring that a house is clean and a lawn maintained would make an excellent gift for someone who is just moving into a new place or for a family in the process of laying a loved one to rest. Other gifts of service might include babysitting, picking up friends and family from the airport, or pick-up and drop-off of dry cleaning.
Receiving handmade gifts is thoughtful and often unexpected. Handmade gifts can outshine flowers in many situations. For funerals, you could create a unique guestbook or memorial book for a family that's grieving. For graduation, create a book of quotes and good luck blurbs. For a wedding, make a customized photo frame. For a housewarming, create a cleaning supply tote with your favorite products to share and a cute tea towel! The options are endless with handmade gifts. This is your chance to share your talents to create a personal one-of-a-kind gift.
These are just a few ideas to consider when you're thinking about sending flowers again. What would you like to receive instead of flowers?