Disclosure of Material Connection: Some of the links in this post may be "affiliate links." This means if you click on the link and purchase an item, I will receive an affiliate commission. Disclosure in accordance with the Federal Trade Commission's 16 CFR, Part 255. This site is a participant in the Amazon Services LLC Associates Program, an affiliate advertising program designed to provide a means for sites to earn advertising fees by advertising and linking to Amazon.
To get personal for a second, my neighbors just listed their house for sale. This means I'm going to be looking for welcome gifts for new neighbors too! It's always fun, and little bit nerve-wracking, to have new people in town.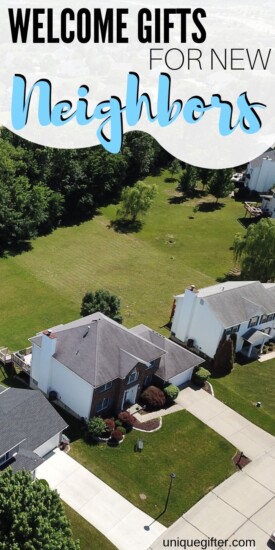 Welcome Gifts for New Neighbors
So, if you're like me and you have some new people moving in nearby, it's a really nice gesture to get them a small gift. Something that says "welcome to the neighborhood" and also "I'm sorry about my noisy kids/dog/cat/parties/etc."
Gift Basket
You (usually) can't go wrong with a gift basket. Normally I love personalized things but if you don't know anything about your new neighbors a generic basket is a great idea to say hi.
Things to do around the house list
When you move there's so much to do and keep track of. A notepad like these ones helps make that easier – and makes a great gift idea.
Cat Mug
If you're a cat person or you can tell your new neighbors are this is a fun gift idea. Because what else do cats do when you move?
New Home Sign
Since you already know the address of where they're moving it would be easy to put together a cute, custom sign like this one. Plus it's a bit more thoughtful than a generic gift.
Neighborhood Plate
These traveling neighborhood plates are such a cool concept. You bake some treats and send them over on the plate and the idea is that it travels around the neighborhood.
New Home Journal
When did we get the roof fixed again? This book will help your new neighbors keep track of all those home repairs and important information.
Local Travel Guides
If your new neighbors are from out of town they might not know about your great community. You can usually get local guides for free but if you live in a larger center there are also great travel guides out there for tonnes of places.
Wine (or a Wine Rack)
It's the classic housewarming gift – a bottle of wine. You can also pick up some nice wine accessories to go with it.
Bluetooth Speaker
Moving involves a lot of work and it goes by quicker when you have some music. A little Bluetooth speaker is a nice gift idea for new neighbors.
Welcome Mat
There's so many welcome mat ideas out there that it's hard to choose just one for this list. This one has the longitude and latitude of their home on it, which you can easily find through Google Maps.
Something for the Kids
If your new neighbors have young kids it's nice to include something for them in your gift-giving.
Snacks
There's nothing better than quick snacks when you're busy moving in! This gift basket has a little bit of everything so they can keep going.
Funny Mug
I'm a huge fan of giving mugs because most of the time it's something people can use. This one is perfect for a new homeowner!
Amazon Gift Card
Again, normally I'm all about the unique gift ideas but sometimes you just don't know someone. These Amazon gift cards are nice because they say "Welcome" making them perfect welcome gifts for new neighbors.
Restroom Guest Book
If you have a sense of humor (and hopefully your new neighbors do too) you can always give this funny restroom guest book. The idea is people who use the restroom fill it out – great for housewarming parties!
A Cleaning Service
Getting settled into a new home can be a big adjustment. Make it a little easier by gifting a visit or two from a cleaning service. Ideally, give a gift certificate that they can book when they need it.
Welcome to the Neighborhood Card
This is a great last-minute gift idea or to hold a gift card. Even if you can't do much just thoughtfully saying hello means a lot.
Dinner Out
The best thing you can possibly give someone who just moved into a new place is the gift of not cooking. Bonus points if it's a place that does delivery.
Personalized Cutting Board
This is a wonderful memento to welcome your new neighbors. 
Bambusi Cheese Board and Knife Set
This is a fun gift that pretty much everyone would enjoy. Give some fruit and cheese to go with it too. 
When I moved into my place one of my neighbors brought over a cake – welcome gifts for new neighbors don't have to be complicated. It's a nice gesture and a good way to introduce yourself.