Disclosure of Material Connection: Some of the links in this post may be "affiliate links." This means if you click on the link and purchase an item, I will receive an affiliate commission. Disclosure in accordance with the Federal Trade Commission's 16 CFR, Part 255. This site is a participant in the Amazon Services LLC Associates Program, an affiliate advertising program designed to provide a means for sites to earn advertising fees by advertising and linking to Amazon.
Investing in growing your congregation is one of the most important things you can do for your church. Why not give each of the new church visitors little welcome gifts so that they know you are happy they are there. Helping them feel welcome doesn't mean you have to give them a lavish gift. You can go as big or small as your church budget allows.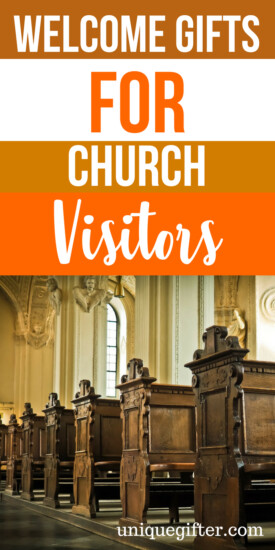 Special Welcome Gifts For Church Visitors
No matter what you choose, the visitors are going to really feel special and welcomed. Making them want to come back is the most important thing you can do….Can I get an Amen?
The David Stone
This thoughtful gift will be a daily reminder that no problem is too big for God to handle. The church visitors will feel so special. Plus, it just looks really cool!
Proverbs Zipper Charm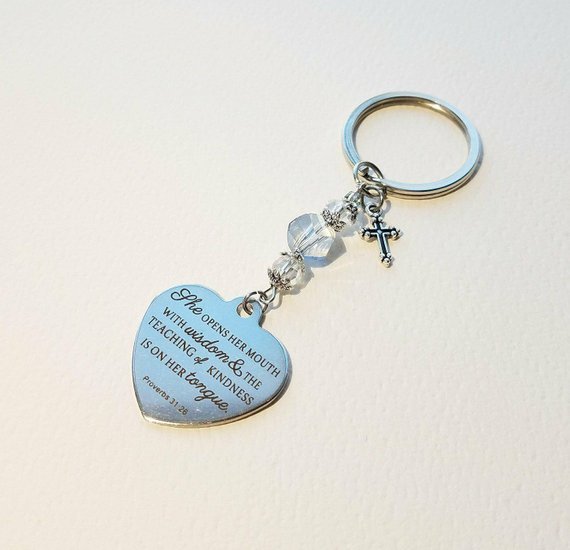 An adorable charm that they can take with them anywhere they go. They could add it to a purse zipper or even a bible cover zipper. Either way, it's a sweet and thoughtful gift for a woman that is visiting your church.
Bible Quote Magnets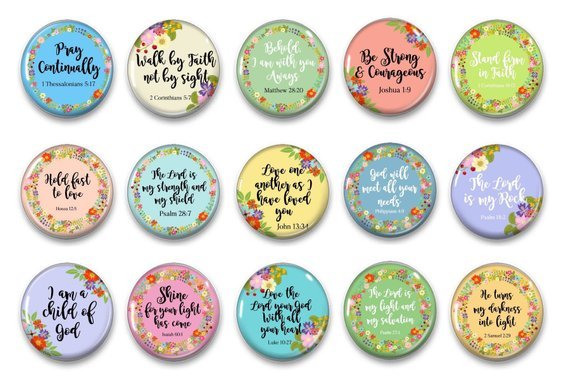 These magnets may be small in size, but they are HUGE with meaning! They will be a beautiful daily reminder of God's. Your church visitors are going to love these.
Etched Cross Inspirational Pocket Stone
Men, women and children guests will all be thankful for these stones. They can literally carry it around with them and be reminded of their visit to your church.
150 testaMints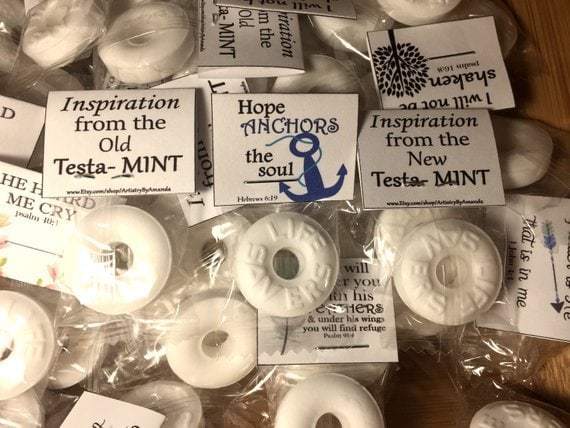 Everyone will get a kick out of these mints. These mints are inexpensive and with 150 different scriptures, they are a steal!
Bible Carrying Case Handbag
These bags are a perfect way to welcome your new church visitors. It's sturdy and looks sleek and elegant. They will be able to get lots of use out of them too!
Olive Wood Pocket Holding Crosses
Each one of these crosses is as unique as the people you are giving them to. They are stunning wood grain. These crosses are a great way to make your visitors feel welcome.
Keep Calm And Trust God Cards
Meaningful scripture cards that are perfect for anyone who visits your church. You can give an entire box at a time or spread them out and give individual cards.
Printed Bookmarks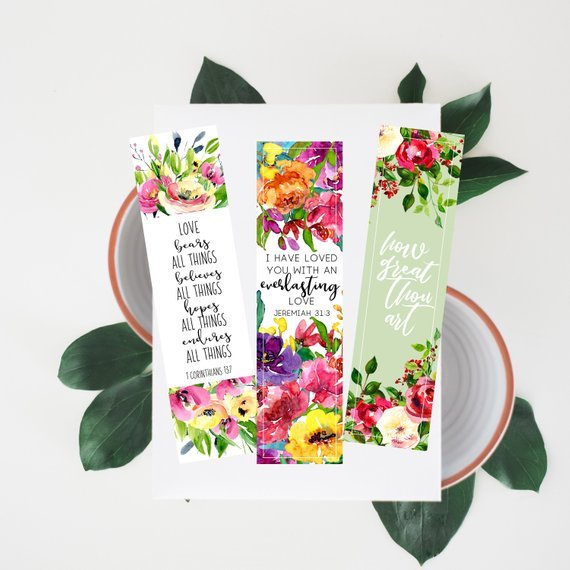 These bookmarks are absolutely gorgeous! Plus, the hope is that anyone visiting church would also spend some time reading their bible. This may be the perfect gift to inspire them to get started reading.
Footprints In The Sand Favor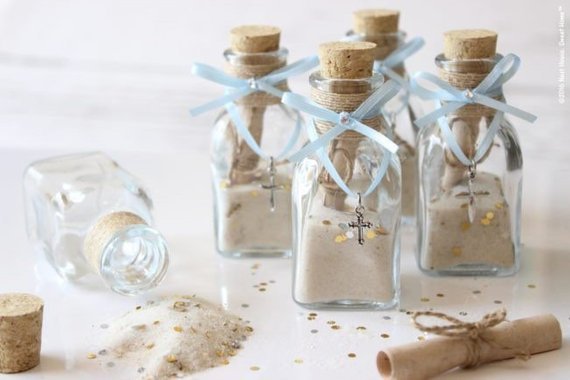 Pretty much every grandma in the world has a wall hanging with the Footprints In The Sand poem. Why not give this beautiful gift to visitors.
Jesus Loves You Favor Bag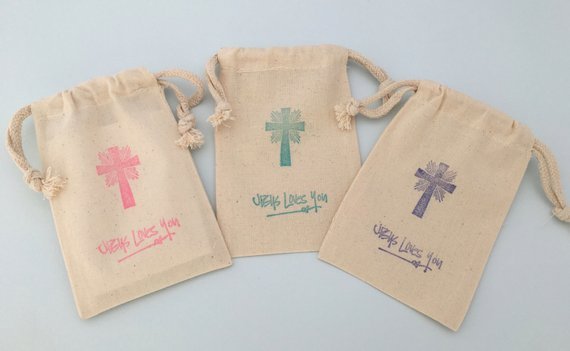 These little bags are so adorable! You can fill them with candy or other items you want to give to new visitors. You can order various sizes to fit your needs too.
Angel Protection Pocket Token Coin
Inspirational and can be carried anywhere. Fantastic reminder about God's love and the love of the church.
Wooden Sideways Cross on Braided Cord Bracelet
Awesome idea for anyone, but especially youth. With the bright colors and the popularity of the braided cord bracelets, you can't go wrong.
Welcome To Our Church Gift Bag
Make your guests feel special with a cute little bag. Fill them with brochures about your church and a little gift. They will feel like you are so happy they are there and want to come back.
Fruit Flavored Swirl Cross Shaped Lollipops
All the kids are going to love these suckers! When I say kids, I mean EVERYONE….We are all children of God and love suckers! For real, everyone is going to love these.
Wooden Key Chain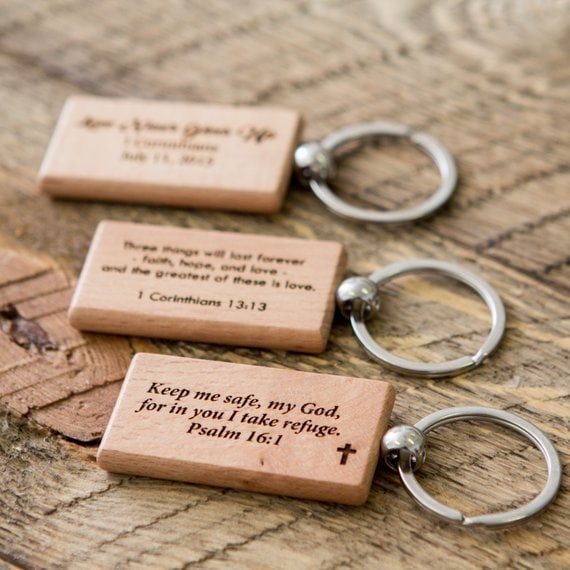 Engraved wooden key chains that are thoughtful and beautiful. You can personalize the style and wording.
Prayer Jar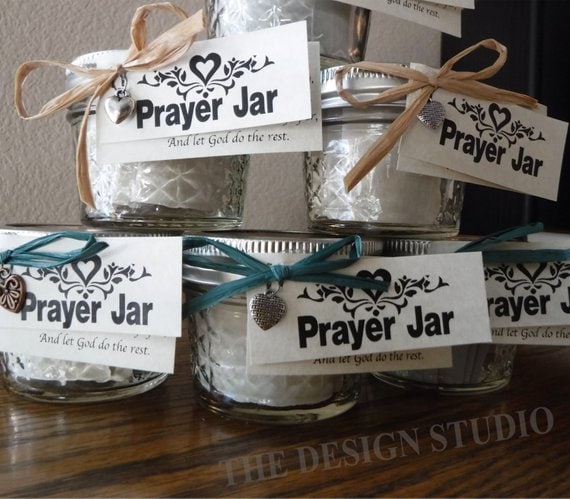 Gorgeous little jars that are handmade and look fantastic. Your church visitors are going to love this! They can write their prayers down and put them in the jar. This will be something they remember forever.
Bible Cover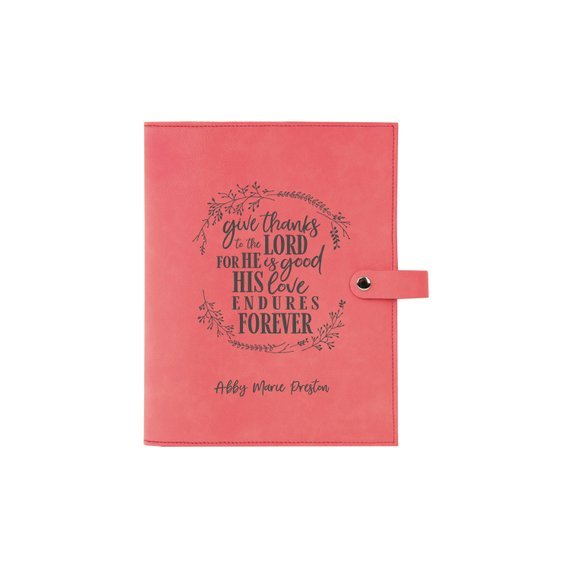 These bible covers are so amazing. They can withstand daily use and have many colors to choose from. You can't go wrong with these elegant cases.
Willow Tree Angel Of Prayer
This Angel of Prayer is gorgeous and whoever receives it is going to feel loved. Show you care with the Angel of Prayer!
Flip Calendar
Give a beautiful flip calendar so they can see scripture and encouragement all year! Plus, they will think of your church each day when they change the date.
Making others feel welcome to your church can lead you to some amazing relationships later. Show your visitors God's love and how happy you are they are there with these great gifts. They will surely appreciate it.