Disclosure of Material Connection: Some of the links in this post may be "affiliate links." This means if you click on the link and purchase an item, I will receive an affiliate commission. Disclosure in accordance with the Federal Trade Commission's 16 CFR, Part 255. This site is a participant in the Amazon Services LLC Associates Program, an affiliate advertising program designed to provide a means for sites to earn advertising fees by advertising and linking to Amazon.
Sometimes you just can't decide on what gift to get for any party, whether it's a holiday get-together or not. But there are actually quite a few interesting items that, even if they happen to not see much use, are still pretty neat gifts to own.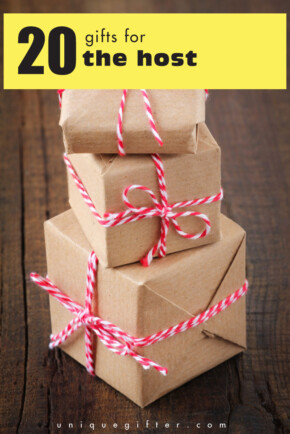 Inspired Gifts for the Host
Melted Wine Glass Cheese tray
– A recycled wine bottle melted down into a neat little cheese tray. Pretty cool, actually.
Cheese Marker Set
Buy Now
– You could even double up and give this with a cheese tray so they can have a place to server their cheese, and mark it too!
LED Tealight Candles
Buy Now
– Some neat flameless candles great for some mood-lighting. Or if your power goes off and you don't want to burn your house down with actual candles.
Gold Pendant
Buy Now
– A potentially good gift for any Christian (and religious) host!
Watch Box
Buy Now
– Perfect for anyone who owns more than one watch for some reason.
Double Hinged Corkscrew
Buy Now
– You might not be drinking, but that doesn't mean your host never does. Always a cheap, handy gift if you've got nothing else.
Just Tasting Appetizer Spoon
– Exactly like the item's name, they're spoons for appetizers, in case you want to be sophisticated instead of grabbing things with your hands.
Klutzy Kitty Wine Holder
Buy Now
– An adorable kitty cat that'll hold (and drink!) a bottle of wine. Also comes in a moose, bear, or dog variety. Even if your host isn't a huge drinker, it's still an adorable gift.
Slate Stone Coasters
Buy Now
– No matter what, you can't go wrong with coasters for a host gift. They always need coasters, not that everyone will use them either way.
Kitchen Bib Apron
Buy Now
– Just like a coaster, an apron is a pretty standard gift item if you can't think or find much else. They do come in a variety of options, though, and some are hilarious as gifts.
Christmas Wine Bottle Covers
Buy Now
– Spice up your spirits with some Christmas cheer!
Cheese Knives
Buy Now
– Chances are your host probably doesn't have a set of cheese knives. Did you know cheese knives were a thing? Now you do.
Marshmallow Roasting Sticks
– Forget the party, just grab the host and go roast some marshmallows with these. Plus, they don't even need to be used only for roasting delicious marshmallows!
Mustache Pacifier
– If the host has (or is about to!) a kid, this is a hilarious gift for them! Pretty much anyone should get a kick out of it, even without a kid. Of course, they might be a bit confused if you give them this and they don't have a kid.
One Bottle Accessory Gift Set Box
Buy Now
– A finely crafted, beautiful box for any connoisseur of wines. Also just a nice box.
Premium Dark Chocolate
Buy Now
– You can't go wrong with chocolate, unless they're dieting. Then you probably don't want to go with chocolate.
Hammered Copper Moscow Mug
Buy Now
– Everybody needs a cool-looking mug to be drinking their morning coffee (or whatever) in!
Just Desserts Parfait Glass
Buy Now
– A great gift, especially if they actually use them to make a parfait.
Penguin Shaped Corkscrew
Buy Now
– Since you can't go wrong with simple gifts like a corkscrew, why not also make it shaped like a cute penguin?
Outdoor Mat
Buy Now
– Another simple gift for the conservative gift-giver. A cute and funny outdoor mat to greet all the other guests, just as long as you don't arrive fashionably late!