Disclosure of Material Connection: Some of the links in this post may be "affiliate links." This means if you click on the link and purchase an item, I will receive an affiliate commission. Disclosure in accordance with the Federal Trade Commission's 16 CFR, Part 255. This site is a participant in the Amazon Services LLC Associates Program, an affiliate advertising program designed to provide a means for sites to earn advertising fees by advertising and linking to Amazon.
Do I need to get a gift for my American host family? This is a question that bothers travelers and students who are looking to live with strangers. How you end up being hosted does not matter, what matters is that you are going to share the generosity, openness, and kindness of another family.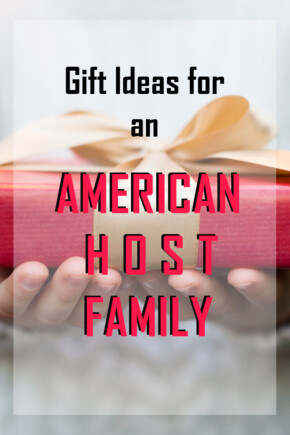 Therefore, it is vital to create a good first impression. But how do you achieve this? One is by getting a gift. The gift does not have to be expensive or fancy because your only intention is to express your gratitude. In case you are stranded, here are some ideas.
Fun Gift ideas for an American Host Family
Board game: Wooden Chess Set
A board game is a great idea, especially after you have conducted research. Most American families are familiar with chess, but even if you have to teach, it will not hurt to gather everyone around the table and introduce them to this mind-boggling game. This vintage large-size chess has authentic and hard to find pieces. It can also be used to decorate a table.
The Monster Alphabet Coloring Book
Do not restrict yourself. Think about the kids too. Get them this monster coloring book and keep them busy while they keep your stay peaceful. It has 26 pages that are full of cute alphabet monsters. The book is hand drawn, so its contents are unique in every way.
Personalized Holiday Cutting Board
A personalized cutting board means you have gone out of your way in getting a gift. It is a great gift for families that are thorough with their cooking as it will spice up kitchen affairs. Engraving it with the family name gives it greater value.
Host Card- Thank You for Hosting Card
Never underestimate the value of a card that has a powerful message. Messages have a way of evoking emotions and can have a greater impact. Just find the right message; one that will express your sincerity and honesty.
Personalized Tote Bag
This reusable bag is perfect for those trips to the grocery store. It can also be used during outdoor trips to carry foodstuff. The fact that it is customized with the family's name will give it more value and will make it unique.
A Set of Serving Bowl
These serving bowls are made using natural clay and are coated with green-blue glaze to give them a beautiful glazing effect. They are of different sizes and will make the table look stunning. This is a simple gift that shows you are attentive and thoughtful. The fact that they have been made in Israel will accentuate their value to an American family.
Personalized Home Ornament
This lovely personalized ornament proves that you are keen and passionate about gifting. It has tags/discs that are hand-stamped and brushed to give them a great look. This gift is crafted for the family and is unique because every letter is hand-stamped individually. The family will love this, without a doubt.
Parent and newborn miniature doll set
The dolls are made out of cotton and stuffed with corn fill. The doll can easily fit in one's hand with the baby worn either on the front or back of either parent (mother or father). This can make a great gift for the kids. Alternatively, it can be used to decorate the living room.
Laser Cut Wood Banner
The artwork has been laser cut and contains a lovely message that will make any visitor smile. Banners are unique because they convey different messages, and for a long time. That is why this gift will leave a lasting memory.
Personalized Doormat
The mats are painted using durable outdoor paint to give them a lasting finish. When a mat is customized, it stands out and communicates its message in style. There is no better way to make your visitors chuckle.
Cookbook: The Around the World Cookbook
If you are genuinely concerned about cooking, bring along a cookbook that features 350 of the most loved cuisines. This book will give the 'family chef' an excellent opportunity to try out some of the world's favorite dishes. This is a gift to explore foods from other nations.