Disclosure of Material Connection: Some of the links in this post may be "affiliate links." This means if you click on the link and purchase an item, I will receive an affiliate commission. Disclosure in accordance with the Federal Trade Commission's 16 CFR, Part 255. This site is a participant in the Amazon Services LLC Associates Program, an affiliate advertising program designed to provide a means for sites to earn advertising fees by advertising and linking to Amazon.
Sometimes White Elephant gifts can go horribly wrong. A little too crass, a little too gross, and not too well thought out. Give your family, friends, and favorite colleagues a gift that they will have fun with and not donate to Goodwill when the holiday party is over.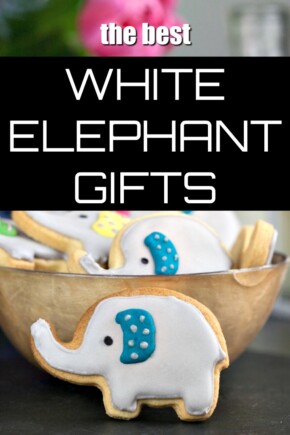 The Best White Elephant Gifts
Unicorns Are Awesome Hoodie
Everyone loves Unicorns and there's nothing better than giving a hoodie that declares this truth.
Super Hero Socks
You can never have enough socks. These Super Hero socks are great for the person who needs to be encouraged and told that they're awesome.
Super Man Socks
These socks are great for the person who seems to do it all. You want to hate him, but you don't, instead you acknowledge his awesomeness and give him Super Man socks.
I Pee in Pools Baseball Hat
Sometimes it's good to share an unspoken and uncomfortable truth.
Chick Magnet Baseball Hat
This whimsical hat is great for the guy who has animal magnetism.
Fake Emoji Poop Hat
Who knew that poop could be so cute?
The Farting Animals Coloring Book
Just like everybody poops, animals fart. And this coloring book is a tongue-in-cheek homage to that smelly reality.
Unicorns are Jerks Coloring Book
Not everyone loves unicorns. And, this coloring book dares to pose the question "Are unicorns as nice you think they are?"
Hater Cats-An Insult Kitten Adult Coloring Book
For the cat lover who knows that cats are jerks unless they love you.
50 Shades of Chicken: A Parody in a Cookbook
Who knew that chicken could be so…dirty?
Awkward Family Photos Book
Everyone has that one family photo where you ask-just why? Why would you do this to us and save the picture for posterity.
You Had One Job!
Sometimes you have to laugh at the epic fails that other people make and defy explanation. Especially when they had just one job to do.
Dog Shaming
Because sometimes your dog is just wrong.
I'm a Catch, I'm a Keeper-Harry Potter Mugs
A great mug set for the witch or wizard in your life.
I can Smell Fear on You Mug
Because sometimes it's a good thing to know.
I Could Pee On This and Other Poems by Cats
Cats are their own breed of special. These poems are a reflection of the special mindset that cats have.
The Crazy Cat Lover's Handbook: A Human's Guide to Serving Our Feline Overlords
This is a great guide for the feline obsessed friend.
Alien Cat Invasion T-Shirt
Everyone needs a fun t-shirt and this alien cat invasion t-shirt does the trick.
Not My Circus Not My Monkeys Mug
Is an old saying that basically means that you're not owning someone else's crazy.
Mullet on the Go Skull Cap
This is a great cap to use throughout the year. Business in the front and party in the back.
These white elephant gifts are the gift that keeps on giving. You won't be finding any of these awesome gifts at Goodwill after you've given them.
Bacon-Scented Candles
It sounds like a great present because we all love the smell of bacon, but bacon is a funny thing. When it's not the real thing, we know about it instantly. These bacon-scented candles don't smell like the real thing and will create something similar to a toxic waste dump in your neighbor's bathroom.
Bunchems
What we love about these little fellows is they look cute…from a distance. But get them anywhere near your hair and prepare for an Armageddon like never before. Cue hours of combing, cutting, and praying to the great hair gods in the sky.
Pet Pouch Hoodie
What could be cuter for the obsessive pet lover in your life? Small dogs and cats don't like to be carried like miniature kangaroos. And they are going to make their feelings known as they react badly to being stuffed in one of these things.
Giant Screw
It's a giant screw. Why else could this possibly be on a list other than this one?
Handerpants
This can be an exciting novelty present gone entirely wrong. Handerpants can easily be misconstrued as attempting to make an unsavory point. Gifts that you have to explain away are never good.
Unicorn Meat
With the customary gulp out of the way, mystery meat is never a good way to please a neighbor. More importantly, we have no idea what it really is, so we're not going to take a chance.
Socks
Was that a whistle we heard?
That's right, the lack of imagination train just pulled into the station. Nothing screams you didn't know what to buy like socks.
Toe Warmers
What's worse than socks?
A type of sock that doesn't even cover your whole foot. It's a novelty gift that seems practical during the winter, but we can't help but still hate it.
Wine Bottle Sweater
We've looked at this holiday bottle sweater for a long time and we still can't figure out why anyone would want it. Little help?
Hair Remover Kit
You're sending that coworker something you think she will benefit from. But in reality you're telling her that she needs to get rid of that moustache!
Funeral Home Cologne Spray
Just what the hell is wrong with you?

Bad Neighbors T-Shirt
You may think you're being cute, but the other person may not take it this way. Maybe this actually describes the recipient?
Toilet Duck
Another gift that screams cheap, the toilet duck may come in handy, but it's borderline insulting if you get this for someone.