Disclosure of Material Connection: Some of the links in this post may be "affiliate links." This means if you click on the link and purchase an item, I will receive an affiliate commission. Disclosure in accordance with the Federal Trade Commission's 16 CFR, Part 255. This site is a participant in the Amazon Services LLC Associates Program, an affiliate advertising program designed to provide a means for sites to earn advertising fees by advertising and linking to Amazon.
Magnificent Minecraft Gifts
Minecraft has been an absolute monster of a game since it was introduced to the world, and considering it was released over a decade ago, there is a plethora of merchandise when it comes to this gaming titan. With this bevy of options out there in the retail universe, I can get how it would be hard to find a perfect present for that certain someone.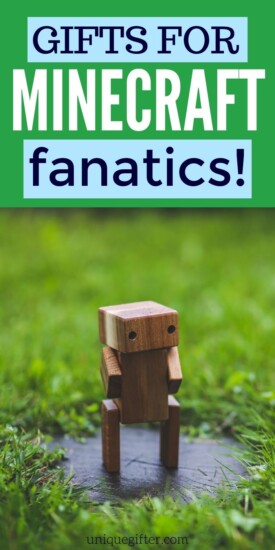 Mining The Diamond Of Gifts
I'm in the business of finding the perfect gift for your Minecraft fan, so you can rest assured that I've scoured the ends of the internet to come up with a list of the absolute finest that you'll be able to find. Minecraft fans are usually rabid when it comes to their game, so it stands to reason that they'd be the same when it comes to their collectibles. No worries! I have you covered. We also have you covered if League of Legends is more their speed.
Minecraft Uno
Who doesn't like Uno, right? I'm willing to bet that the fan in your life digs Uno, and I'm pretty sure that they'll love a Minecraft-themed deck even more!
Minecraft: Guide Collection
Does the Minecraft fan in your life know everything there is to know about the game? Probably not. You can ensure that they never have to worry about that problem with this awesome guide collection!
Color Changing Potion Bottle
This cool collectible doesn't only sit on a shelf and look pretty; It also lights up! Any fan worth their salt would kill to have this hanging out around their house.
Creeper Wallet
You're likely to notice a trend when it comes to Minecraft gifts, and it's definitely the massive amount of Creeper gear. Your fan can proudly proclaim their love for the game with this snazzy-looking wallet!
Minecraft Scrunchie
During long Minecraft sessions, long hair is bound to become a hassle. Using a minecraft scrunchie to hold back hair during a Minecraft session? Legendary fan status.
Creeper Earrings
Creepers again? Your loved one is sure to adore these fellas as they are dangling from their ears and giving their accessory game a nerdy boost!
Personalized Minecraft Mug
More personalized Minecraft swag! You really can't go wrong with a gift that both represents love for the game and includes your fan's name!
Enderman Figure
I'm pretty sure your loved one knows Enderman pretty well, and now he can have this evil little punk sitting on his shelf, looking as ominous as a collectible as he does as a villain in the game!
Baby Sheep Plush
What's cuter than the sheep in Minecraft? Baby sheep from Minecraft! Your fan is sure to adore this outstanding plush.
Redstone Ore Statue
Chances are that I'm not a big of a Minecraft fan as your friend or family member, and even I want this thing! It's a chunk of Redstone Ore that even lights up. It's as close as you're going to get to the real thing!
Minecraft Pillow
When your favorite fan lays down their head to dream about their favorite game, make sure they do it in the right fashion. You've certainly got them covered with this cool looking pillow!
Charged Creeper Poster
Creepers are terrifying enough. A Creeper charged by lightning, though? No, thank you! The poster is pretty rad looking for sure, though!
TNT Tissue Box Cover
All things, Minecraft! That even includes….Tissue boxes? That's right! A TNT tissue box cover!
Pickaxe Keychain
While I can't sit here and say that your loved one is going to be able to use this keychain to dig their way to diamond blocks in real life, I'm not going to sit here and say that they can't!
Creeper Santa Ornament
Creeper Santa isn't here to deliver gifts. He's here to blow them up! Help your friends or family craft the coolest Christmas tree with this bad boy!
Redstone Engineering Club T-Shirt
Who doesn't want to announce that they're a part of the most illustrious Minecraft club to date? Redstone engineers are hardcore, and their talent should be recognized!
Eat Sleep Mine Wall Decal
I'm pretty sure this one is self-explanatory. Only the most hardcore Minecraft fans need apply. If you know one, you also know that they would absolutely adore this one!
Creeper Pajama Pants
When you know someone who feels like a Creeper but also wants to feel comfortable when they're lounging around the house, it looks like you have the perfect gift now!
Creeper Drawer Knob
Is having Creeper heads as your drawer knobs in your home going too far? Nah, I don't think so, and I'm pretty sure the fan in your life won't think so either.
Minecraft Backpack
Officially licensed by Bioworld and including a laptop storage compartment, this is one backpack that any fan would be happy to call their own!
Minecraft Wall Clock
A simple but very awesome design! This wooden Minecraft clock is handmade and looks more like sketch art than pixelated, but it's a very unique design that is sure to be loved!
Jack O Lantern Keychain
Who doesn't love these things from the video game? Personally, I'm a fan of jack o lanterns in and out of Minecraft!
Minecraft Snapback Hat
While it's personally not my style, I can recognize a stylish hat when I see one. This hat is simple but awesome and mixes in a leather feel that brings it all together in one unique package!
Minecraft Headband
Nerdy chic is key, and you need to make sure that your fan is at the top of their game, right? Nail it with this accessory here!
Diamond Ore Necklace
Let the fan in your life know their worth with this sweet necklace. Officially licensed by Jinx, rad-looking and guaranteed to be appreciated!
Enderman Beanie
Who wants to look like an Enderman? Your fan, obviously. This handmade beanie is guaranteed to be comfy and awesome looking!
Diamond Axe
Ensure that your fan never has to worry about not being able to chop their way out of a situation again! Okay, I'll be honest, this isn't a real ax, but it looks pretty snazzy, though!
We've made it to the end, my friend! 40 gifts! There's a ton to choose from, and there's not a single bad entry on the list. With this kind of selection, I'm certain that you've found something awesome to give the fan in your life. Maybe you're actually a Minecraft fan and you've found something for yourself? Let us know on Twitter (@ugifter) or even Instagram (@uniquegifter) and thanks for checking out 40 Magnificent Minecraft Gifts!