Disclosure of Material Connection: Some of the links in this post may be "affiliate links." This means if you click on the link and purchase an item, I will receive an affiliate commission. Disclosure in accordance with the Federal Trade Commission's 16 CFR, Part 255. This site is a participant in the Amazon Services LLC Associates Program, an affiliate advertising program designed to provide a means for sites to earn advertising fees by advertising and linking to Amazon.
Does your child have a theme day at school, or are you teaching them about letters at home, and need a toy that starts with the letter 'T?' Then, you have come to the right place. This list is full of toys that start with T, great for learning experiences, show-and-tell, and more! Check them out below.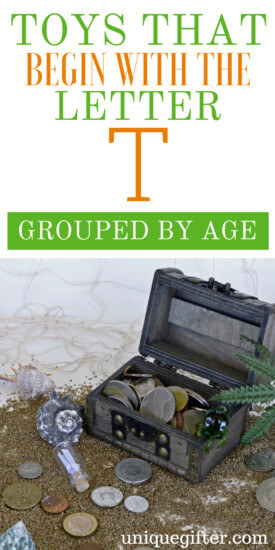 Find more toys for the rest of the alphabet:
Toys that Start with the Letter T for Ages 2-5
There are numerous toys that begin with the letter T, for ages 2-5 and beyond. This list is the place to come if you need a T-themed toy! Check out the ones below to find one that is a good fit for you and your kids. (If you're looking for adult gift ideas, we got you covered there too.)
Tropical Fish Figure Play Set
These tropical fish figures will keep your youngster busy for hours, and they can be used either in the water or out of the water.
Treasure Set
Help them pretend to be a pirate with their very own treasure set!
Trains Steam Train Building Kit by Lego Duplo
At their age, you can almost never go wrong with trains and Lego Duplo blocks!
This Tinkertoys Wild Wheels building set will keep their hands and minds busy, and expand their skills.
Tarzan Tantor Plush Toy
You can't beat the fact that both Tarzan and Tantor start with a T! Plush animals are always awesome gifts, even though your child probably already has a ton of them.
Teenage Mutant Ninja Turtles Trifold Wallet
While a wallet is not a real toy, it is something they will have fun playing with. Kids love to be like their parents, and that includes having a wallet. This one is more their speed with the Teenage Mutant Ninja Turtles on it too.
Transformers One-Step Toy Cars
Transformers are a great hit for all ages!
Thomas the Train Play Vehicle
This awesome Thomas the Train play vehicle is so interactive and just their speed!
Town Airport Lego Duplo Building Blocks
Another set of Lego Duplo blocks, but like I said these are almost always a hit with this age range and even older too. The town airport set is a perfect example of the letter T, and unless you live in a town and actively call it one, it can be a new word to learn about too.
Tarzan Kids Costume
If having a Tarzan plush animal isn't intriguing to you or your kiddo, then perhaps this Tarzan kids' costume will be!
Talk & Sing Shine Doll
A talking and singing Shine doll is another great idea to represent the letter T. Talking is something your kid is doing every day now.
Thunder Stompers: Mash the Brontosaurus Plush Stuffed Toy Dinosaur with Sound
A brontosaurus plush dinosaur that actually has sounds too, wow!
Tap-A-Tune Piano
They can create their own tunes with this tap-a-tune piano!
Thomas & Friends Wooden Railway, Giggling Troublesome Trucks
This Thomas & Friends wooden railway has giggling troublesome trucks to entertain your little one.
Teenage Mutant Ninja Turtles Collapsible Storage Trunk
Another awesome TMNT "toy." While it isn't exactly a toy, it is a place for your child to store their toys!
FurReal Moodwings Monster Interactive Toy
The Tizzy Tongues Monster interactive plush toy will entertain them for quite a while.
Touch and Learn Activity Desk Deluxe
Help them grow their minds as well as their bodies, with the Touch and Learn Activity Desk Deluxe.
Teen Titans Go! Tower Playset
If they like superheroes or Teen Titans Go!, they will love this tower playset.
Teach My Preschooler Learning Kit
Another way to help them learn and expand their minds, that also starts with a T: Teach My Preschooler learning kit.
Touch and Swipe Phone
Let's face it, they can't keep their little hands off of your phone, but now they can have their very own phone!
If nothing else, this list of toys that begin with the letter T shows that there are numerous possibilities!
Toys that Begin with the Letter T Ages 6-8
Trophy of Superhero with Cape
Help your kiddo feel more like a superhero with this superhero trophy!
Trolls in Trouble Game
Games are fun "toys" to play with, and Trolls are all the rage these days. They will have hours of entertainment when they play this game together.
Tropical Hawaiian Luau Party Set
Whether it's just for drama play, or for a party, this tropical Hawaiian luau party set will bring a ton of fun.
Treasure Chest Full of Gemstones, Pearls, and Jewels
What could possibly be better to your pirate than a treasure chest full of gemstones, pearls, and jewels, and all of it just for them?
Trash Can Toys
If they are interested in trash cans or becoming a garbage man someday, they will love playing with their new trash can toys.
Tropical Fish Figure Play Set
They can pretend they caught the fish and have an aquarium, and more, with these tropical fish figures.
Treehouse with Dolls Playset
For the kids who love playing house, this treehouse with dolls playset takes it all to a whole new level.
Tri Finger Fidget Spinner
Fidget spinners are great for the kids who fidget a lot, or need a distraction to be able to think clearly.
Train Set with Smoke, Realistic Sounds, 3 Cars, and 11 Feet of Tracks
This train set is complete with smoke, realistic sounds, and all the makings for some fun train play.
Teenage Mutant Ninja Turtles Figurines
While I'm not exactly sure who Toxic Mutagen Man is, since I don't watch the Teenage Mutant Ninja Turtles, he looks pretty interesting and fun to play with!
Toy Dyson Ball Vacuum with Real Suction and Sounds
This vacuum is a toy, but has real suction and sounds, which means that you can even put your kid to work with a vacuum that is just their size! Boy, we need one of those too!
Tubation Interlocking Pipeline Maze Building Set
They can build all kinds of interlocking pipeline mazes with this Tubation set.
Transparent Color Counting Chips
Help them learn how to count or even play new games with these transparent counting chips at their fingertips.
Trees for Diorama Models
Whether they are building a diorama model or not, these trees can be fun to play with and set up.
Tanch Speed Puzzle Cube
This Tanch speed puzzle cube will keep their mind sharp and expanding.
Traffic Light Toy for Kids Cars and Bikes
Keep the kids busy playing red light, green light outside with their very own traffic light toy.
Target Pouch
Help them work on their target and aiming skills with a target pouch accessory. Great for nerf guns too!
Tie Dye Activity Ball
Everyone needs a tie-dye Gertie ball to play with!
Toysmith Chattering Teeth
Chattering Teeth toys have been around for a long time, they are a classic!
Teen Titans Go! Robin Power Pack
If they love Teen Titans Go!, then they will love this Robin power pack.
As you can see, there are so many toys that start with the letter T to choose from. In fact, there are many more than are in this list too.
Toys that Begin with the Letter T for Ages 9-12
Your kiddo is a tween or preteen now, but that doesn't mean they don't want toys anymore. If you are looking for a toy that begins with the letter T for your kiddo between the ages of 9 and 12 years old, you have come to the right place. There are tables, tires, tech, think, and so many more lovely words that start with the letter T, you just might be surprised at what you find in the list.
TableTopics Best Things Ever
A game that everyone can play together is something that will be cherished by the whole family.
Tsum Tsum Disney the Little Mermaid Tails Set
This Tsum Tsum Disney the Little Mermaid tails set will keep your kiddo busy for awhile.
Take-Apart 4×4 Truck
For the mechanic, or the builder, in the family, a take-apart 4×4 truck is just the toy for them. It will only strengthen their skills.
TX Juice Ai Drone
If you are comfortable with your preteen having a drone, this TX drone is just the one because it is easy to use but built for a pro.
Talkin' Sportz Hilariously Interactive Baseball
Who wouldn't love to have a talking, and hilarious, baseball to play with?
Think Fun Math Dice Junior Game
Keep their minds sharp when they're not in school with their Think Fun Math Dice junior game.
Take Along School House by Playmobil
Now they can teach school wherever they go.
Tap & Tack Imaginative Design Play Set
They can make their own design with their tap & tack imaginative design playset at the ready.
Tech Deck Starter Kit
Tech Decks are awesome, and this is the starter kit with ramps and more!
Teenage Mutant Ninja Turtles Shell Water Blaster
Let them blast anyone with a cold stream of water with their Teenage Mutant Ninja Turtles shell water blaster.
Table Tennis Racket and Ball Set
If you have table tennis but are short rackets and balls, this is the gift your kid needs. It keeps them active and having fun at the same time.
Trampoline Waterpark Accessories
Imagine the fun and the parties to be had with this trampoline waterpark accessories pack.
Teenage Mutant Ninja Turtles Inflatable Turtle Training Bag
Now they can train to be just like the Teenage Mutant Ninja Turtles!
Tech Deck Sk8shop Bonus Pack
Get them the Tech Deck starter kit if they don't have any Tech Deck toys yet, but if they do, then get them the Sk8shop bonus pack instead.
Teen Titans Go! Action Figures
These Teen Titans Go! action figures are perfect for the Teen Titans Go! fan.
Tiger Cub Figure
They can put this tiger cub figure on display in their room or wherever they feel like putting it as an expression of who they are and what they like.
Think Gizmos Pogo Stick
Pogo sticks have been around for a long time, but they never cease to amaze.
Tabletop Theater
Help them put on a show anywhere there is a table with their very own tabletop theater.
Tiger Family by Playmobil
They can have a whole family of tigers in the house with this set by Playmobil.
Tech Will Save Us, Thirsty Plant Kit
They can learn about tech and plants at the same time with the very innovative kit.
It is absolutely mind boggling to see how many choices for toys that begin with the letter T for your preteen!