Disclosure of Material Connection: Some of the links in this post may be "affiliate links." This means if you click on the link and purchase an item, I will receive an affiliate commission. Disclosure in accordance with the Federal Trade Commission's 16 CFR, Part 255. This site is a participant in the Amazon Services LLC Associates Program, an affiliate advertising program designed to provide a means for sites to earn advertising fees by advertising and linking to Amazon.
You need to identify her personality and hobbies before you pick a present for her; whether she is a gardener, a jewelry lover, or a grandma.  One thing is that she does not need much, but practicality, comfort, and improvement in the quality of life are essential.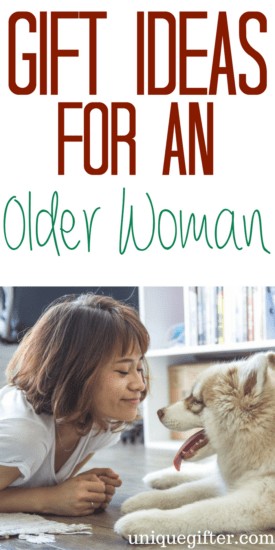 Customized gifts will serve as keepsakes because she knows their value. In the list below, you will find some gift ideas for an older woman. They should help you find something suitable for that old woman she's sure to love. 
So, what should you get?
Pick one out from below gift ideas for an older woman.
Custom Photo Keepsake Box
A keepsake box that is made specifically for her will make a unique gift that she will hold dear. She will use it to store her valuables and to hoard other items that she finds useful. The box is 100% wood and is hand-decorated to make it a high-quality and beautiful gift. If she happens to be your stepmom, consider putting a blended family portrait on it. 
Personalized hand-carved stone
Something special that is handmade is a true gift to an old woman. The stone is carefully selected and cut by hand and comes in its unique way. You also have the option of customizing it with your initials of choice. For example, you could write her initials, name, or a quote that she likes. She can use this stone to decorate her home or garden.
Vintage Wool Cardigan
This gorgeous oversized cardigan has metal buttons and will make an excellent addition to her collection. It is made from wool and will be useful during cold days. She is also going to love its design.
Gardener's tool bag
If she is a gardener, get her this gardener's tool carrier that she can use to carry her saws, shears, and loppers. It is manufactured out of heavy-duty canvas and hand-screened with original artwork. The bag will suit her whether she is a home gardener, horticulturist, or landscaper.
Wool Knitted socks
100% natural wool yarn to keep her warm during winter while also keeping her comfortable. She could wear them indoors during chilly weather, or she could use them while sleeping to keep her feet warm.
Woven Necklace
The sparkling Czech glass beads and glass pearls give this necklace a stunning look. The vintage crystal brings out the V of this masterpiece and makes it evident that it was woven with a skilled artist. The fact that it is not pricey makes it a perfect gift.
Heated Neck and Lumbar Pillow
What a perfect pampering present? The pillow is made out of plush fleece to make it soft enough for her comfort. It can stay warm for 45 minutes and ease her tension because she gets busy and needs to be pampered every now and then.
Women's Take-All Tote
With this bag, it will be easier to carry most of her stuff for a fun afternoon at the park.
Personalized Door Mat
Guests and family will feel welcomed from the moment they step on this doormat. This door mat is high-quality and will be engraved with her name to make it a keepsake. The mat has a latex backing to keep it firmly in place.
Wooden treasure box
This beautiful rustic style box will accommodate all her treasures. She has several other things that need storage, and she can comfortably squeeze them into this beautiful box.
Fitbit Alta Activity and Sleep Tracker
A health and fitness gift is one of the best presents you can get an older woman. People start to get weary and develop fitness issues as they age, so they need devices that can help them remain healthy. This fitness tracker will help her track most of her daily activities and motivate her to reach her health and fitness goals. She will track distance, steps, and calories burnt. She will also track how long she has slept.
Personalized Leather Journal
The leather journal is handmade, and hand stamped to make it the perfect personalized gift for an older woman. It has refillable lined paper inside and a button stud to add to its beauty. Make it more customized by choosing her initials and stain color.
Crochet scarf
This scarf is handmade according to your order and is crocheted using 100% high-quality acrylic yarn. The yarns are mixed in beautiful vibrant colors to spice up almost any outfit.
Customized leather keychain
The keychain is made by hand in a workshop and is customized to your liking. Stamp the keychain with your message of choice: birth date, names, quote, or anniversary message.
Garden or Craft apron
If she is a gardener or crafty woman, she needs an apron to prevent her clothes from getting soiled. This apron is made and designed in Melbourne and has several pockets for holding several items, including secateurs, phone, produce, and jewelry. It has an adjustable neck strap for a snug fit, and its material is comfortable for moving around. 
Unisex Light Brown Handmade Slippers
She will fall in love this pair of slippers. She can put them on at the end of a long day to relax. The outside is made using soft suede leather while the inside is fitted with eco-friendly fur to keep her feet as warm as possible. The sole is lightweight and makes her walking comfortable while keeping her feet away from the cold floor.
Wooden dominoes
This domino has a brilliant design and is made using the best wood material. Let her enjoy a game of dominoes during family time or when friends come over to visit. It is useful for keeping her mind healthy and active for a long time. This game can also help prevent dementia.
Foot Massager
This foot massager can be a lifesaver. It will relax her overworked soles and aches. It has air compression massage to comfort tired feet and produces soothing heat that she is going to love. In most cases, we ignore our feet, but you can get her this massager to show her that you care for her most neglected appendages. This is the best equipment that could help melt her stress away after a hectic day.
Book holder
A book holder should relieve her from having to hold a heavy book or tablet for a long time. It has a minimal design and will serve as an excellent choice because of her advanced age.
Key finder
Let her track her keys with this inexpensive gadget. The device will help her locate missing keys with the touch of a button. The gadget has a distinctive alarm that should lead her to the lost keys. This item is affordable, yet it solves one of the most common problems.
20 More Gift Ideas for an Older Woman
Older women are often complicated to buy gifts for. Why? Because they have anything and everything they might need or want at a certain point in their lives. Before you choose a gift for her, you must consider her personality and hobbies. Is she a gardener, a jewelry collector, or a grandmother? She probably doesn't want much, but she'd likely enjoy practicality, comfort, and improved quality of life.
Even More Gift Ideas for an Older Woman
Check out these picks for unique, personal, and fun gifts for your mother, sister, or other remarkable women in your life.
Personalized Watercolor Family Portrait
Giving a thoughtful gift is always appreciated, but making it personal will make her smile brighter. You can customize everything about this portrait, from the number of people to their outfits! 
DmofwHi Gooseneck Electric Kettle(1.0L)
Great for tea or a pour-over coffee! With this gift, she won't have to waste precious stovetop space boiling water. If the person you're shopping for doesn't have a stove, it'll boil water faster than most microwaves while adding color to her home or office.
23andMe Ancestry + Traits Service – DNA Test Kit
With this at-home DNA test, she can learn more about her family history. The kit includes simple instructions and a prepaid package for returning a sample. The results arrive about two months later, with information on where and when her ancestors came from.
Apple AirTag 4 Pack
Insert an AirTag into a wallet, a keyring, or a backpack pocket, or connect it to any frequently misplaced item to ensure its safe return. That means she has no excuses for losing the everyday items!
Blurb Photo Books
https://www.blurb.com/photo-books
Customize a photo book with some of her favorite images! Use pictures of pets, family members, and any other significant images that might make her smile. Create a book that she can display for years to come. 
Barefoot Dreams Bamboo Chic Lite Weekend Wrap

A soft robe or wrap makes chilly mornings or days much more comfortable. To avoid tangling or tripping, a shorter wrap may be best.
Bespoke Perfume – Create Your Own Custom Perfume
Customizable gifts are the best because she'll already know what kind of stuff she likes. Gift her something like this to build perfume with her favorite blends that she'll love to wear. 
Women's Workout Dress – Sleeveless Built-in with Bra & Shorts
If she's an active woman, one of these dresses could definitely be something to consider. Great for tennis, walking, golf, and much more. 
Personalized Monogram Stationery Cards
If she's older, she likely values a good handwritten note. A personalized set for her can have many uses – thank you messages, birthday greetings, etc. 
Atlas Coffee Club World of Coffee Sampler – 8 Pack
Help her experience something new with this coffee sampler pack! Atlas curates the top 1% of the world's best coffee, from its most prominent coffee-producing countries to coffees they won't find anywhere else.
Roman Numerals Bar Necklace
If they have a particular date that they cherish, you can turn it into this lovely necklace. The numerals spell out the date, and it's a beautiful bar pendant necklace that she'll enjoy wearing. It is available in silver, gold, and rose gold and is an excellent gift for any mature woman.
Flower Delivery – Rainbow Fields Multicolored Alstroemeria Bouquet
Did you know that you can now order fresh flowers from Amazon? When you don't live nearby but still want to give her a bouquet, ordering flowers online is a great option. You can select from various flowers, and it's an excellent way to express your love and appreciation when you can't be present in person.
BOB AND BRAD Q2 Mini Massage Gun – Pocket-Sized Deep Tissue Massager
This mini massage gun is a thoughtful gift for any fitness or movement enthusiast. It's small enough to fit in a gym bag but powerful enough to relieve sore muscles and speed recovery after even the most strenuous workouts.
Masterclass Gift Subscription
Is she someone who values learning new things or trying something new? Consider a gift subscription to Masterclass, where she can take online classes on almost any topic, taught by the best minds of our time!
15) Personalized Recipe Book
A recipe book like this that she can fill with her own favorite recipes is a great way to keep track of family recipes and fun dishes that were successful. This leather-bound recipe book is long-lasting and valuable. It's also a fun way to pass on any family recipes she has by lending them out or allowing loved ones to photograph her notes!
16) Engraved Silver Pill Box with 8 Compartments
She may need to take medication or supplements as she gets older. So, while this isn't the most exciting present, it's lovely because it's simple, has her initials, and can easily be carried in a bag. 
Eufy RoboVac 11S (Slim)
Thanks to its thin design and effective dirt pickup, the Eufy RoboVac 11S would make a terrific present for anyone, whether they enjoy cleaning or not. A robot vacuum is always a great pick, especially for someone who is less mobile than they used to be.
"Legacy" – PDF to Print at Home for Recording Your Family's Traditions, Heritage, Heirlooms, and Life Lessons
"Legacy" provides a template for recording family memories, traditions, stories, heirlooms, recipes, and images to pass down to future generations, resulting in a collection of inspiration, heritage, and life lessons. "Legacy" is guaranteed to become a treasured heirloom, whether written as a legacy by an individual for your family or worked on as a group.
Reading Pillow Bed Wedge Lounge Cushion
These pillows are ideal for a woman who enjoys curling up in bed with a nice book or watching some TV since they provide plenty of cushioning support to keep her comfortable for hours at a time.
Birkenstock Unisex – Arizona Soft Footbed Sandals
Birkenstocks have made a resurgence in recent years, and they are becoming a summer footwear classic once again. The Arizona sandals and the less costly Essentials Arizona sandals are wonderful and extremely comfortable. 
Shopping for an older woman may be difficult, but there are so many options that she'll surely love. While gifting her something to keep her feeling young or make her everyday life easier, you want to show you put consideration into the gift. Look at one of these suggestions to find her something she'll enjoy!