Disclosure of Material Connection: Some of the links in this post may be "affiliate links." This means if you click on the link and purchase an item, I will receive an affiliate commission. Disclosure in accordance with the Federal Trade Commission's 16 CFR, Part 255. This site is a participant in the Amazon Services LLC Associates Program, an affiliate advertising program designed to provide a means for sites to earn advertising fees by advertising and linking to Amazon.
Sweet 16! That's not what you're going to get out of this gift guide. Move away from the stereotypes and get your 16 year old girl something unique and special for her birthday. Being a teen can be hard, but a sweet 16 is always something to celebrate in a big way. Make her feel extra special with a few of these epic birthday gifts below.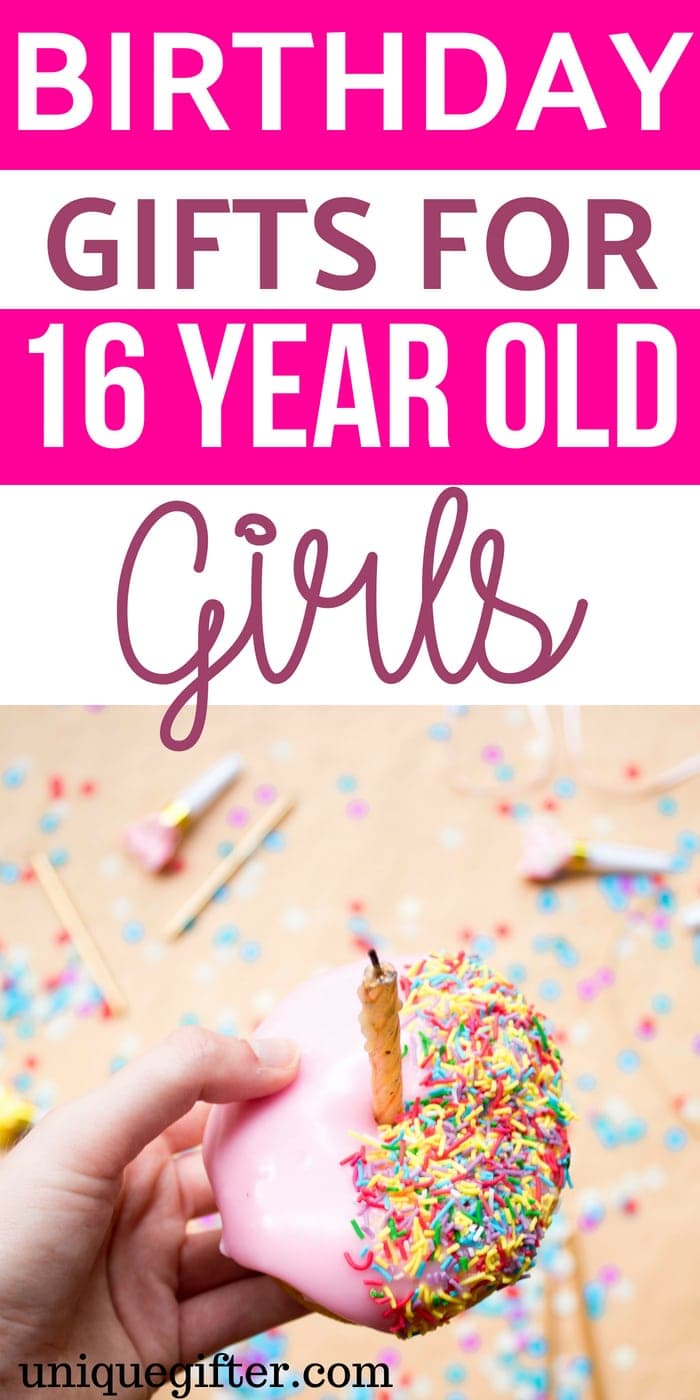 The Best Birthday Gifts for 16 Year Old Girls
Weekend Getaway Bag
Now that she's (potentially) driving, get her a bag for those weekend getaways. This is also great for sleepovers, sports trips, or travelling as a family.
Cats are Weird Book
Teenagers are also weird, that's probably why they like cats so much. This book will have her giggling because you're never too old for silly comic books.
Good Vibes Only
A cute doormat to be placed inside (or out) of her bedroom, or in her bathroom if she has her own. This trendy mat comes in all kinds of 16 year old approved styles and colours.
Whipped Body Butter
There's nothing like getting pampered in obnoxious pastels and luxurious whipped body butter. It looks so pretty!
Polaroid Instant Camera
Generation after generation, these cameras continue to delight photogenic teens everywhere, even with Instagram. Aside from printing instant photos, it's also a 10mp digital camera.
Photography Book
And, if your teenage girl is interested in photography, you can pair some photography tech with this awesome book choice. Instead of going into technical details it just gives practical advice on how to take better pictures.
Monogram Tumblers
In case you didn't know, gold is in. Give one of these on her sweet 16 and not only will she have a cool water bottle, no one will steal her cup.
Sushi USB Stick
Teenagers have files that need storing and what better combination than practicality with something delicious. You can get all kinds of food USB sticks if she doesn't like sushi.
Wireless Headphones
Let her pump Abba or whatever it is kids listen to these days through these trendy wireless headphones. Especially great if they are always getting tangled in the cord running from their phone.
Selfie Shirt
You know when you go to take a selfie and all the writing is backwards on your shirt? Problem solved.
Ugh Mug
My daughter isn't 16 yet but this is already one of her favorite catchphrases, so I can only imagine it gets worse as they get older.
Makeup Brush Holder
For a 16-year-old girl who's into makeup, this is a cute way for her to display all those expensive brushes that she won't tell you how much she paid for them.
Back Stretch Roller
Sporty teens will appreciate this gift. It helps to stretch your back when getting ready to exercise or doing yoga.
Wearable Plant Necklace
This is a super cool gift idea for teenage girls. It's a tiny terrarium that you wear as a necklace!
Ice Cream
These ice cream cups and spoons come in a tiny ice cream truck. Pick up a pint of her favorite flavor for a fun 16th birthday gift.
Cat LED Light
This is great for next to the bed or as a nightlight. It's so cute and can be changed to light up in different colours.
Creative Writing Journal
Help her get started journaling with this teen-focused creative writing journal. It has a bunch of different themed pages for her to fill in.
Travel Mug
Yeah, by 16 she's probably drinking coffee in the morning, or at least tea. Get her a fun travel mug so she can take it with her while running late to her morning class.
Donkey Note Holder
16 year olds are forgetful – help her out by giving this cute donkey note holder that's so cute she'll be happy to keep little Morris on her desk.
Teenage Challenges
Sometimes it's hard for teen girls to figure out what to do with their time. Give her some fun challenges that will really get your 16 year old thinking about the future.
The best part about all these great gifts for a 16 year old girl? They're cheaper than a car!