Disclosure of Material Connection: Some of the links in this post may be "affiliate links." This means if you click on the link and purchase an item, I will receive an affiliate commission. Disclosure in accordance with the Federal Trade Commission's 16 CFR, Part 255. This site is a participant in the Amazon Services LLC Associates Program, an affiliate advertising program designed to provide a means for sites to earn advertising fees by advertising and linking to Amazon.
Give this Blue Without You Gift Basket Idea as a way to show how much someone means to you. Maybe it's a co-worker, friend or family member that is leaving going away for a while. Either way, you can create an easy going away gift using this free printable "Blue without you" gift tag and some supplies from your local Dollar Tree. I'll show you how.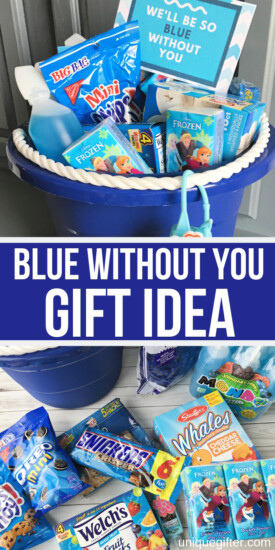 Kid Friendly Blue Without You Gift Basket Idea How-To:
Related Post: Road Trip Care Package Ideas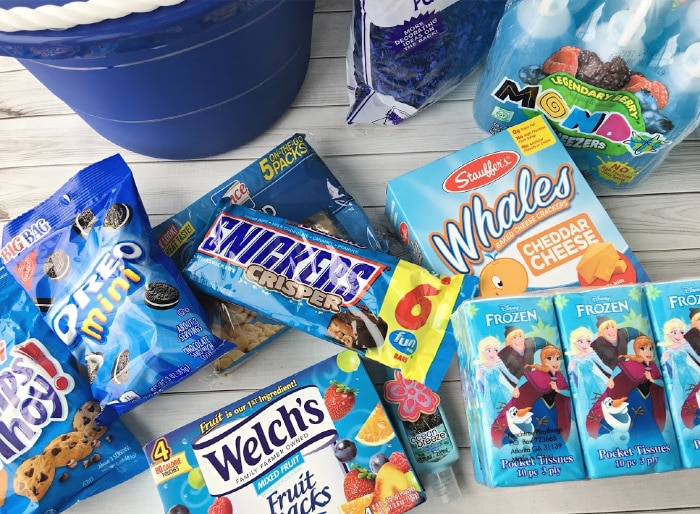 I found all of these items at the Dollar Tree! Any blue items will work so feel free to get creative. The beauty of choosing a color theme is that a large number of the things available at any store are fair game, while keeping with your theme.
If you do't have a Dollar Tree, you can make this basket from a grocery store (though you may have a harder time finding an appropriate blue basket of some sort.) Another big tip: Walmart's house brand is dark blue and white, so it could be a good place to go shopping too.
Supplies:
Bucket (this will double as a car trash bucket)
Tissues
Cookies
Hand sanitizer (we hung this on the rope on the bucket)
Snacks
Drinks
Candy
Fruit snacks
Paper shreds (for the bottom of the bucket)
We'll Be Blue Without You Free Printable (see below)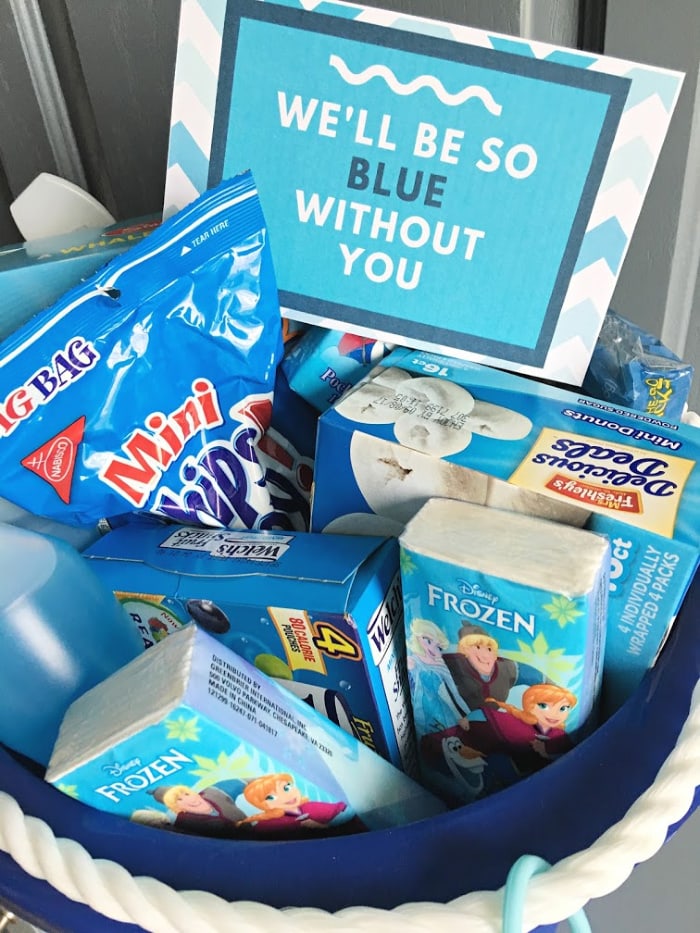 Place everything inside the bucket and arrange it nicely. Sometimes that can be a big challenging, but it will work out!
Add the printable Blue Without You sign and you've got the perfect travel gift for anyone who is going away on a road trip or a move across the country! This is perfect for long stints in the car because it has everything they need!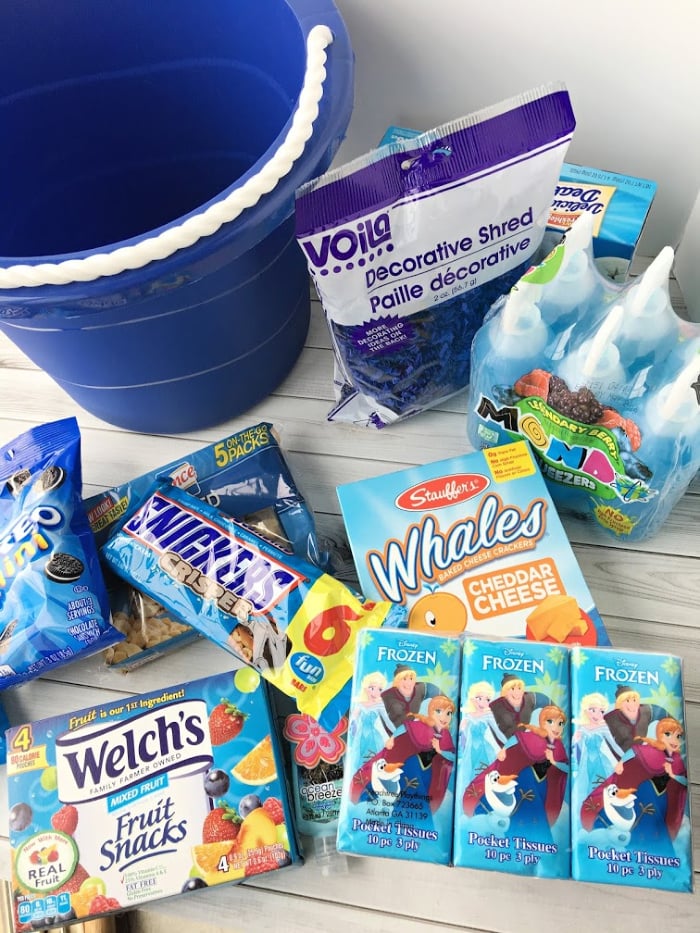 Now you can tell that this is a kid-friendly and family friendly gift basket, but where would we be without Frozen? We got lucky in finding so many Frozen items, but there are still lots of things available without that wonderful dash of blue.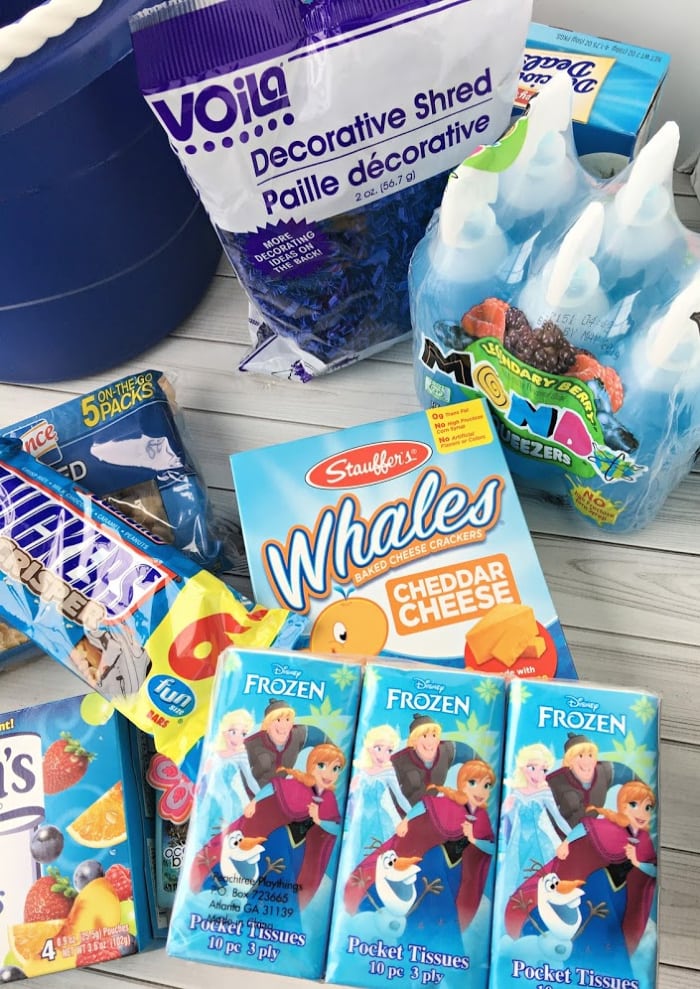 While you are at the store, it's a good idea to try to fill the container up with the packages you are choosing, as you go. It is very, very easy to try to overfill a gift basket. Some things we purchased were in multi packs, so we weren't able to put them all in the basket, but they still made good additions to the basket.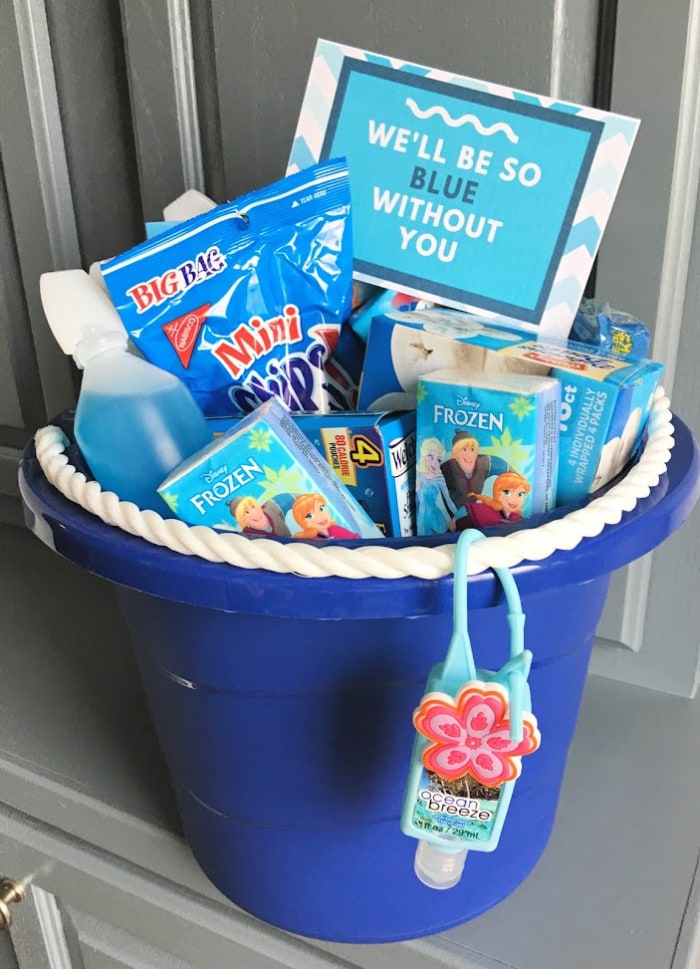 Let's be real, after handing off that much blue candy to some kiddos, some hand sanitizer is going to be a good idea.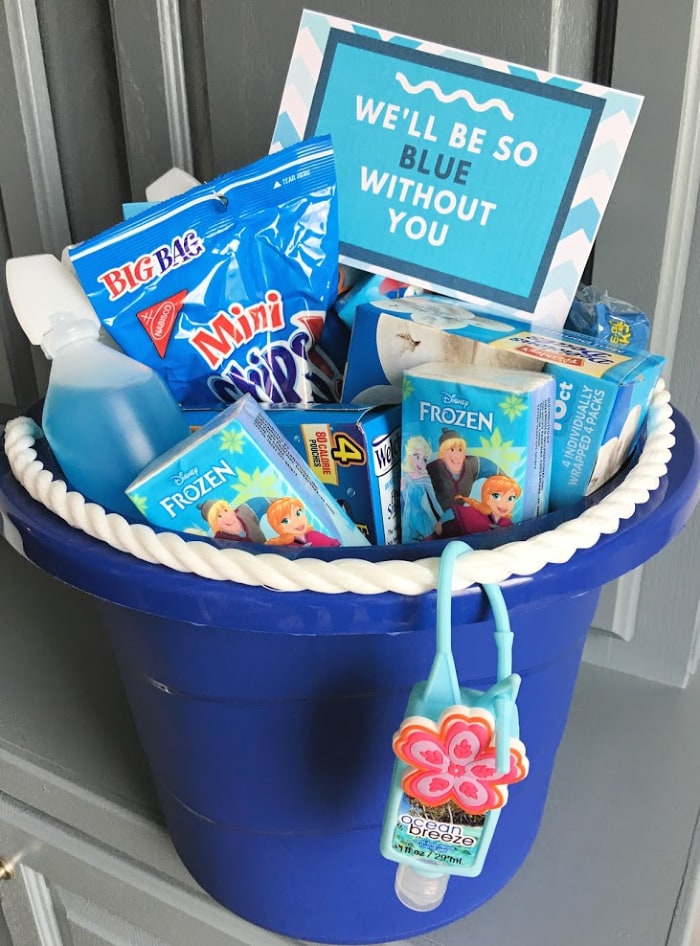 And there you have it, one super-cute and on-theme kid friendly gift basket idea, that you can pull together quite easily just by sticking with the color theme. Enjoy!
Related Post: Gifts for Families Traveling with Young Kids