Disclosure of Material Connection: Some of the links in this post may be "affiliate links." This means if you click on the link and purchase an item, I will receive an affiliate commission. Disclosure in accordance with the Federal Trade Commission's 16 CFR, Part 255. This site is a participant in the Amazon Services LLC Associates Program, an affiliate advertising program designed to provide a means for sites to earn advertising fees by advertising and linking to Amazon.
The art of making beautiful bento boxes has always absolutely fascinated me. What a variety of shapes, colors, and designs that can be created, landscapes you can put together, all made of food cleverly shaped, molded, pressed, and decorated! Have you ever been tempted to try your hand at putting together some of those lunches? Or, even if you don't aspire to that level of complexity, just enjoy making food in fun shapes?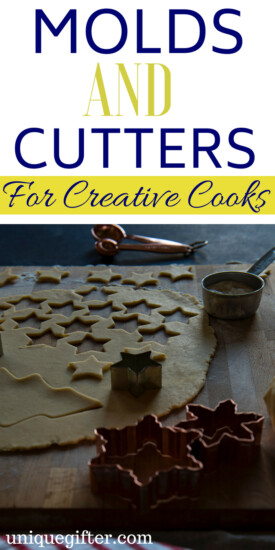 You've come to the right place – check out this list for all the many ways you can mold and shape foods and other goodies, whether baking, cooking, frying, freezing, or pouring out to cool. It can be as simple as adding some eyes to the otherwise undecorated food, or more lavishly shaping and molding.
Epic Molds and Cutters for Creative Cooks
Spam Musubi Press
This is a classic shape from way back. These molds make that most Hawaiian of treats: spam musubi!
Silicone Egg Molds for Instant Pots
For our Instant Pot fans! Make teeny round delights: quiches, baby food, and other finger foods in the instant pot.
Egg & Sushi Rice Mold
Press your boiled eggs, or rice balls, into 6 different shapes: bears, cars, hearts, fish, bunnies, and stars.
Mini Cookie Cutters
If you love spritz cookies but not having to actually spritz them, use these tiny cookie cutters to press out 4 different flowers and heart shapes instead.
Pastry & Fruit Cutters
Bento experts have a variety of shapes and sizes: cut your pastries and fruits into nested sizes of hearts, stars, circles, flowers.
Sandwich Cutters
We encourage eating the crust, always, but the novelty of cutting shapes into our sandwiches is just too appealing. The bread crusts can be turned into bread pudding!
Mickey Mouse Sandwich Cutter
Are there any fans of the Mouse in the house? The Mouse ears are so iconic, even our kid could recognize them from far away without ever having classic Disney.
Fried Egg Molds
These are fun for a special morning breakfast of egg and pancake faces, shapes, and animals.
Food Deco Cutter and Stamp Kit
Stamp little faces into bread and cookies, even pies, and take your animal friends to work for lunch. Or to school, for the kids.
Baby Panda Rice Ball Mold
If you have the heart to eat baby (rice) pandas, go to town with this mold! It makes the cutest baby pandas!
Bento Eyes Food Pick
Don't eat these! Stick them into almost any bite-sized foods to make a face on that radish, broccoli, or potato.
Rose Silicone Mold
Make a dozen roses that won't wilt! They might be eaten, though, if you bake goodies or mold jellos in these.
Silicone Gummy Molds
Our kid would be over the moon if we spilled the secret that these molds existed and we could make our own gummies.
Silicone Cupcake Liners
We've been using our cupcake liners as lunch box dividers, and occasionally cupcake liners, but we'd be making a lot more muffins, cupcakes, and tiny fudge brownies in these.
Classic Pop Molds
Who doesn't remember making ice pops in the freezer? Pour in your liquid of choice and freeze to make an icy treat.
Ice Cube Trays
What's not to love about ice legos and robots? Even better, these work well as candy molds – just don't let them get mixed up with the real (inedible) thing!
Honeycomb Cake Molds
These honeycomb molds remind me of the light and fluffy Eggettes you can get from the boba store, but it's got far more intricate details and would make a beautiful set of mini cakes.
Unicorn Cupcake Mold
Did anyone call for a herd of unicorns? These cupcakes would naturally be best decorated with sprinkles or food glitter.
Star Wars Silicone Ice Cube Molds
Casually drop a Millennium Falcon or Han frozen in carbonite in to chill a drink, or make some chocolate droids and Yodas.
Dog Paw and Bone Silicone Pans
For intrepid crafty cooks who bake treats for their dogs – or just dog lovers who enjoy a baked bone that's not out of a Milkbone box.
What's your favorite set of shapes to cook or craft?