Disclosure of Material Connection: Some of the links in this post may be "affiliate links." This means if you click on the link and purchase an item, I will receive an affiliate commission. Disclosure in accordance with the Federal Trade Commission's 16 CFR, Part 255. This site is a participant in the Amazon Services LLC Associates Program, an affiliate advertising program designed to provide a means for sites to earn advertising fees by advertising and linking to Amazon.
Here are the absolute cutest bunny crafts to make with kids! Part of the fun of making crafts with kids is seeing their eyes light up as the see their finished project. Watching them immediately brings a smile to your face. Yes, I know there are moments during the project you may be wondering if this was a good idea, but I promise it was! It's all about making memories and having fun.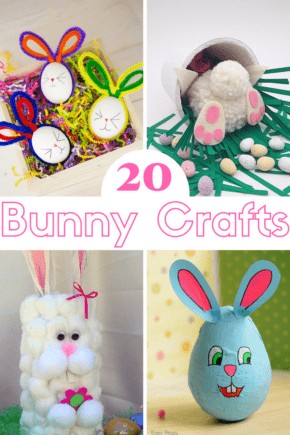 Must See Bunny Crafts To Keep Your Kids Entertained
Kids rarely ever get bored when they are working on crafts. Plus, each of these is so adorable you can't help but love them.
All you need is a paper plate, markers, and scissors for this fantastic bunny ears hat. One thing is for sure, kids love to wear themed hats!
These super adorable bunny ears bend and are perfect for those photos opportunities that come up!
3. Rocking Paper Plate Bunny
How can you not fall in love with these sweet rocking paper plate bunnies? Easy to make, but wildly entertaining for the kids.
4. Bunny Tail Treat Bag with Free Printable
Get the kids together and make some treat bags for neighbors, family, or friends. They will enjoy this project a lot!
5. Easy Paper Plate Bunny
Oh, the laughs this bunny will give your kids! He is the cutest little guy ever!
6. Easy No Sew Felt Bunnies
Now you can make an entire bunny family using felt. This will also encourage imaginative play too.
7. Egg Carton Bunnies
Don't throw out those egg cartons, save them for this unique project.
8. DIY Bunny Basket
Kids will go crazy of this project! Making their own Easter basket is a blast and they will love helping.
9. Pipe Cleaner Bunny Eggs
If these adorable Easter Bunny eggs don't bring a smile to your face, I don't know what would. They are the cutest little bunnies ever.
10. Boo Boo Bunny
This Boo Boo bunny can be cooled or heated and is perfect for easing those bumbs and bruises that happen as a kid. Plus, it's a no sew pattern!
11. K Cup Bunny
Aren't these the most adorable bunny cups ever? You only need basic supplies and probably already have them laying around your home.
12. Papier Mache Wobbling Bunny
I love everything about these paper mache bunnies. You can make them all different sizes and each one can be as unique as the child decorating it.
13. Bottle Cap Bunny
I can't help but giggle when I see these bottle cap bunnies. Super easy, but very well loved by kids of all ages.
14. Bunny Mason Jars
Decorating with Mason jars is a fun way to add color to your home during the Easter season.
15. Pom Pom Bunny
Pom Bunnies easily fit in tiny little hands and you can expect them to be taken everywhere.
16. Paper Bunny Craft
Paper, glue, scissors, googly eyes, and a marker are all you need to create this paper bunny craft.
17. B is for Bunny Craft
These little bunnies are especially perfect for toddlers learning their letters.
18. Recycled Cottontail Bunny
This is a great craft to recycle items you have around the house. These are also great gifts for family members too.
19. Pine Cone Bunnies
Part of the adventure is going on a pinecone hunt. These little bunnies would make a fantastic place setting markers too.
20. Pom Bunny Craft
This bunny craft has a little bit of everything. An Easter Bunny, eggs, and grass!
Break out the glue, scissors and googly eyes because it's time to get crafty! These Bunny Crafts will give your kids some entertainment while having a blast!