Disclosure of Material Connection: Some of the links in this post may be "affiliate links." This means if you click on the link and purchase an item, I will receive an affiliate commission. Disclosure in accordance with the Federal Trade Commission's 16 CFR, Part 255. This site is a participant in the Amazon Services LLC Associates Program, an affiliate advertising program designed to provide a means for sites to earn advertising fees by advertising and linking to Amazon.
Are you looking for Pokemon gifts for adults? You have stopped at the right place! Just because you're an adult doesn't mean you have to have to act like a grown up or stop loving Pokémon! These gifts are not too childish and perfect for adult fans of the games or show.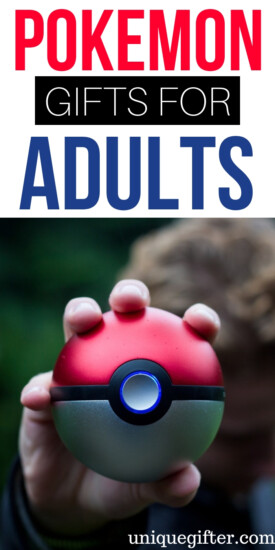 Creative Pokemon Gifts For Adults 
You have to see these cute Pokemon gifts for adults because they are fantastic! We also have gift ideas if they are more of a Zelda fan or WoW person. 
Pikachu Onesie
Every Pokémon fan needs at least one character onesie. Stay warm and cozy while you spend nights in defending the world from Team Rocket.
Doormat
Show them how much you love Pokémon before they even walk in the door with this Home Sweet Home welcome mat. The retro style art comes in three nostalgic colors!
Pokémon Backpack
Great for going to college classes, commuting, or lugging around baby gear. This backpack exchanges the kids' look for a more mature art style and cool Japanese lettering.
Ash's Hat
Bring a little bit of cosplay into your everyday life by sporting Ash's hat. Plain enough that you can wear it outside of conventions.
Fanny Pack
There's of 90s nostalgia present with this gift. Give them a very practical fashion accessory made with Pokémon fabric! As a bonus idea, fill the bag with something fun (like Pokeballs).
Badge Collection
Help them realize their dream of becoming a Pokémon master. This collection contains metal versions of all eight badges in whatever generation of Pokémon they like best.
Pokémon Necktie
For those events that you must attend with a formal look but still want to show off your Pokémon loving side. Great for someone who works with kids or in gaming.
Pillows
So many choices! Get them one, or many, Pokémon pillows to dress up the home or apartment. The simple design of these will make them fit in well with their decor.
Pokémon Face Mug
Wake up each morning to your favorite Pokémon's face as you pour a hot beverage into these cute mugs.
Throw Blanket
Perfect for cuddling up under during long gaming sessions or to binge watch the latest Pokémon anime serious. Being covered in Pokeballs just makes this blanket cooler.
Gym Shirt
Double meanings anyone? A perfect workout shirt for Pokémon fans. Make sure to pick up the right color depending on who they support in Pokémon Go, though!
Felt Magikarp Hat
A reference to the show and a Pokémon Go accessory, this hat is going to make any Pokémon fan extremely happy. It even has color choices!
Keychains and Key Holder
Adults have keys, and if they're anything like me, they're probably always losing them. Now everyone in the house can have their own Pokémon keyring and a nerdy place to hang them when they get home.
Pokeball Hoodie
For when you want to wear something Pokémon themed but need it to be more adult. This Pokeball hoodie has an excellent style and comes in grown-up sizes.
Charmander Pokemon Kigurumi
Get comfy cozy in this adult onesie Charmander. It's a super-soft lounging around the house or dressed up for your next event outfit. 
Pikachu Sunglasses
Maybe you're looking for a gag gift instead. These sunglasses come in a few different styles (with different Pokémon), which would be great to give to groups.
Pokémon Face Mask
Masks are handy for those who work in medicine, have a medically fragile family, or just like to avoid spreading germs.
Pokémon Go Egg Maternity Shirt
The shirt has an egg from Pokémon Go for the nerdy mommy to be. As a bonus walking around playing Pokémon Go makes for great, low impact exercise.
Oven Mitt
It's nice to give practical gifts sometimes, but that doesn't mean they have to be boring. This oven mitt has Eevee and the evolutions on it.
Snorlax Bean Bag Cover
Ever looked at a Snorlax sleeping and think "wow, that looks comfortable"? Now you can cuddle with your very own at home with this custom made bean bag chair cover.
Pokemon gifts for adults are lots of fun, and you can't help but fall in love with all of them. Pokémon has been around long enough that those of us who were original fans are adults now. Leave me a comment with your favorite Pokémon. I can't decide what mine is, for the record.